Archived News
Feeding the fight against food insecurity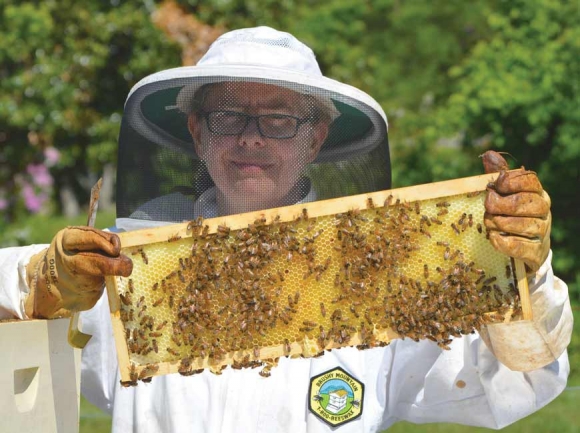 Beekeeper Cynthia Schwartz tends to the Maggie Valley Community Garden's colony of pollinators. Cory Vaillancourt photo
On one of the first warm sunny Saturdays early in Western North Carolina's tourist season, the traditional signs of a Maggie Valley summer — small groups of motorcycles and pedestrians idling down Soco Road — were on full display. Not far off, on a small parcel of land nestled between a Baptist church and a distillery, a different group of people was planting some seasonal signs of their own.
Far beneath the million-dollar mountaintop homes, many in Maggie Valley, as well as the rural county that surrounds it, suffer from food insecurity. Federal programs like SNAP work for some, but gaps remain that leave almost 15 percent of North Carolina's residents, and 20 percent of its children, hungry each night.
The causes of food insecurity are varied and vast in scope and the solutions haven't yet been found in Raleigh or in Washington, but volunteers working with the Maggie Valley Community Gardens think they can feed the fight against hunger right here, at home.
As the cool, clear mountain morning built up into a hot, dry day, a dozen members of the Maggie Valley Community Gardens plodded about a 60-by-40 foot plot, planting and watering and weed-wacking in preparation for the growing season; it was far from the first time they'd done so.
Founded in 2014, the community garden began as a collaboration between longtime Maggie Valley residents June Johnson, Ernestine Upchurch and Rev. Erma Bond, of the Maggie Valley United Methodist Church.
"There was a need in the community, to help feed those that are in need," said Barbara Griffin, president of the community garden. "Year after year, it's gotten progressively better and better."
What started off on that small patch of grass behind First Baptist Church of Maggie Valley has now grown to feed hundreds of Haywood County's citizens each year.
"We help supply Meals on Wheels, Pathways, the Open Door, the food bank at Maggie United Methodist Church and the McCracken House," said Linda Lennon Leeke, the group's secretary. "This year we're planting potatoes, tomatoes, squash, carrots, onions, cucumbers, beets, corn and beans."
Last year, Leeke said, the harvest included 900 pounds of potatoes and 780 pounds of fresh, wholesome vegetables.
"It's completely organic," said Griffin. "Year after year the dirt gets a little better because of the compost that we're producing. We're getting the vegetable scraps from local restaurants and we have volunteers that know the process, keeping it aerated and turned and the temperature just right."
Maggie Valley Community Gardens President Barbara Griffin stands astride a row of potatoes at the home of the late Earnestine Upchurch. Cory Vaillancourt photo
Griffin said they won't even use the free mulch offered by several local municipalities because the threat of pesticides, and that they're also fighting an ongoing battle behind the garden against a stand of bamboo creeping up the banks of turbid Jonathan Creek, but won't use pesticides there, either.
The group augments its rain barrel with water from the church when needed, but is so environmentally conscious that in addition to producing their own compost, they even produce their own pollinators at a satellite site they call "the orchard," behind Rev. Bond's Maggie Valley United Methodist Church.
"We have [beekeeper Cynthia Schwarts] who keeps her bees up there, and we use those bees to help pollinate our gardens," Griffin said. "At the same time, we're helping keep bee populations up, because as you know, bees have gradually been diminishing, so we're doing everything we can to help."
That includes a solar-powered electric fence around the bee boxes, to keep local Winnie the Poohs from making a mess of things.
The rest of the orchard produces apples, grapes and peaches, but another satellite garden off Black Camp Gap Road produces the bulk of the community garden's harvest.
When co-founder Ernestine Upchurch passed away at the age of 80 in 2017, her family made clear that they wanted the community garden effort to continue using a 100-by-20 foot strip of her yard to grow potatoes.
Those three sites are the core of the volunteer-run operation.
"Every year," Griffin said, "we're making progressively more and more headway to help improve it."
If current trends persist, groups like the Maggie Valley Community Gardens will continue to expand and improve, if only out of necessity.
The U.S. Department of Agriculture says that 1 in 8 Americans were food insecure in 2017 — about 40 million people, including 12 million children.
The USDA defines food insecurity as the consistent lack of access to enough food for an active, healthy life. Those defined as having "low" or "very low" food security report that they can't afford balanced meals and regularly run out of food, which results in reducing meal sizes or skipping meals altogether, sometimes for days.
According to Raleigh-based hunger relief agency Inter-Faith Food Shuttle, North Carolina is the 10th hungriest state in the nation. Although more than 84 percent of residents claim to be food secure, 9.7 percent experience low food security, and 6.2 percent experience very low food security, amounting to more than 600,000 people who don't have enough to eat, 1 in 5 being children.
Along with children, the people most likely to be impacted by food insecurity are seniors. North Carolina is one of the "10 worst" states for hunger, says Inter-Faith, with 32 percent of all seniors living in or near poverty, and 18 percent experiencing food security issues.
Detailed food security data on a county or town level isn't readily available, but Haywood County's poverty rate of 14.5 percent nearly mirrors the state's 14.7 percent rate, even as Haywood County median household incomes come in about 10 percent lower than the state average of $50,320.
Volunteers plant some of this year's crops behind the First Baptist Church of Maggie Valley on Saturday, May 18. Cory Vaillancourt photo
In this county of 60,000 people, Haywood Pathways Center and The Open Door both serve, on average, more than 30,000 free meals a year, suggesting that food security is as much an issue here, as anywhere else.
At $3 per 5-pound bag, the 900 pounds of potatoes that came out of Upchurch's yard last year would fetch about $540 — a fair tally even without considering the nearly 800 pounds of other assorted produce distributed by the group.
Those numbers become even more impressive when weighed against MVCG's annual budget, usually in the neighborhood of $700 a year.
Some of that comes from volunteers working concessions at the Maggie Valley Civic Association's bingo night. The rest comes from MVCG's biggest annual fundraiser, a barn sale happening June 15.
"They have come to the board several times with requests for what I consider small amounts of money, between $300 and $500," said Dr. Janet Banks, a Maggie Valley Alderman and volunteer with the MVCG. "The board of aldermen believes in giving back to this community. We're not just your government, we are here to provide not only for your safety and security and provide services, but to do things within the community that assist the community."
Banks said that this year was "special," because MVCG recently became a bona fide nonprofit, meaning donations to the group are now tax deductible, and the group can now take advantage of grants and other funding streams previously unavailable.
Safe to say, money isn't preventing MVCG's expansion. This year's seedlings were donated by Lowe's, in West Asheville, and the perennials were given by Costa Farms in Leicester.
Nor is availability of arable land an issue. Griffin said the group recently had to turn down an offer of an additional parcel because she wasn't confident MVCG had the volunteers to tend it.
Likewise, the fruit trees and vines in the orchard are really only for the benefit of the bees, because MVCG can't find a kitchen or volunteers to process it into jellies, jams and preserves.
"That is been our biggest stumbling block," said Banks. "Trying to get volunteers. I've only been with the community garden for two years, but even at two years I've seen new people coming in and other people moving on. It's constant turnover, and it seems like our membership is diminishing."
Becoming a member is as easy as attending the monthly meeting and spending a little time doing some weeding, because the more people that weed, the more people Maggie Valley Community Gardens can feed.
"We have always had the philosophy that we are here to supply people in need, to help people with food insecurity," Banks said. "When you go through 900 pounds of potatoes and 800 pounds of vegetables like we did last year, that says a lot about the need in this area. We need our population to be healthy, and this is one way we can do it."
Maggie Valley Community Gardens needs you
Since 2014, Maggie Valley Community Gardens has been making an impact on food insecurity in Haywood County, but the all-volunteer effort periodically needs infusions of time and money to continue feeding the fight against hunger. To learn more about the group, visit www.givinggardensnc.weebly.com or www.facebook.com/givinggardensmv, or attend the group's next meeting at 11 a.m. Wednesday, June 12, at the Maggie Valley Rendezvous Restaurant, 70 Soco Road.
To help with planting, weeding, watering or produce delivery, call Barbara Planchock at 828.400.3144. To make a donation, mail a check to P.O. Box 74, Maggie Valley, N.C., 28751.