Archived News
Shining Rock hiring decision will have to wait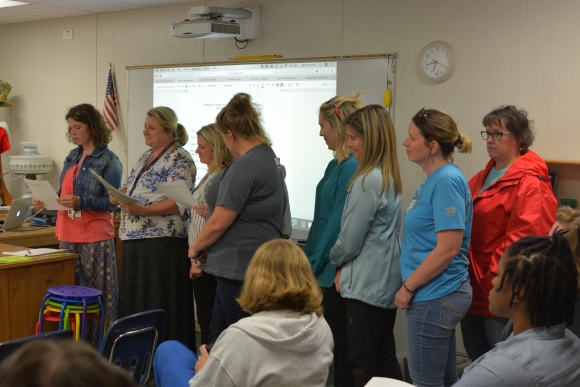 A group of teachers speaks on behalf of Interim head of School Joshua Morgan.
Cory Vaillancourt photo
The search for Shining Rock Classical Academy's next head of school will continue, after the board took no action following a short closed session to discuss personnel earlier this evening.
A hire was widely expected tonight, and many expected it to be Interim Head of School Joshua Morgan. On May 8, then-Board Chair Anna Eason said, "We would hope to have a decision made at the next meeting, but if we need more then we will take time to get more because again, we want to get this right."
That was before three concerned parents, Laura Arrington, Kelley Messer and Melissa Taylor, filed formal grievances with Shining Rock's board of directors, alleging a litany of improper behavior by Morgan towards students.
Eason never responded to questions over how those allegations would affect the hiring process. Messer revealed yesterday that she had also initiated an investigation by the Waynesville Police Department.
Earlier in the meeting, Eason cycled out of the board chair position as the board confirmed Michele Haynes as its next chair.
Haynes refused to answer any questions after the meeting, insisting instead that they be sent by email. Repeated emails to Haynes from The Smoky Mountain News last week went unanswered.
Around 40 people packed the meeting, the majority of them in support of Morgan.
The grievances filed against Morgan were turned over to the school's attorney, David R. Hostetler, who advised the complainants that after interviews, follow-up fact-finding, and recommendations to the grievance committee, the committee would make a final determination and provide written notice of that decision no later than June 7.
Read the full story, including the allegations against Morgan, here. https://www.smokymountainnews.com/news/item/26902-grievances-filed-against-shining-rock-interim-head
Look for more on Shining Rock and on this developing situation in next week's edition of The Smoky Mountain News, available online and on news stands across the region on Wednesday, May 22.