Archived News
Reflections on Haywood NAACP pilgrimage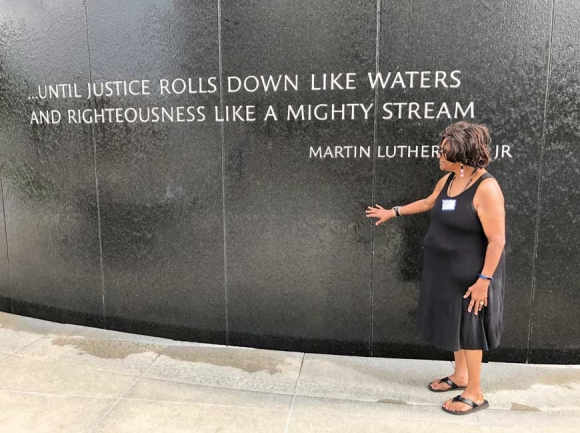 Marsha Miller stands next to a civil rights monument in Montgomery. Donated photo
By Katherine Bartel • Secretary, Haywood County NAACP
"My little brother Isaiah is, as you would call it, 'a boy of color,'" said 11-year-old Alicia Matthews. "He is probably one of the smartest 6 year olds you'll ever meet. One time we were playing in his room and all of a sudden he asks me a question just randomly out of the blue, 'Alicia? Why do I have brown skin?' At first, I didn't know what to say to him because he is so young and he barely knew who he was. I said, 'Because that's who you are. So don't try to be anyone else.' He responded to me with a simple 'OK' because he is still very young and that's just how he responds to those kinds of statements."
Alicia came with 50 of us on the pilgrimage to Montgomery, Alabama, on May 10 and 11. Sponsored by the Haywood County NAACP, the purpose of the trip was to visit the new Legacy Museum and the National Memorial to Peace and Justice built by the Equal Justice Initiative. The Legacy Museum presents the history of slavery, Reconstruction, the Jim Crow years, and mass incarceration. The National Memorial honors over 4,000 individual victims of lynching. We also visited the parsonage and church that were home to Martin Luther King, Jr.
Describing her experience, Alicia said, "The museum touched my heart to where it made it hurt. I thought about what he said to me that day and the question he asked me. I thought long and hard as I was looking around and reading the stories of his ancestors and how they were treated."
Alicia knew that not too far back in history, her brother would have been at work with the smell of a "dirty yard and child labor, he wouldn't be in his current room with his Paw Patrol bed covers and Lego people toys." She concluded, "I can only pray and wish that he will grow up and be somewhat like Dr. Martin Luther King, Jr. — smart, standing up for what's right, not wrong."
Others were also feeling the pain of our history. Carolyn Wallace said simply, "I have lived through a lot of what I saw and heard today. And it's very painful to be reminded of it all over again. At a later time, I might be able to talk about it, but right now I'm in pain."
The Baptist Church at 44 Dexter Ave. where Martin Luther King Jr. worked in Montgomery, Alabama.
Our pilgrims toured the parsonage and church where King lived and worked on Dexter Avenue. The house was bombed one evening when the family was home, but no one was hurt. Marsha Miller found the history to be very personal.
"I knew a lot about my history, and I knew a lot about the history that I've seen this weekend. But to actually walk on the streets, sit in the church, and walk through the house of some great people really brought it home. The sacrifices of these people — we owe a lot to each other. We're all just human beings," she said. "For me to have come as far as I've come, and to see where the man sat whose shoulders I am standing on, that's sacred. I wouldn't have gotten any education. My dad wouldn't have moved up and provided for his family. Dr. King did so much for so many."
Miller remembered being in first grade, when she and her sister integrated Canton schools. The bus picked them up in Clyde and brought them back to Carolina Avenue at the end of the day.
"When I would exit the bus, coming home from school, I used to think that was the biggest, widest street. Phil Gibbs and the older kids would have to walk us across the street because, just like now, people would pass the school bus up. And they would stop, let us think they were stopped, and then push the gas to hit us. So many days I had been jerked backwards by those older kids," she said.
Alicia Matthews, 11, was one of 50 people (above) to attend a pilgrimage hosted by the Haywood County NAACP to visit Montgomery. Donated photo
Like many of us, Rev. Carl Matthews, a white pastor now retired, found the amount of violence against African Americans to be overwhelming.
"In the Legacy Museum this morning, I had to keep taking breaks. It was very heavy. I knew that there was all types of oppression, but I never knew the extent to which we have lynched our fellow brothers and sisters," he said. "The number of lynchings was just overwhelming. And the one from Haywood County, George Ratcliffe, I keep thinking about him and wondering, 'What do we do?'" We could consider a memorial, repentance, reparation."
"One reason we did this was because we had heard about George Ratcliffe. We thought we wanted to come to the memorial and learn about all the hangings that occurred in the United States. I feel that a lot of injustice has been done to people of color. We've seen the cruelty of lynching and things like that. And no one was convicted of a crime for things that were so horrible," said Rev. Walter Bryson, president of the Haywood County NAACP.
Sharon Woodrow is a descendent of the Holland family, the family of the victim in the crime that lead to Ratcliffe's death. Ratcliffe was arrested because he was accused of assaulting Matthias Holland's 8-year-old granddaughter in 1900.
"This trip has been a wonderful, eye opening experience. Assuming that it was my past relatives that helped lynch George Ratcliffe in Haywood County, I felt great empathy for my family and George's family. The whole situation was tragic," she said. "As a parent, I might become consumed with hate toward someone that hurt my child. But, Mr. Ratcliffe didn't get a trial. He didn't have the opportunity for justice. So how can we judge his guilt? Standing looking at his name on the memorial along with so many other lynching victims from around the country made me feel immense sorrow for lives and justice lost. We as a nation must strive to do better."
Relationships became important as we pilgrims processed what we saw.
"It was a wonderful experience to see it with my aunt, someone older than me who knows about it in detail," said Laverne Granger about her aunt Pauline Alexander. "I'm just really thankful that my aunt invited me on the trip. I come from Winston-Salem. Now I'll go back and share it with other people."
Phillip Gibbs finds Haywood County's monument to lynching victims in Montgomery. Donated photo
Dan Schultz confessed, "I expressed to some of the African Americans in our group that I did not know much about this violence. Almost all of them responded that they knew all about it. It was often spoken of in their homes. It made me sad to think of that."
Tammi Sharpe brought her experience working in other countries.
"I made the trip because I've been looking at this history, and I'm interested in the interaction between what you do at a national level, a state level, and a community level to help reconcile with this past," she said. "This is a national memorial and I can see a county that's going to try to bring home a piece of that history — how that really works. In the end, you're just overwhelmed by how many people have been lynched. And there were ridiculous alleged 'offenses' most of the time. They've documented that. I think we need to understand. Racial violence is still evolving and is in various ways still going forward. And we're still not over it. The very tangible signs of segregation and hangings and nooses aren't here anymore but there's still cross burnings. The prisons, the number of people in jail. It's still happening. We've got to tackle the past before we can move forward."
Marsha Miller asked, "Life hasn't been horrible, but there have been times when I would sit and think, why? I've said to myself, 'Why? Just because of the skin I'm in! Why?'"
White participants often felt shame.
"It made me feel guilty for my ancestors. It made me feel really bad in my heart, but I have to say to myself that from this day on, we're going to move forward. We're not going to let things continue to be the way they've been for so many years," promised Virginia Wall.
Though most of us are still figuring out what we can do, the history we saw in Montgomery also made us hopeful. Bryan Stevenson, the founder of the Equal Justice Initiative, said, "We cannot recover until we tell the truth about slavery and then move on to reconciliation. The truth will set us free."