Archived News
On the upswing: Golf industry changes with the times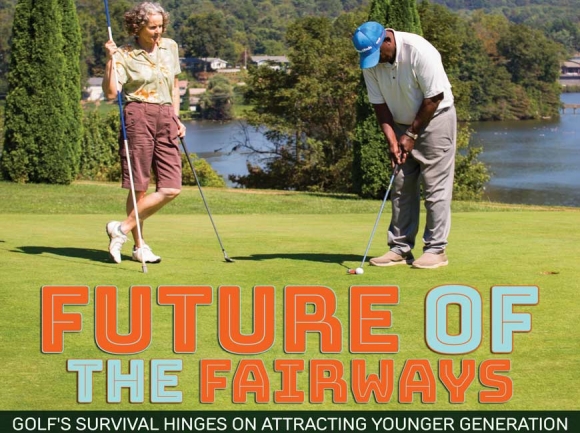 Golf is more than a game in Western North Carolina — the wellbeing of the popular past time can be a major indicator of how the regional economy is doing as far as real estate and tourism growth.
The golf industry — like many others — took a major hit following the recession in 2008. Many courses went bankrupt and closed down, people couldn't afford to play the game as often, and home building within the country clubs came to a standstill. Even in 2017, more than 200 golf courses across the nation closed as the supply and demand pendulum continues to swing its way back toward the center following 20 years of unsustainable growth.
"The industry obviously took a hit after 2007 and had a flat period, but it's growing again," said Steve Wright, general manager of Maggie Valley Club & Resort. "It's exciting to see the game growing, and if the start of this season is any indicator, we're going to have another great year."
According to a 2008 North Carolina Alliance for Golf report, the total economic impact of golf‐related activities in North Carolina amounted to $5.3 billion of direct, indirect and induced economic output, $1.7 billion of wage income and nearly 68,667 jobs.
When Gov. Roy Cooper declared June 20 as North Carolina Golf Day last year, he reported that golf generated an annual direct and indirect economic impact of $4.2 billion, paid out $1.3 billion in wages and supported more than 53,000 jobs in the state.
Though the industry hasn't made a full recovery since the recession, it is becoming more stabilized and local golf club managers say golf memberships and real estate growth is back on the upswing.
"We certainly have seen an uptick in play, which is great, and the industry itself is looking for more creative ways to play the classic game of golf that they love," said Sarah Speier, marketing manager at Laurel Ridge Country Club.
Today, there are 24 million people participating in on-course golf, and a total of 33.5 million people participating in the sport when factoring in off-course options like Top Golf and other indoor simulators. The National Golf Foundation reports that about 1 in every 9 Americans plays golf in some form, which is more than participate in sports like basketball, tennis, baseball and skiing.
Adjusting to changes
The rebound growth of golf hasn't come easy though. It's required those in the industry to adjust to post-recession demands. The cost of memberships has come down some, there are more membership options to accommodate different budgets and lifestyles, and more golf rate options are available to make the game more accessible to more people.
Many local golf clubs have also made their facilities more accessible to the local community by allowing non-members to play the course and utilize some of the amenities.
"We are open to non-members and a lot of people don't realize it," Wright said of Maggie Valley Club. "The course and restaurant welcome the public and our members understand the need for that. We think it's a good blend. We also have for the public 'stay and play packages' where you get a condo, golf and dining all wrapped up into one cost."
Maggie Valley Club Marketing Director Caitlyn Noland said offering more varieties of membership packages has also helped the club grow recently.
"The young professional membership package, which we recently changed to be age 45 and younger, so far that's where we've seen membership growing," Noland said. "In March we added 25 new members, so a lot of young professionals are choosing it because it's more affordable."
While a full privilege membership to Maggie Valley Club (includes unlimited green fees, advanced tee times, free locker rental and range balls, and full access to all amenities for the entire family) costs a $2,500 initiation fee plus $285 in monthly dues, the new young professional membership includes the same benefits for a $750 initiation fee and $150 monthly dues.
There are also membership options for individuals and a sportsman membership for families or individuals who want to use the club's non-golf facilities. Those members can access the fitness center, pool, tennis, dining and social events and get 25 percent off golf rates before 3 p.m. for a $1,500 initiation fee plus $720 in annual dues.
As for the price to play, Maggie Valley Club golf rates range from $35 to $85 for 18 holes. Golfers can play later in the day for $35 or more for a prime tee time. For those who may not want to play an entire 18 holes, which can take about four hours, players can play 9 holes. The front nine at Maggie Valley is fairly flat and walkable while the back nine is more mountainous terrain. Club members are allowed to walk the course instead of using a cart if they wish.
"We're probably the only one that does this, but we have a lot of walkers — especially on the front nine — for the exercise value," Wright said.
Laurel Ridge Country Club is actually a semi-private club, Speier said. While members get first pick on tee-times, the course is open to the public. And if you're playing the course, you're also welcome to have a meal at the club's restaurant. Otherwise the restaurant is only open to the public during special events and for Sunday brunch.
Laurel Ridge Country Club has one of the most challenging golf courses in Haywood County.
Laurel Ridge also has an experienced golf pro Duane Page who is a great instructor. Speier said his coaching and lessons are available to members as well as the public — something people may not be aware of in the community.
Speier said the young professional membership package for ages 30-39 is also where Laurel Ridge has seen substantial growth recently.
"We've made that young professional package super attractive with low dues and initiation fee and they still get full access," she said. "And we're only able to do that because of the age. Most people that age have to work all week and probably have children too so we keep that in mind knowing they can't be on the greens as much."
Laurel Ridge also offers standard full privilege, sports and social memberships with initiation fees ranging from $1,500 to $15,000 and annual membership dues ranging from $1,250 to $5,050.
In addition to offering a variety of amenities and membership options, it's important to keep the course in tip-top shape for golfers of all skill levels. The course, which was built in 1963, is a 6,500-yard 72-par golf course with 30 acres of fairway.
"The Maggie Valley course is positioned beautifully," Wright said. "I'm not saying it's easy — it has it's challenges but it's designed for all golfers. We have the youth out there hitting the ball 300 plus yards and we have elderly members not hitting it very far but are still able to enjoy the course."
The club recently completed a green reshaping project on holes 2, 10 and 15 to make a more enjoyable game. The project began in November and was completed in April. During that time, only one green was being completed at one time and temporary greens were in place to keep all 18 holes playable even through the winter months. Wright said the project was done in response to feedback from members.
"We're very excited about the three new greens. It's a big deal for people who've played here before because they were basically becoming unplayable — there was hardly anywhere to put a flag stick in the hole — so we brought in an architect who reshaped and redesigned around the greens," he said.
With Laurel Ridge being one of the more challenging and mountainous courses in the region, Speier refers to playing the course more like ATV off-road golfing. The terrain makes it even more important to stay on top of maintenance needs. Recent heavy rains and landslides impacted some of the cart path along the course, but Speier said those repairs have been made.
"Ask anyone who's played the course in the last 10 years and they'll tell you it's in the best condition it's ever been because we did a lot of work in 2015 and 2016," she said. "Our owners made a huge investment and it's paying off now with the best greens in this county."
Who's playing
A lack of diversity among golfers continues to be a challenge in the industry. It's a relatively expensive sport compared to others — a set of clubs can run several hundred dollars, plus the cost of apparel, gear and a round of golf or an annual club membership. A National Golf Foundation report found that baby boomer spend an average of about $2,000 a year on golf equipment while Gen X and Gen Y spend an average of $1,200.
Golf has gotten a bad rap for being a boring, slow sport exclusively for rich old men, but Speier couldn't disagree more.
"Are you kidding me? It's the only game you can tailgate the entire time and get a workout at the same time," she joked.
Indeed, the demographics of golf continue to change as the industry tries to expand its reach. It's traditionally been a man's sport — Augusta National Golf Club in Augusta, Georgia, one of the most famous golf clubs in the world — didn't allow women to be full privilege members until 2012. Before that time, women were only allowed to play the course if they were a guest of a male member. This year was the first time women were able to compete at Augusta National as the club hosted the inaugural Augusta National Women's Amateur Championship.
According to the National Golf Foundation, women make up 19 percent (about 15 million) of the 80 million golfers worldwide. About 36 percent of today's junior golfers are girls compared to 15 percent in 2000.
"We're definitely seeing more ladies playing the game and even have a strong Ladies Golf Association here," Speier said. "I love seeing the course all full of color when they play. It's great camaraderie."
Seeing more women getting into golf is a trend Wright and other golf course managers are welcoming as a way to expand the sport. Just last week Maggie Valley Club had 104 women from all over the Carolinas on the course during a Carolina Golf Association event.
"We have a lot of ladies that play here and not just members but vacationers and visitors as well," Wright said.
Millennial-aged golfers are also on the rise and are on track to become the largest demographic group playing the sport. An annual study from the National Golf Foundation found that 36 percent of the nearly 24 million golfers in the U.S. are age 18 to 39. Though a younger generation is finding a love for a sport that is steeped in tradition, many of them aren't participating in the traditional ways. They are getting involved with golf through "off-course" facilities like driving ranges, Topgolf and indoor simulators.
Topgolf is an indoor entertainment center fully equipped with a driving range, bar and restaurant — some have described it as the golf version of a bowling alley. Located in most major cities, Topgolf has exposed an entire new generation to the sport in a less intimidating way than the traditional golf course. Since it's an all-inclusive environment for friends, there's no worrying about holding up a group of golfers in line behind you or fear of having to dig your golf ball out of the sand trap or the pond.
Though one could argue the emerging industry is taking business away from the traditional golf courses, Wright sees the positive impact of the off-course industry. Those Topgolf enthusiasts may enjoy the sport enough to venture out to a real course after a while.
"It's a very social way to play, which is great, but it won't take the place of golf," he said. "I think it's helping to grow the game by getting more people involved. If they enjoy that experience they'll want to try it out the traditional way."
The National Golf Foundation report seems to support that opinion, finding that 2.6 million people played on a golf course for the first time in 2018. By comparison, there were 1.5 million beginners in 2011. The last record high was in 2000 when Tiger Woods was at the height of his golf career. The industry has had five straight years with more than 2 million beginners, a good omen for the sport's future sustainability.
Speier said Laurel Ridge and other golf clubs understand the importance of reaching out to the younger generation and getting them involved in the sport at a young age. The club hosts kids' golfing camps in the summer to offer kids lessons with their golf pros, hoping to reach the 6-13 age bracket. The course is also made available to high school teams for practice and tournaments as well as the women's and men's golf teams at Western Carolina University.
"Golf needs to pour into the younger generation to keep the game alive — we're seeing that all over the place," she said. "We also have to try to stay relevant to all our members and offer something fun to show it's a hip game and not just for an older generation."
Maggie Valley Club's golf course, built in 1963, is known as an enjoyable 18 holes for all levels of golfers.
A community asset
Even though many golf clubs remain completely private, many of them also act as a gathering place for community events and charity golf tournaments.
Places like Laurel Ridge, Maggie Valley Club and Waynesville Inn Golf Resort in Haywood County partner with local chambers of commerce, businesses and nonprofits to host fundraisers, conferences and golf tournaments to raise money for community causes. Being a community asset is something the club managers are proud to offer.
"The Haywood Chamber golf tournament event is coming up," Wright said. "It's their biggest fundraiser of the year and it's a lot of fun. We host Haywood Health Foundation, evens for Harrah's Cherokee, we've got the Shriners coming up from Charlotte this weekend. It's non-stop around here."
Laurel Ridge hosts the annual Mardi Gras Ball for Haywood County Schools Foundation, Casino Night for the Haywood Health Foundation, Rotary Club meetings and the Chamber's monthly Issues & Eggs business networking breakfast.
Golf clubs have also become popular wedding venues that can offer all-inclusive packages for couples and their families. With plenty of overnight accommodation options, picturesque mountain backdrops and impressive catering options, country clubs can host everything from the rehearsal dinner, wedding ceremony and the reception on site.
Real estate
Golf club real estate is also on the rebound nationwide and in Western North Carolina after taking a major hit after 2007.
During the golf course "gold rush" from 1998 to 2006, hundreds of new facilities were being constructed all over the country. But as the economy started to tank, developers and investors pulled out, leaving many private club projects to go bankrupt before they were completed. Over-supply and under-demand has also forced many golf clubs to close.
Speier said the real estate market surrounding Laurel Ridge fared better than others during the recession.
"I think for us specifically, this is one of the most coveted mountains to live on in Haywood County because of the course so we've had consistent property values because of the golf course value," she said. "The growth in golf has a direct relationship to property values."
While not everyone living on Eagles Nest Road near Laurel Ridge is a member of the club, Speier said they try to offer those residents a good deal to continue that mutually beneficial relationship.
"We try to stay competitive. If they're not members they can become members at a pretty exclusive rate because we want to maintain that relationship," she said.
That relationship could be changing though with a younger generation. While golfers 65 and older still want all the benefits of living inside a gated golf community, younger golfers aren't as interested in waking up with a view of the greens. While giving county commissioners an update on the property revaluation process in Macon County a few months ago, Tax Assessor Richard Lightner said the real estate trends in places like Highlands and Cashiers have changed since the last revaluation in 2014. The majority of home construction used to be within the golf clubs, but now that's shifted — residents want to maintain a club membership but are choosing to build or buy a home in downtown areas close to shopping, dining and retail.
"People in Highlands would rather be downtown than at the golf clubs," he said.
Despite the trend toward downtown living, golf club real estate is still holding its own across the country. According to a 2018 U.S. Golf Economy Report, golf drove $84.1 billion in U.S. economic activity in 2016. That number includes $9.34 billion in golf real estate market and $7.24 billion of that was in new home construction.
Noland said that national growth is definitely a reflection of the steady home growth happening at Maggie Valley Club recently.
"The past couple of years have been great here — membership continues to grow," she said. "When I started at Maggie Valley Club in 2013, there were four homes along the front nine and now there are 30 to 40 and there's still land to be developed."
Golf in WNC
Haywood County
• Lake Junalsuka Golf Course
• Laurel Ridge Country Club
• Maggie Valley Golf Club
• Springdale Country Club
• Waynesville Inn Golf Resort
Jackson County
• Bear Lake Reserve Golf Club
• Balsam Mountain Preserve
• Sapphire National Golf Course
• Sequoyah National Golf Club
• Smoky Mountain Country Club
Macon County
• Cullasaja Club
• Franklin Golf Course
• Golf Club at Mill Creek
• Old Edwards Club
• Trillium Links & Lake Club
• Mountaintop Golf & Lake Club
• Headwaters Golf Course
• Wildcat Cliffs Country Club
• Highlands Country Club
• Highlands Falls Country Club
• Wade Hampton Golf Club