Archived Outdoors
Magnolia trifecta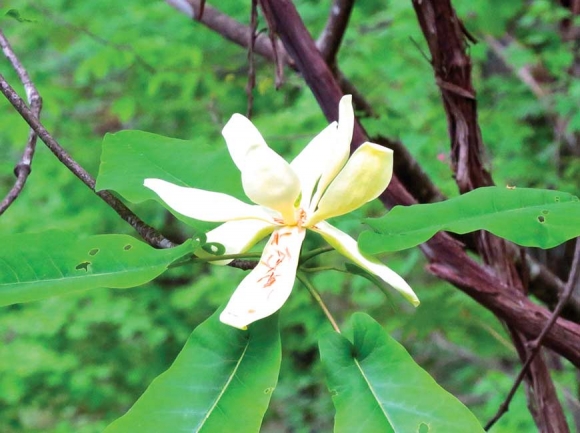 Magnolia fraseri showing the auriculate leaves. Don Hendershot photo
It's May! That means my 2019 Forest Service bird survey has begun — another six weeks of roaming the wilds of the Nantahala and Pisgah national forests. It's clearly a bird-centric six weeks but there is, of course, a lot more to see in our national forests. This past weekend I was fortunate enough to hit a magnolia trifecta. I found all three of the common magnolias — genus Magnolia — (just so you sticklers don't throw Liriodendron in there) in flower.
I found two on Friday, Magnolia fraseri, Fraser or mountain magnolia, and Magnolia acuminata, cucumber tree. Fraser's is probably the most common in the mountains of Western North Carolina but it can be found in the Piedmont and in the Blue Ridge area of South Carolina. It has also been recorded from West Virginia to northern Florida and to east Texas. The leaves of Fraser's can grow to almost 2 feet, most common, however is probably 10 to 15 inches. It's the leaves that make this species stand out. They are lobed or auriculate at the base. Fraser's magnolia is named for Scottish botanist John Fraser.
Magnolia acuminata, cucumber tree, does not have auriculate leaves — the base of the leaf attaches directly to the rachis or stem. The leaves are generally smaller than Fraser's at 6 to 10 inches and the flowers tend to be smaller with a greenish-yellow tinge. The cucumber tree may be the "cold-hardiest" of the magnolias and reaches all the way up to Southern Ontario. It is common throughout the Appalachians, including the Allegheny and Cumberland plateaus. The cucumber tree gets its common name from the fact the unripe fruit is green and shaped (kinda-sorta) like a small cucumber.
I bumped into the third magnolia Saturday. Magnolia tripetala is known as umbrella-tree. Its large 10-to-24 inch leaves are clustered at the tip of the branch, creating an umbrella-like pattern. Umbrella-tree is found throughout the Appalachians and also in the Ozark and Ouachita Mountains.
The magnolias have been on the planet a long time. There are fossilized records of M. acuminata dating back 20 million years. The family, Magnoliaceae, dates back 95 million years. Magnolias may have pre-dated us, they surely pre-dated bees and the flowers are designed to attract beetles — and are still primarily beetle-pollinated today.
They retain their ancient-plant morphology. The outer part of the flower — the perianth in more modern plants is composed of sepals and petals; in the magnolia and other "old" plants (like sweet shrub) there is no differentiation in these parts and they are referred to as tepals.
Now is a good time to find this flowering tree — search in the canopy for the large white flowers; after finding one take a closer look and see if you can identify it from the leaves. Oh, and it's totally OK to look at birds while you're out.
(Don Hendershot is a naturalist and a writer who lives in Haywood County. He can be reached at This email address is being protected from spambots. You need JavaScript enabled to view it.