Archived Opinion
Remembering Riley as a seventh-grader, during Teacher Appreciation Week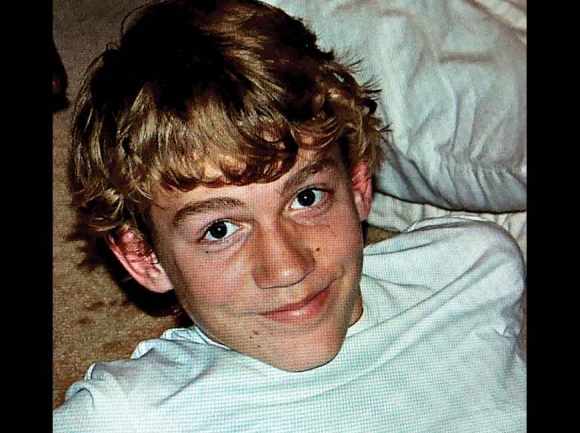 Riley Howell during his seventh-grade year. Donated photo
The thing I miss about teaching is human connection, being part of something bigger than myself.
When I was in the classroom, I bemoaned the exhaustive red tape that is public education. It's an antiquated system when it comes to encouraging teachers to do better, be better.
During my time as a middle school language arts teacher, I worked to develop hands-on lessons with cooperative learning strategies, technology, higher-order questioning, stations based on learning styles and all the other suggested bells and whistles of a great lesson plan.
The teacher down the hall had kids sit in rows and silently complete worksheets for 55 minutes, but if that teacher had worked more years than I, he would have the larger salary. Unlike most other professions, increases in pay and incentives are based on longevity not skill.
There is zero external or monetary reason to achieve excellence as a teacher. But yet, teachers continually rise to the occasion.
What's the reason? Why do teachers persevere, run, walk, crawl, scream, whatever it takes to do a great job?
They do it for their students.
For an entire year, a teacher has the chance to make a difference in a person's life, to impact humanity. There aren't a lot of careers that offer a direct way to do something so important and altruistic.
This is Teacher Appreciation Week and even though I haven't been in the classroom for a number of years, this week remains special to me and makes me think of former students who impacted or affected me as a person.
Since Tuesday, April 30, our community has been crushed by the senseless death of Waynesville native Riley Howell, the slain UNC Charlotte student killed while tackling a deranged gunman on the final day of his anthropology class. Another student, Reed Parlier, was also killed.
When I think of Riley, I don't think of the strong, brave man who stole the universe's heart with his act of heroism. When I think of Riley, I think of a tall, lanky seventh grader with messy blonde hair and a sweet humble demeanor.
Riley was bright but quiet and would often offer a witty comment out of the blue. He wasn't the student who sat up front excitedly raising his hand to speak before others. Instead, he chose to sit towards the back, sometimes doodling on notebook paper or clicking his binder rings to get out some energy.
Sitting in the classroom could be boring for someone like Riley who loved being outside. Even as a 12-year-old, he was probably dreaming of a Blue Ridge mountain hike or running on family land with his dogs.
He often had to re-write essays a second time to make his handwriting legible and would get so lost in his Lord of the Rings books during library time, he didn't notice the rest of the class lining up to leave.
Riley's looks, personality and abilities could have easily put him in the position of "most popular" but I could tell, even then, that wasn't his goal in life. He was reflective, clever, and mature for his age. He wasn't trying to be the golden boy. He just was.
I was a new mother when I taught Riley. My little Brooks had curly blonde hair too, and I fully remember thinking, "I hope Brooks grows up to be like Riley Howell."
Seventh grade boys are awkward. Girls go through the cumbersome pubescent years earlier so by the time they reached my classroom, they were already young women. Meanwhile, male development takes a little longer, so seventh grade boys are hyper, silly and pretty obnoxious. They aren't yet self-aware and are unsure how to converse with adults. They spend most of their time horse playing or trying to be funny.
But not all seventh grade boys fit this mold.
There are a handful of male students who stand out in my mind, boys who exemplified characteristics I wanted my own two boys to develop. Riley was top on the list.
Sitting in Riley's memorial service this past Sunday, I was grief-stricken, along with everyone else in the packed auditorium. How could such a beautiful, wonderful person be torn away in a horrific act of nonsense? It just doesn't make sense.
But as I listened to those who loved and knew him best, I learned what he did was inevitable. Over and over, his loved ones said, "That's just who he was."
His girlfriend of five years, Lauren, spoke to Riley directly as opposed to talking about him. Watching this lovely young woman talk to her soul mate is something I will never forget.
Although he has gone into the great mystery, she's confident he will visit her. She said these words, "From now on, when the sun shines warm and gently on my face I will know that it's you, holding me in spirit just as you did in our life."
As I think back to Riley's seventh grade year, I feel honored to have known him, to have read books with him and share a space with him every day. And now, as I ponder that thought I had many years ago, the poignancy is magnified. If either or both of my boys grow up to be like Riley Howell, I will be beyond proud.
(Susanna Barbee wears several hats for The Smoky Mountain News, Smoky Mountain Living and Mountain South Media. This email address is being protected from spambots. You need JavaScript enabled to view it.)