Archived News
Haywood's hero: The life and legacy of Riley Howell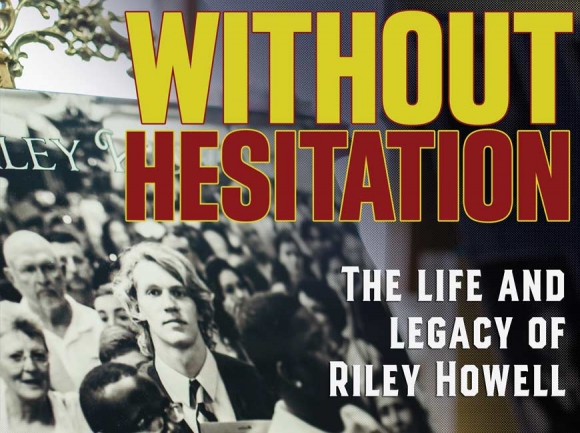 At this time last week, few knew of him and most all those who did were of the home — Waynesville, in Haywood County.
The first time I heard his name roll off the tongues of these Western North Carolinians on that bright morning, it was Howl. Riley Howl. Like Ginsburg's Howl, the "I saw the best minds of my generation destroyed by madness" Howl.
Later I learned it was Howell, but by then it didn't matter. By then, I'd wished I never heard it at all.
As the story of the shooting at the University of North Carolina's Charlotte campus quickly evolved into the story of a Waynesville native who gave his life to protect others, I, like his high school soccer coach told members of the media days later, simply wished he were still just a college student.
Celestial machinations though — the cranks and pulleys and levers that operate behind the veil in mysterious ways — put him in that place, in that time, to sing his death song for reasons known only to Him, our Creator.
We can't know why He did what He did, but as human beings sensitive to tragedy we can know why he did what he did, in that classroom, on that day.
Teddy Howell (center) stands wracked with grief while surrounded by family members outside his brother Riley's memorial service this past Sunday. Joe Pellegrino/Smoky Mountain News photo
Haywood County native Riley Howell was born to Thomas and Natalie Henry-Howell a few weeks before Christmas, in 1997. Apparently, it didn't take him long to make an impact on others; he'd learned to communicate by sign language with a deaf uncle by the age of 3, and apparently cut quite a striking figure even before kindergarten.
"The first time I met Riley I think I was about 4 years old," said his best friend, Logan King. "I met him at first United Methodist Church in Waynesville. We were in the same Sunday School class, and I thought he looked really cool because he was kind of dressed like a cowboy and he was wearing a snakeskin leather belt that I thought was really neat. He asked if I wanted to be his friend and I said yes, and from there, it was lifelong friends."
King is a nursing major at Appalachian State University in Boone, which is where he was when he first learned the news. Shortly after King heard from fellow nurses that there were two fatalities in a shooting at UNCC, he received a curious text from his father.
"It said, 'I need to call you.' And then he texted and said that my mom was coming up to Boone to meet me and I thought that was very strange," said King. "And then I received a text from one of my friends that said, 'Did you hear about Riley?'"
The pieces were coming together in an unsettling way for King, who phoned his dad.
"He told me that Riley had attempted to stop the shooter by jumping on him and he tackled him to the ground," said King. "He said that Riley was dead."
King was driving at the time and admits to "pretty much coming apart" at that moment. Like a cinder block through plate glass, the blow crackled outwards casting sharpened shards through this small, tight-knit community.
"Just … shock. Shock is the only way I can describe it," said Michael Blackburn, of Waynesville's First United Methodist Church. "Almost unbelief. It reminds me of being at an accident scene."
Blackburn's known Howell for just about as long as King has, serving as his youth group leader and supervisor during a variety of church functions and trips; former Haywood County schoolteacher Susanna Shetley first met Howell a few years later, when she had him in her seventh-grade class.
"I think in the whole community, there was a dark cloud, for sure," said Shetley. "It was heartbreaking."
She remembers the young Howell as a tall, lanky, athletic boy with messy curly blond hair who was incredibly intelligent, to the point of dishevelment — distracted by deep thoughts, unable to find his papers.
"Seventh-grade boys are really awkward, and I can probably name on one hand the five seventh grade boys that impacted me, and he was definitely one of them," she said.
Growing up where the Smokies meet the Blue Ridge Mountains means lots of opportunities for outdoor activity, and King and Howell formed a tight connection hiking the area's rugged trails, swimming at Fontana Lake and snowboarding at Cataloochee.
A product of the Haywood County School system, Howell attended Waynesville's Tuscola High School for one year until moving to Asheville, where he graduated from T.C. Roberson High School. From there, it was on to Asheville-Buncombe Technical College.
"I know he wanted to be in the military at one point," said King. "The last I heard, he was studying environmental science and wanted to be in some type of forestry job, either game warden or park ranger, something where he could be outdoors."
That's exactly what Howell was doing at UNCC, where he was finishing up his junior year, when the events of April 30 transpired.
"I think he exhibited all the attributes that a hero should," King said. "He didn't question it, he didn't hesitate, he instantly ran at someone who was trying to hurt other people, and he attempted his best to stop the person — to save lives, without considering his own."
A young Riley Howell (left) and best friend Logan King catch some serious air while sledding. Donated photo
As the world came to know more about who he was and what he did, a number of claims about Riley Howell became repetitive to the point of preponderance — namely, that it surprised absolutely no one to hear of his heroism.
"Not at all," said Shetley. "Riley would do something like that."
"Not at all," said Blackburn. "That sounds like something Riley would do."
"I just think he's a strong person," said King, who still often speaks of Howell in the present tense. "He was born strong. He was raised in the church. His parents raised him to have really good morals. He was the oldest of his family and he always protected his siblings and he was just a natural leader that wanted to look out for others."
A protector of friends and strangers alike, a giver who cared about others, a natural leader mature for his age — that's how Howell was known around Haywood County even before he became known around the world as a hero.
"You had to let him lead," King said. "You had to let him go the path he was going to go. He was very intelligent. His mom's a teacher and his dad's a nurse, and so he was very intelligent. Yeah. Great common sense, and great logical sense as far as test-taking and things like that were concerned."
King said Howell was "always kind of the captain" of their group, taking charge during expeditions out in the woods, or games on the athletic field.
"I would say he's a free spirit and he could not be chained or shackled," he said. "You couldn't hold him down, you had to let him go. He was not hesitant. If something happened, he went ahead and jumped right on it. He got it done."
Dozens of businesses across Haywood County remembered Riley Howell by posting roadside messages of thanks. Cory Vaillancourt photo
Blackburn recounted a camping trip during which Howell was more a help to the adults chaperoning the expedition than a hindrance, as some of his more mischievous agemates may have been.
"He was a leader and a great kid," he said. "Just someone who always seemed mature for his age. He was a kid that both people his own age and elders … he just got along with everybody. Everyone respected him and liked [him]."
Leadership, it has been said, is earned and not commanded. In Riley's case, it was earned through acts of devotion that demonstrated his giving nature; King said that Howell attempted to become an Asheville firefighter — the core duties of which include running headlong towards that which most people run from — but was rejected for being too young.
Shetley recalled an example of how, years before, the outdoorsy, rough-and-tumble Howell made what must have appeared a strange choice to some of his peers.
"We had a class of students with severe disabilities and he was one of their peer helpers," Shetley said. "That was really telling right there. They could choose to do folk art, or PE, or chorus or whatever, and he chose to be a peer helper in that developmental delay class."
Howell had a sense of himself most men twice his age still don't — he stood tallest when stooped in service to others because of his caring nature, and was cut down because of it.
"I think that he's a protective person," King said. "I've seen him protect his siblings, I've seen him protect me, I've seen him just unconditionally give, and care for others, and I think in a split-second, he responded to a problem."
A problem, just like when King and Logan played football together. In a game against an Asheville school, the slight King — a kicker — found himself in the unenviable position of having to tackle the enormous kick returner. King latched on and was dragged down the field.
"Out of nowhere, Riley comes across the field and jumps headfirst into both of us and laid both of us out," King laughed. "I think he hit me a harder than he hit the other player, but he hit us both really hard and knocked the guy straight on his back. He was like, 'I got you, Logan. I got you.'"
His community — shocked but unsurprised, grieving but grateful — can count itself as one of the reasons Riley Howell did what he did, which was as much about who he was as, where he was from.
"I think this community supported him and loved him and loved on his family through their whole lives," King said. "I just think the unconditional support and love that Waynesville and Haywood County has to offer, for everyone, was evident in his life, too."
Crowds lined Waynesville's streets to welcome Riley Howell home on Thursday, May 2. Jessi Stone photo
In many ways, Riley Howell had been a hero for a long time, but less than 48 hours after thoughts became deeds and mortal became immortal and legend became lore, Riley Howell was returned to his community by elements of the Haywood County Sheriff's office, along with many other state and local police, fire and public works agencies.
"He would probably think it was kind of neat to have all the fire trucks and police and everything driving around," King said, "but I think he would ultimately not want to be praised, the way he is. He wanted to remain humble, I think."
Blazing their way west, down Interstate 40, the motorcade made the 150-odd miles from Charlotte to Wells Funeral Home, in downtown Waynesville. As they arrived around noon, a formidable olive-drab military helicopter throbbed through the clear blue 200 feet off the ground, in a steeply banked turn that thumped the chests of those not already thumping.
Riley's ROTC membership had played a part in the military customs that would be observed during his formal services, and was readily apparent as hundreds gathered at the intersection of Walnut and North Main streets, waving American flags.
Others held signs, like those that had sprung up a day earlier on billboards at mom-and-pop hotels, distilleries, chicken joints around town — "RIP Riley," and "Haywood's hero."
Already, the parking lot of the funeral home was full, and traffic signage directed media to a designated parking area, away from the intersection still clogged with folks and flags; perhaps never before have so many television camera tripods been set upon these streets at any one time.
Five hours later, the family opened Wells Funeral Home to the public. I spent 90 minutes in a line that stretched from the main reception hall through the lobby out the side door under a covered portico into and out of another chapel and through that lobby out onto the streets, and I may have been fortunate because I arrived early.
As I progressed through the procession, there was a curious mix of reverent silence and joyous reunification; people who obviously hadn't seen each other in a while smiled, hugged and chatted. How's your mom? Still at the mill? Been fishin'?
Lining the walls were flatscreens flashing sentimental slideshow photos of a smiling family that could never know that one day, all too soon, he'd be gone, way too soon.
You kind of want to reach out, reach back through time, through the photos, and tell them, tell them all, tell Riley, tell 5-year-old Riley grinning in front of an old-timey train, to watch out and watch out for himself but you know by now it wouldn't make much difference to him.
Tables set out along the route of the line held heaps of memorabilia connected to Riley's life. A raggedy cap from Riverbend Elementary. A buck knife. A Star Wars poster. A Mother's Day card drawn in the hand of a child that just said "HMD! HMD!" a few dozen times.
You want to see them worn again, used again, held again by the person you wish was still just a college student whose name you never knew whose life was really just beginning and was full of such promise and was so much more than an assemblage of objects on a table, but you know by now that that wouldn't make much difference to him, either.
Flowers and mementoes began piling up outside Lake Junaluska's Stuart Auditorium — where Riley Howell's memorial service was held — shortly after news of his death reached Waynesville. Cory Vaillancourt photo
The next day, bluegrass supergroup and Haywood County natives Balsam Range loaded into the George R. Stuart Auditorium at the Lake Junaluska Conference and Retreat Center, a place they'd played many times before, but probably never like this.
"At this time last week, none of us would have imagined this moment," said Reverend Dr. Robert M. Blackburn, who officiated Riley Howell's service.
He was speaking to more than 1,500 people — a community united in faith, in grief and in triumph — and after praying for the dead and wounded he would be the only person I heard all week utter the name of the alleged gunman.
"O God, in this moment we seek to offer a prayer that our hearts, our hearts might not be ready to pray," he said. "But out of your great love, we know we are called to pray for the perpetrator of the violence. We pray for Trystan Terrell, and his family. May they be touched by your mercy and grace."
Blackburn also paraphrased Psalm 121, which he called a mountain psalm, for mountain people.
"I lift up my eyes to the Blue Ridge — where does my help come from? My help comes from the Lord," he said. "The maker of heaven and earth."
The father of Howell's girlfriend Lauren, Kevin Westmoreland, then took a few moments to compose himself before trying to make sense of what most here consider utterly senseless.
"Maybe it was that God that moved the levers that put Riley in that classroom, on that day, at the exact time, for the purpose of saving others," Westmoreland said. "It was not out of character for him, and maybe someone in that room is here for a greater purpose, and it was Riley's destiny to sacrifice himself for them."
Howell's obituary listed his surviving siblings, all of whom were present and spoke at the service; in a curious turn of phrase, they were not listed as being "of Haywood County" or "of Waynesville," but instead "of the home."
Before Lauren Westmoreland took her chance to address Riley directly with heart-rending tenderness, Riley's sister, Juliet, encapsulated his life perhaps better than anyone by offering a quote from the Shawnee warrior-chief Tecumseh.
"When it comes your time to die, be not like those whose hearts are filled with the fear of death, so that when their time comes they weep and pray for a little more time to live their lives over again in a different way," she said. "Sing your death song and die like a hero going home."
Near the conclusion of the service came a sobering moment that reminded us all why we were there; a soldier marched on stage and faced the American flag displayed there, slowly drawing his right arm to the bill of his cap. He held it there for what seemed like an eternity in deafening silence until a gunshot rang out.
The 21-gun salute — performed outside, near a set of doors that had been swung open during the service — caught many unawares. Some of us flinched. Others, mostly law enforcement, didn't. I couldn't help but think that was the first sound many in that UNCC classroom heard. I also couldn't help but think that was the last sound Riley Howell heard.
Balsam Range, who played Riley Howell in to the somber strains of "Amazing Grace," played Haywood's hero out to a more rollicking version of the classic southern hymn written in 1929 by Albert Brumley:
Some bright morning when this life is over
I'll fly away
To that home on God's celestial shore
I'll fly away.