Archived News
Riley Howell, hero of UNCC shooting, returns home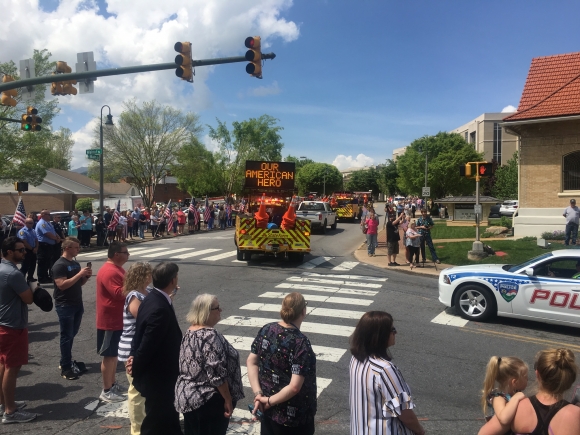 Riley Howell's motorcade nears Wells Funeral Home in downtown Waynesville on May 2. Greg Boothroyd photo
Although the impact of the shooting at UNC Charlotte will continue to be felt for some time, residents of the rural community that raised Riley Howell have begun the healing process today by welcoming the hero home.
Howell's body was returned to Waynesville, a town of 10,000 nestled amidst Western North Carolina's Great Smoky Mountains, by a motorcade of first responders and military vehicles on May 2.
Howell was one of two fatalities in the campus attack, which unfolded shortly after 5:30 p.m. on April 30. The next morning the names of the victims were announced, sending waves of despair through this tight-knight Appalachian community two hours west of Charlotte.
"Shock is the only way I can describe it," said Michael Blackburn, of Waynesville's First United Methodist Church. "Almost unbelief. It reminds me of being at an accident scene."
Blackburn knew the 21-year-old Howell from their time together in various church youth groups, and said there was always something special about him.
"He was a leader," he said. "A great kid – just someone who always seemed mature for his age. Everyone respected him and liked [him]."
Shortly after it became known that Howell, 21, perished in the attack, multiple media outlets began reporting that Howell may have rushed the shooter.
Those reports were later confirmed by Charlotte-Mecklenburg Police Chief Kerr Putney, who said that Riley Howell ran towards the gunfire and attempted to subdue the gunman.
Howell's selfless act likely saved lives and delayed the shooter, allowing more time for law enforcement intervention. Blackburn wasn't surprised when he found that out.
"Not at all," Blackburn said. "That sounds like something Riley would do."
Former Haywood County schoolteacher Susanna Shetley had Howell in her seventh grade class; she described him as "highly intelligent" to the point of being a bit disorganized, but also as one of the most selfless, level-headed young men she'd ever instructed.
"We had a class of students with severe disabilities and he was one of their peer helpers," said Shetley. "That was really telling right there. They could choose to do folk art, or PE, or chorus or whatever, and he chose to be a peer helper in that developmental delay class."
But few were closer to Howell than his childhood best friend Logan King, who arrived back in town from Boone just after hundreds of people had lined up along downtown Waynesville's Main Street to pay their respects as Howell's motorcade reached the funeral home.
"He was not hesitant," said King, 20, who'd known Howell from the time they were 4 years old. "If something happened, he went ahead and jumped right on it. He got it done."
King credits Howell's family for turning the young man into what he's being hailed as today – a hero who made the ultimate sacrifice for a bunch of people he didn't even know.
"I think his parents raised him to have really good morals," King said. "He was the oldest of his family, and he always protected his siblings. He was just a natural leader. He just wanted to look out for others."
King also said that being raised in a small community like this one had a lot to do with who Riley Howell was before, during and after the events at UNC Charlotte on April 30.
"I just think he was a strong person. He was born strong, he was raised in the church at FUMC Waynesville, and I think this community supported him and loved him and loved on his family through their whole lives," King said. "I just think the unconditional support and love that Waynesville and Haywood County has to offer, for everyone, was evident in his life, too."
A service honoring Howell will be held at Lake Junaluska's Stuart Auditorum on Sunday.
Look for more on this story in the next issue of The Smoky Mountain News, available online and on newsstands this coming Wednesday, May 8.