Archived Arts & Entertainment
This must be the place: Home is where we wanna grow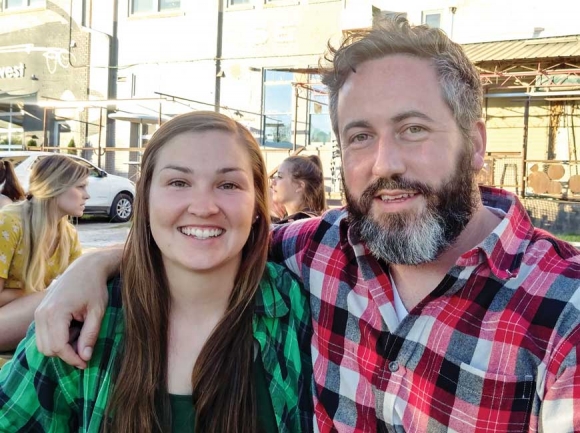 Heather and Garret.
Crossing the threshold of Rocky's Hot Chicken Shack in West Asheville recently, I scanned the space looking for my old friend, Heather. And there she was, sitting on the patio, sipping a beer and looking over the menu deciding how hot she was willing to order her chicken tenders.
Currently on a cross-country trip with her best friend and roommate, Heather and I go way back, over 1,100 miles back to my hometown of Plattsburgh, New York, where she attended the State University of New York at Plattsburgh. We became fast friends when she started to date the drummer in a Plattsburgh band, Lucid, that I was managing at the time (circa 2010).
The true sign of a lifelong friendship is how seamless you can catch up with someone you haven't seen for the better part of a decade. And Heather is one of those lifelong friends, where our conversation picked up right where it left off those many years ago.
We started reminiscing about our days running around with Lucid, the organized chaos and midnight shenanigans, all in the name of irresponsible enlightenment. Truth be told, that period of my life feels like forever ago.
And sometimes, it feels like it never happened, some dream I awoke from in my humble abode here in Western North Carolina. Back then, there in the North Country of Upstate New York, I was a struggling writer trying to get by.
Between sporadic articles for the local newspaper (of which I got paid peanuts) and taking jobs as a substitute teacher in my old high school, I was looking for another avenue to stay involved somehow in the music industry — my true passion in life.
And within those local newspaper articles, I'd cover the Plattsburgh music scene, writing album reviews and show previews here and there for rock, reggae and Americana acts. One of those groups, Lucid, really connected with me on numerous levels — personally, professionally, and artistically.
Right around May 2010, Lucid was looking for someone to be the road manager for the band. At that same exact time, I was looking for something — anything — to distract me from a recent and terrible breakup with a longtime girlfriend. It was a mutual opportunity for the group and I to push into another, perhaps more bountiful, level of the music world. Count me in.
With everyone in the band and myself working 9-to-5 gigs during the week to make ends meet, we'd hop on the Lucid psychedelic school bus (retrofitted with bunkbeds and couches) every Thursday and roll out from Plattsburgh into the depths of the northeast.
One weekend we'd be in Boston, the next Syracuse, onward to Philadelphia, New York City, the shoreline of Connecticut and the backwoods of New Jersey.
As Heather and I waltzed down memory lane last week in Asheville, it dawned on me how much that era meant to me, and to all of us part of those wild melodic adventures.
Besides the band itself, the only other folks really on the bus every weekend were myself, Heather, and whoever else wanted to catch a ride to the next festival gathering. And I think back to those festival appearances and the crazy nature of it all.
There was the time at the Zumgali Music Festival (way up in the desolate Adirondack Mountains) where the band got paid well but nobody showed up, so the promoters gave us a cabin, keg of beer and free access to the entire property (Lucid still played a memorable show). Or when we came upon the Liberate Festival (on a farm in Vermont), which showcased Lucid alongside Twiddle, Lotus, Beats Antique and Rubblebucket, all currently some of the biggest names in the jam and indie scenes.
Eventually, my time with Lucid came to end, especially when I accepted and started my position here with The Smoky Mountain News in August 2012. But, my time with that band, and within all those endless miles traveled, showed me that I was on the trajectory I had hoped I'd be, a path that seemed foggy back then, but crystal clear today — one of musical endeavors through the written word.
These days, the members of Lucid and its inner circle are scattered. Though the band doesn't tour anymore, it does one-off shows every-so-often. The bandmates, myself, Heather and our friends all pushed ahead in our own pursuits, and yet are forever linked by that time and place together.
After a couple of beers held high and joyously at The Wedge in the River Arts District, Heather had to head out of town, only to drive back to Upstate New York in the coming days. It meant a lot to spend time with a familiar face from my native North Country, an interaction few and far between in recent years being so far from home.
Honestly, I don't think I'd be where I am today without those faces and those memories. We were a team, one searching for ways and means to make our dreams a reality. And it's that will, determination and vigorous spirit which still resides and thrives within my heart and soul — keeping the flame of creativity and hopes alive one day at a time.
Life is beautiful, grasp for it, y'all.
Hot picks
1 The 2019 "Art After Dark" season will kickoff from 6 to 9 p.m. Friday, May 3, in downtown Waynesville.
2 Acclaimed writer and historian George Ellison will present the biography he and Janet McCue collaborated on, Back of Beyond: A Horace Kephart Biography, at 1 p.m. Sunday, May 5, at City Lights Bookstore in Sylva.
3 The annual "Airing of the Quilts" will take place from 11 a.m. to 5 p.m. Saturday, May 4, at the Appalachian Women's Museum in Dillsboro.
4 Films created by Western Carolina University students will be screened at the annual Controlled Chaos Film Festival at 7:30 p.m. Friday, May 3, in the John W. Bardo Fine and Performing Arts Center in Cullowhee.
5 The 16th annual Shady Ladies' quilt show will be held May 3-5 at the Folkmoot Friendship Center in Waynesville.