Archived News
Haywood Habitat embarks on second subdivision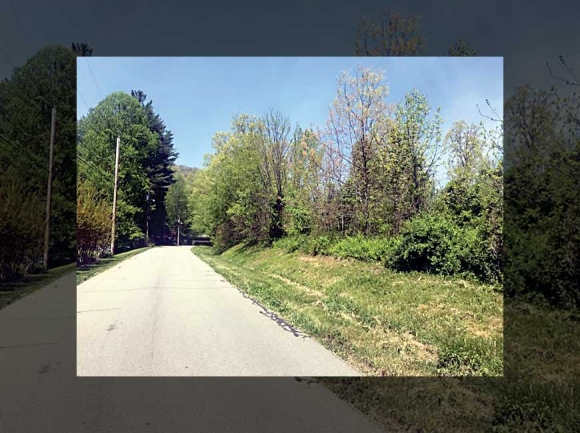 Haywood Habitat for Humanity is planning to construct 10 new affordable homes on Sylvan Street in Waynesville. Jessi Stone photo
With a site plan approved unanimously by the Waynesville Planning Board, Haywood Habitat for Humanity is getting ready to embark on its second major affordable housing development.
Over the next several years, Habitat has plans to construct 10 new affordable homes along Sylvan Street in the Chestnut Park community behind Frog Level.
Habitat Executive Director Jamye Sheppard said the nonprofit organization has spent the last year exploring its options for the Sylvan Street land and developing a plan to meet the town's requirements for a development of this size.
"We were able to determine that we could build 10 houses on that property and felt like we could meet the town requirements so we made the decision to move forward," she said. "We spent a lot of time preparing to go before the planning board because we wanted to make sure we were presenting something that would benefit the entire community while also providing much needed affordable housing in the county."
The county has a huge demand for more affordable housing options and finding buildable land is becoming more difficult, which is why Habitat felt so fortunate to acquire nearly 3 acres on Sylvan Street that abuts the town-owned Chestnut Park. The property was privately owned, but luckily, Sheppard said, the owners were willing to sell and willing to work with Habitat on the price.
"Several people involved with Habitat knew the owners and made contact to see if they were interested and they were," she said. "We were able to come to an agreement that was good for everyone involved, which was both fortunate for us and generous of them."
Habitat paid $140,000 for the property using proceeds it received from selling another piece of property in Canton. While Habitat had originally planned to develop the Canton property, it turned out not to be an ideal spot for their needs and was sold to a private developer out of Asheville.
Meanwhile, the Chestnut Park property is an ideal spot for the new housing development because it will place residents within walking or biking distance from main hubs like Frog Level, downtown Waynesville and Russ Avenue.
"Town resources will be easily accessible so when you're looking at it from a healthy community perspective it's great because our homeowners can walk or bike to town," Sheppard said.
The Habitat development also includes plans to create a greenway along the backside of the property along the creek that abuts Chestnut Park. Since the park property was donated to the town in 2015, Waynesville leaders have been working to make it an asset for the community. The Fund for Haywood County awarded $11,840 from the Mib and Phil Medford Endowment Fund to the town of Waynesville for Chestnut Park in the spring of 2016 to be used for plant materials, trees, benches, picnic tables and signage. The town received another $14,000 from The Fund in 2018 to install playground equipment at the park.
Lastly, the town is collaborating with Haywood Waterways Association and the Resource Conservation and Development Council on water quality and erosion control issues along Shelton Branch stream. With the addition of the Habitat community and the greenway project, the Chestnut Park neighborhood will be undergoing a major transformation in the next several years.
"Chestnut Park is not a bad neighborhood aesthetically, but most of the houses in the neighborhood are older so we'll be bringing a new look to the neighborhood," Sheppard said. "We want the style and look of the homes to blend in though. When we come in to build, part of the plan is to build a greenway that connects to the park so this project will mean improvements for everyone. We're hoping to revitalize the area and make it a community asset — something everyone can be proud of."
To accommodate the long and narrow quarter-acre lots on the property, the new homes will be designed more like shotgun homes instead of the standard ranch-style Habitat has used in the past.
The Chestnut development will be the second neighborhood project Haywood Habitat has taken on in the last four years. The first was Walton Woods, an eight-house project currently being completed on Davis Cove Road in Waynesville. Going forward, Sheppard said, developing neighborhoods instead of single homes is the way the nonprofit would prefer to do business.
"Forevermore if we can build neighborhoods that's the way we'd like to do it and there's a lot of reasons," she said. "First is efficiency. Because we're so volunteer-driven, we're able to have several houses going up in different stages of construction. When volunteer groups of various sizes and experience are there we have more options — we're able to give them something they can feel successful in doing."
The other advantage to constructing Habitat communities is that all the homeowners involved get to meet each other and help each other build their houses during their sweat equity process. Each qualified Habitat homeowner is required to complete 300-400 hours of sweat equity into the construction process.
"This way they work side-by-side in building their homes together. Strong relationships are built between homeowners and between them and all the volunteers as well," Sheppard said. "In Walton Woods everyone knows each other and they know each other's children. Everybody is looking out for each other and supporting each other. We are building stronger communities because the relationships are so strong."
Sheppard said the next step is to begin clearing the land and grading on Sylvan Street with plans to begin building the first homes next spring if the weather cooperates. While site prep is being done, the Habitat staff is in the process of holding a number of information sessions throughout the county for potential new homeowners. The organization still has an opening for the last home in Walton Woods as well as the first few homes on Sylvan Street.
"Then we've got to start work on fundraising for everything that's going to be happening," she said.
Looking at the big picture, Habitat needs to fundraise about $1 million for the new housing development, but it will be spread out over the next few years. If the support shown for Walton Woods is any indication, Sheppard has faith everything will come together again for Sylvan Street.
"The support we've had has been phenomenal," she said. "And we already have a head start on funding for Sylvan Street."
Private donors, businesses and organizations like Harrah's Cherokee Casino, State Employees Credit Union, Wells Fargo, the Methodist churches, Jay Summers and others have sponsored homes in Walton Woods while the Habitat ReStore has helped fund the other two homes.
Last year, Belk donated $20,000 to Habitat — those funds will be put toward the construction of the first home on Sylvan Street.
Habitat accepting new applicants
Haywood Habitat for Humanity is seeking qualified homeowners for homes located in Haywood County.
Applicants must attend one mandatory information session prior to application — the last one is scheduled for scheduled for 6 p.m. Thursday, May 2, at Long's Chapel United Methodist Church in Waynesville.
Houses are sold at the organization's cost with an affordable mortgage. Families are required to invest 300 to 400 hours of volunteer "sweat equity" into the construction of their home (depending on family size) and complete homebuyer education classes.
All applicants must be residents of North Carolina for a minimum of 12 months and living in Haywood County at the time of application. Applicants must exhibit need for affordable housing, have the ability to pay a monthly mortgage payment, and be willing to partner with Haywood Habitat in the building and homeowner education process.
For more information, visit haywoodhabitat.org or call 828.452.7960.