Archived News
Entegra merges with First Citizens Bank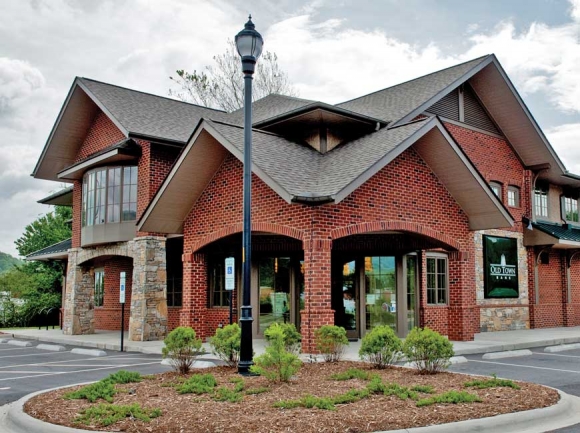 Entegra Bank, which has branches all over Western North Carolina, Upstate South Carolina and North Georgia, has entered into an agreement to merge with First Citizens Bank. File photo
After announcing in January that Franklin-based Entegra Bank would be bought out by SmartFinancial Inc. out of Knoxville, the deal is being called off and Entegra now has plans to merge with Raleigh-based First Citizens Bank instead.
On Jan. 15, Entegra announced it had entered into a definitive agreement to merge with SmartFinancial in a strategic merger of equals. However, First Citizens approached Entegra and its advisors with a significantly better offer after the announcement was made. According to a press release, under the agreement with SmartFinancial, Entegra's Board of Directors exercised its right to enter into discussions with First Citizens and ultimately determined that the cash consideration offer of $30.18 per share was a superior proposal to the agreement with SmartFinancial for $22.36 per share.
"As you know, earlier this year, we announced a merger of equals with SmartBank. Under any agreement of this nature, there is always the potential that another acquirer sees value in either company and decides to make a better offer. That is what occurred in our case, with First Citizens proposing a transaction that would provide significantly more value to our shareholders," stated a press release from Entegra. "Our Board of Directors had a fiduciary obligation to shareholders to accept this superior proposal. First Citizens has a 120-year track record of working to help families and businesses make more of their finances. Beyond our similar roots as community banks, we share the same core values, philosophies, and commitment to excellent client service, consistently striving to exceed customer expectations by building lasting relationships."
Under the terms of the First Citizens Bank agreement with Entegra, First Citizens Bank will pay a termination fee of $6.4 million to SmartFinancial on behalf of Entegra, which Entegra was obligated to pay under its agreement with SmartFinancial.
The total transaction value, including termination fee, is anticipated to be about $219.8 million.
According to an article in the Times Free Press, the merger between SmartFinancial and Entegra would have been the seventh and largest yet for SmartBank and would have doubled its size. However, SmartBank officials chose not to counter First Citizens' offer and said they would look for other acquisitions in the market.
"As a disciplined acquirer and having already completed a number of recent successful acquisitions, we simply felt it was in the best interest of our shareholders to not move forward with a matching offer," SmartFinancial Chairman Miller Welborn told the Free Press.
The First Citizens-Entegra agreement has been approved by the boards of directors of both companies, but the transaction is anticipated to close during the second half of 2019, subject to the receipt of regulatory approvals, the approval of Entegra's shareholders and the satisfaction of other customary closing conditions.
First Citizens has over $35 billion in assets and more than 550 branches in 19 states.
"First Citizens has a long and proud history in nearly all of these communities. We also share many core attributes with Entegra, including a commitment to service excellence and relationship banking. We look forward to building on the solid foundations both banks have established so that, together, we can better serve even more individuals and businesses," said Frank B. Holding Jr., chairman and chief executive officer of First Citizens.
As of Dec. 31, 2018, Entegra reported $1.6 billion in consolidated assets, $1.2 billion in deposits and $1.1 billion in loans.
"We are pleased to announce this combination with First Citizens, which shares our customer focus and community banking approach. Not only does this represent a significantly higher price for our shareholders, we also believe that First Citizens' size and resources will present more opportunities in the future for our customers and communities," said Roger Plemens, president and chief executive officer of Entegra Bank.
Entegra Bank opened in 1922 under the name Macon Bank and is a state-chartered, full-service commercial bank with 18 offices and two loan production offices throughout Western North Carolina, Upstate South Carolina and North Georgia. As the bank grew outside of Macon County and throughout the region, it changed its name to Entegra Bank in 2015. Around the same time, Entegra acquired locally-owned Old Town Bank in Waynesville to the tune of $13.5 million.
"Customers should bank as they normally do at their existing branches, which will become part of First Citizens upon the completion of the merger," the press release stated. "As part of this much larger, growing institution, we will be able to continue providing a highly personalized experience, while also offering our customers access to more products, services, and resources over time."
The documents filed by Entegra with the SEC may be obtained free of charge at Entegra's Investor Relations website at www.snl.com/irw/corporateprofile/4290505 under the heading "SEC Filings." The documents filed by Entegra with the SEC can also be found at the SEC's website at www.sec.gov.
The Entegra documents may be obtained free of charge from Entegra by requesting them in writing to Entegra Financial Corp., 14 One Center Court, Franklin, NC, 28734, or by telephone at 828.524.7000.