Archived News
WCU welcomes new chancellor to Catamount country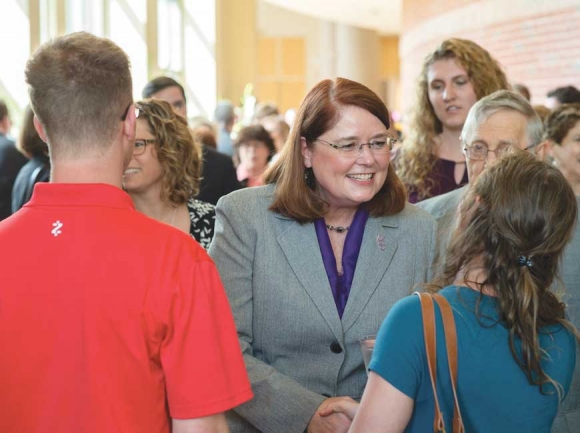 Dr. Kelli Brown shakes hands with WCU students during a reception to welcome the chancellor-elect to the university. WCU photo
Everyone donned purple Monday afternoon to show their Catamount pride as Western Carolina University staff, faculty and students welcomed their new chancellor-elect to campus.
While Kelli Brown, Ph.D., won't officially begin her tenure as chancellor until July 1, she wasted no time getting in the spirit shouting "Go Cats!" in her open remarks.
Brown thanked everyone for their warm welcome to Western North Carolina and also thanked the UNC Board of Governors for placing its trust in her ability to lead the university.
"I am anxious to get to work to prove them right," she said.
She also made a point to recognize Susan Belcher, wife of the late Chancellor David O. Belcher, who gave Brown a standing ovation from her seat in the audience.
"Words cannot express how humbled I am that you are here today. You and David were WCU's greatest champions and we're forever grateful to you and the legacy that you and David built here," Brown said.
Throughout her career, Brown said, she has worked at six different higher education institutions and has served in various leadership roles — everything from department chair, associate dean, interim dean, provost to interim president — and has worked with diverse groups of constituents.
"I firmly believe my entire professional career has prepared me to serve Western Carolina University at this pivotal time in the institution's history," Brown said. "I also firmly believe in higher education — I believe a post-secondary education is critical to changing the trajectory of one's life and in turn a family's life. It has certainly changed my life."
Brown said her father was the only one in his family to have a college degree while her paternal grandparents only graduated eighth grade. Her maternal grandparents and mother graduated from high school, but both her parents pushed their three children to go to college. As society begins to question the value versus the cost of a higher education, she said, now is the time to tout the value and the many advantages of a college degree.
"A college education provides opportunities, it opens doors, it makes people better community citizens," she said.
As far as she's concerned, WCU is ahead of the curve and can act as a model for other universities when it comes to finding innovative ways to continue student success while dealing with myriad challenges. For example, Brown said N.C. Promise — legislation that allows students to attend WCU and two other state universities for $500 a semester — was an exciting and promising opportunity for students to earn a high-quality degree with little to no debt upon graduation.
"WCU has the opportunity to be a thoughtful leader in regards to how regionally engaged universities can maintain a student-centered focus with high levels of teaching innovation and yet at the same time graduate a first generation of diverse students at a rate that exceeds the norm," she said. "I believe WCU is the place others will look to for solutions to solve complex higher education challenges."
Just as her late mother nudged, supported and inspired her to work hard no matter what challenges life presented, Brown said she knew WCU had a staff of capable teachers and faculty members willing to push their students to do more.
"I feel very confident that WCU faculty, staff and alumni have encouraged, nudged, supported and inspired many students to go a little further — to take a chance to do something they never thought of — that's what makes WCU so special and why I'm deeply honored and humbled to be selected as this university's next chancellor."
Brown said her first tasks will be to listen and learn. She wants to be known as a chancellor who is "fully collaborative and transparent" and one who develops initiatives and solves problems through open discussions with all stakeholders, she said.
"I truly believe we will do our best work when we work together," she said.
Lastly, Brown acknowledged the large shoes left to fill following the passing of WCU's former chancellor Belcher.
"Finally, I recognize that I'm following the footsteps of a beloved leader. All leaders stand upon the shoulders of those who came before them. Just as David Belcher built upon the solid foundation left behind by his predecessor, I pledge to do everything within my power to ensure Western Carolina University continues to thrive during my time among its stewards," Brown said. "And like David Belcher, I'm fortunate to have a wonderful partner at my side to help me. I want to assure you Catamounts you will come to know and love this man as I do. Dennis and I are thrilled to be joining the Catamount family."
Patricia B. Kaemmerling, chair of the WCU Board of Trustees and co-chair of the university's chancellor search committee, thanked Interim Chancellor Alison Morrison-Shetlar for her leadership over the last 16 months during the search process. Kaemmerling said she feels certain the committee and the Board of Governors kept its commitment to ensure access to a high-quality education by hiring Dr. Brown.
"This election represents an exciting new chapter for this institution — my beloved alma mater. We believe without question our new chancellor is well prepared to build upon the foundation we have in place here at Western Carolina and that she is ready to continue the amazing upward trajectory that this university has enjoyed over the past decade," she said.