Archived News
Kelli R. Brown named 12th chancellor of WCU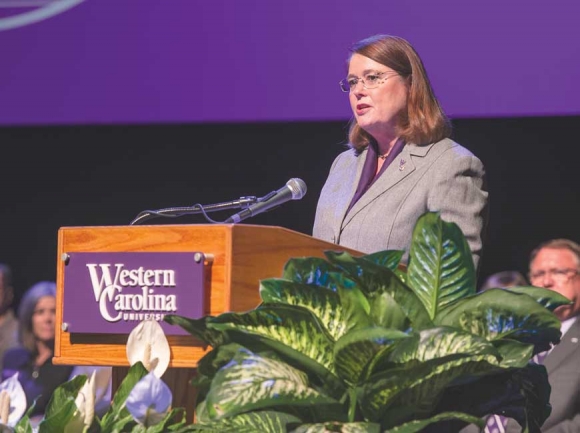 Kelli R. Brown, Ph.D., has been chosen as Western Carolina University's 12th permanent chancellor. Donated photo
A new chancellor has been chosen for Western Carolina University, with the University of North Carolina Board of Governors unanimously electing Kelli R. Brown, Ph.D., to the position during a special session Thursday, April 25.
"Being selected as the 12th chancellor of this incredible institution is the opportunity of a lifetime," Brown said upon her election. "I am impressed by the university's passionate focus on student success and its ongoing commitment to access while also delivering the absolute highest quality education. I am inspired by WCU's efforts to prepare students for life through experiential education and career preparation — especially students from the western region that this university was founded to serve."
Brown will start her job as WCU's 12th permanent chancellor on July 1, ahead of the fall 2019 semester beginning in August. She will be the first woman to hold that position in the school's history.
"On behalf of the Board of Governors, I am thrilled to announce the selection of Dr. Kelli R. Brown to lead WCU into the future," UNC Board of Governors Chair Harry L. Smith, Jr. said. "Western Carolina has seen tremendous growth, particularly now as an N.C. Promise institution. Now, under Dr. Brown's leadership, it is poised to see even greater success."
According to a terms sheet provided by UNC, Brown will receive a salary of $325,000 with any future changes in compensation determined by the Board of Governors upon recommendation from the UNC System president. She will live in the chancellor's residence on campus, and WCU will provide her with a vehicle, club memberships for conducting university business and "all reasonable moving expenses." The position comes with 26 days of vacation leave and 12 days of sick leave per year.
Brown's background
Brown, 60, most recently served as provost and senior vice president for academic affairs at Georgia College & State University, Georgia's public liberal arts institution, and has more than 30 years of higher education experience. At Georgia College, which she joined in 2013 as a professor in the School of Health and Human Performance, Brown's achievements included revitalizing a Center for Student Success, centralizing academic advising and increasing the four-year graduation rate by 25 percent.
She served as interim president of Valdosta State University from July 2016 through January 2017 and was interim dean and professor in the College of Health and Human Performance at the University of Florida 2012 to 2013 following a position as associate dean of academic affairs there from 2007 to 2012. From July 2003 through June 2006, she was interim dean of the Graduate School at the University of South Florida. Prior to that appointment, she was an active faculty member in the College of Public Health.
Before joining the faculty at USF in 1996, Brown was chairperson of the Department of Health Sciences at Illinois State University for two years. During her seven years at Western Illinois University from 1987 until 1994, she rose through the ranks to become the graduate program coordinator in the Department of Health Sciences and, ultimately, assistant to the dean in the College of Health, Physical Education and Recreation.
Brown's research interests include school and community partnerships, prevention social marketing and adolescent and youth health issues. She was the principal investigator for Florida's statewide social marketing campaign — Florida Cares for Women — to increase breast and cervical cancer screening utilization, and she worked with the Seminole women of Florida in developing culturally appropriate breast and cervical cancer materials.
She was the first female president of Eta Sigma Gamma, health education's national honorary society. She was the editor of the Journal of School Health, a highly esteemed peer-reviewed journal for adolescent and school health, from 2008 until 2011. She is an inaugural member of the Pedagogy in Health Promotion: The Scholarship of Teaching & Learning Editorial Board.
Brown holds a doctorate in education from Southern Illinois University at Carbondale; a master of science and education in public health degree and a bachelor of science degree, both from the University of Toledo; and an associate in applied sciences degree in dental hygiene from Michael J. Owens Technical College in Toledo, Ohio.
Path to the pick
UNC System Interim President Bill Roper submitted Brown's name for approval by the Board of Governors after choosing her from three final candidates WCU put forward for the position out of the 58 who applied.
"Western Carolina deserves a chancellor with a keen focus on student and faculty success, and Dr. Brown has demonstrated that focus throughout her esteemed academic career," Roper said. "I welcome her to the UNC System and look forward to working with Dr. Brown in her new role."
Brown will succeed WCU's previous chancellor David O. Belcher, who passed away in June 2018 following a two-year battle with brain cancer. Alison Morrison-Shetlar, Provost and Vice Chancellor for Academic Affairs, has been filling the role since he stepped down at the end of 2017, first as acting chancellor and then as interim chancellor.
"Dr. Brown distinguished herself as a top candidate in what I would characterize as an extremely deep pool of exceptionally well-qualified potential leaders for our university," said Patricia B. Kaemmerling, chair of the WCU Board of Trustees and co-chair of the university's chancellor search committee.
The university had hoped to have a new chancellor in place for the fall 2018 semester, with the search committee formed in December 2017 embarking on an energetic effort to gather community input on what qualities the new chancellor should possess and choose the best candidates to fill Belcher's decidedly large shoes. The search followed a similar process to that used this go-around, with trustees approving a list of three potential chancellors in June 2018 and sending those names to then-UNC System President Margaret Spellings.
Spellings submitted her pick to the board of governors, but following a reportedly contentious closed session meeting July 12 the board failed to vote on the selection and the candidate withdrew from consideration. At the time, Chairman Harry Smith said the board wanted to review the chancellor search process to "refine and improve it," implying that this should be done before WCU resumed its chancellor search. However, after a two-month hiatus the search process re-launched in September, using the same process as the previous search.
In the midst of all this, Spellings abruptly resigned her post in October 2018, less than three years into her tenure. She did not give any specific reason for leaving, saying in a press conference that "times change and those changes demand new leaders and new approaches."
The Board of Governors appointed Roper as the interim president, and he has served in that capacity since January. No search process to make a permanent hire has yet been announced.