Archived Outdoors
Flowers with stories: Nodding Trillium Garden opens in Cullowhee
Wednesday, April 24, 2019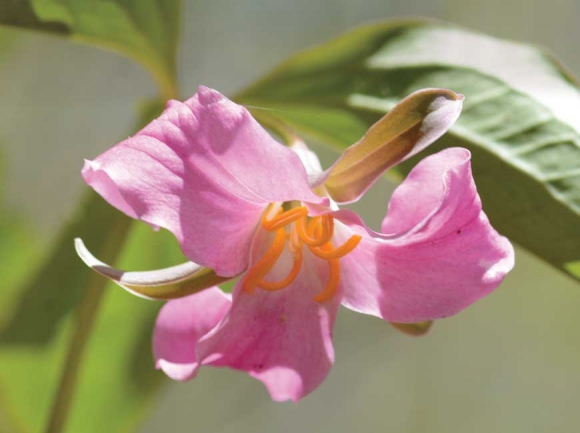 Trillium catesbaei is one of seven trillium species that grows on the property. Holly Kays photo
No matter what scale of time you're using, the newly opened Jean Pittillo Nodding Trillium Garden in Cullowhee has deep roots.
"Let's go back about 400 to 700 million years," said landowner Dan Pittillo as he began his explanation to the group gathered to experience the wildflower trail's grand opening April 17.
Back then, collisions between tectonic plates resulted in the earth getting pushed up — high, high up — to form towering mountains that eventually eroded down to the rounded peaks that are today's Appalachian Mountains.
"When we were pushed up on this mass between the town of Webster and the town of Addie, this became a dome that stayed intact, and this was down close to the mantle," said Pittillo, gesturing to the green and blooming cove behind him. "Pieces of the mantle called olivine were squirted out."
Olivine is a key character in the drama that unfolded to create Nodding Trillium Garden. It's a rock that was once mined for various industrial uses. But it's good for plants too. The rock is composed mainly of nickel, chromium and magnesium, and it breaks down to form a fertile soil that's neutral to basic in pH — a sharp contrast to the acidic soils that prevail in the Southern Appalachians.
The wildflowers love it.
"As a matter of fact there's 50 species in bloom here right now, which is a pretty good mass of plants," said Pittillo.
Dan Pittillo stops along the trail to talk about the plants growing there.
Wildflower haven
Geologic history has a lot to do with the diversity of plants in the 20-acre garden. But so does human history. Pittillo, 80, is a botanist who spent his career traveling to various mountain coves and summits for research. Sometimes he'd end up with a root or a seed from some native plant or another and take it home with him.
"I'd stick it in the woods," he said. "If it lived, it lived. If it died, it died."
A lot of them died, but a lot of them lived. Over the course of 40 years, Pittillo ended up with an impressive collection of plants, many of them blooming plants that are their best selves in the flower-ridden spring months. There's wild ginger, mayapple, fraser sedge, azalea. There's fire pink, phlox and horehound. And of course, there are the trilliums — at least seven species of them, including the nodding trillium for which the garden is named. It's believed to be the highest concentration of trillium species anywhere in the world.
According to a report from the Highlands-Cashiers Land Trust, 34 rare plant species are confirmed to grow on the property.
Now, all those flowers are growing on grounds that the public is invited to explore.
Pittillo, a retired Western Carolina University botany professor, protected the 20.5-acre property as a conservation easement through the Highlands-Cashiers Land Trust in 2012.
"We own Dan's development rights, which means he can't build houses up there," said Gary Wein, executive director of the land trust. "He can build trails, he can harvest the trees if he wanted to. But no houses, forever."
Pittillo still owns the land, and he never wanted to build houses on those alkaline acres leading up to Henson's Ridge.
"We're here for only a while," he said. "My while is getting near the end, and I thought this place may be appreciated later."
It's park-like, he said, and a good place to do various types of research. It's close to WCU, a resource for both academic and recreational pursuits. To that end, Pittillo not only wanted to conserve the property — he wanted to open it to the public.
Fire pink, Silene virginica.
Pittillo and the Highlands-Cashiers Land Trust celebrated the grand opening of the Nodding Trillium Garden last week, Wednesday, April 17, leading groups of visitors along the newly completed trails that loop from the bottom of the property, within sight of Pittillo's home, up toward the top of Henson Ridge. The land is visible from 46 named peaks and from sites up to 18 miles away.
The first section of trail was built a few years ago by Cullowhee resident Henry Kornegay, but the remainder was constructed using volunteer labor from WCU students and land trust volunteers. The result is a pair of loop trails, one about 200 yards long circling the bottom of the cove and another that covers about 1 mile with 140 feet of elevation gain. With the exception of chainsaws, no machinery was used to build the path.
About 60 people came out to the first of two guided hikes Pittillo held at 9:30 a.m. April 17, so many that the group had to be divided in two. An additional 15 people attended the second hike, at 12:30 p.m.
Beyond the bloom
It doesn't take a botanist to see the garden's beauty, especially in April. Flowers dot the forest floor in a seemingly endless carpet, with trilliums so plentiful that photographing each one that lines the path would turn what should be a 30-minute walk into an all-day excursion.
But to Pittillo, the garden is more than a pretty picture. Each bloom is a story, each plant the current chapter of a book that began long ago.
Take the trilliums, for example. He knows where he planted them originally.
"They didn't stay there. They got up the hill," he said. "Not only did they get up the hill, they exploded up the hill. Not only did they explode up the hill, they went all the way around the fence and across the road and across the creek and made it to the other side."
Most people would probably observe the explosion of trilliums, count themselves lucky, and think no further about the reason for the spread. But not Pittillo. One way trilliums spread is through ants that collect their seeds, eat away the delicious fatty parts and then discard the rest — which can then grow into a new plant in a new location, courtesy of ant-powered transportation.
But as Pittillo was mowing his lawn, he found himself getting into a nest of yellow jackets at one particular place. When the yellow jackets departed, a pile of trilliums came up where the nest had been. The yellow jackets, Pittillo concluded, must have been helping to spread the trilliums.
"You think yellow jackets have no function? Now you know," he told the group.
Wild geranium, Geranium maculatum.
Other plants in the Nodding Trillium collection are more stationary.
"Pass this around," said Pittillo, pausing to pluck a short, green stalk topped with a fuzzy white flower shaped like a microphone. "This is fraser sedge."
The plant came from one of two creeks — he took specimens from, but he didn't label which was which when he planted them.
"There's another big batch up the hill here that came from Clay County, and they survived," he said. "So the plants just stayed put. I've seen one or two seedlings, but they don't produce much in the way of seedlings."
For Pittillo, each plant is a story.
Take shortia galacifolia, for instance, a rare plant that's related to galax and is known more commonly as Oconee bells.
It was first collected by the French botanist Andre Michaux in 1788, Pittillo said, and sent back to Paris. Later, Harvard botanist Asa Gray came across the plant and realized it was as yet unnamed. He called it "Shortia" after his friend Charles Short and "galacifolia" due to its shiny leaves. But he could never find it in the wild due to Michaux's mistaken notation that it grew in the high mountains of the Carolinas — it actually prefers the lower elevations in the mountains.
"It was found by somebody who didn't know what it was, named by someone who didn't know where it was, found by someone who didn't know what it was either," said Pittilllo.
Preserving memory
In discussing plants, memories can operate through several different magnitudes of time. There's the timeline of geology, the timeline of human history and the timeline of one's own life experiences. All three scales are evident at Nodding Trillium, but for Pittillo perhaps the one that looms largest is the memory of the woman for whom the garden is named — his late wife, Jean Pittillo. Jean passed away in 2011 following a battle with cancer. The Nodding Trillium property was an important place for her.
"We didn't know what was going to happen with Jean when she got cancer and was close to death, and she didn't like a cemetery," said Pittillo. "So (our daughter) Heather said, 'Why don't we put a memorial for her here?'"
So now, in addition to being the place where Pittillo's plants are rooted, Nodding Trillium is the place where his wife's ashes are scattered and her memory preserved. It's been a special place for the family, and Pittillo wants to pass that gift along to the larger community with the trail's opening.
"If it's a value to somebody beyond me, I'd like to see that happen," said Pittillo. "I like the idea of the Indians. If the seventh generation later can appreciate it, then it's the right thing to do."
Visit Nodding Trillium
The Nodding Trillium Garden is a 20-acre property located at 601 Cane Creek in Cullowhee, featuring about a mile of trail through a rich alkaline cove featuring 34 rare plant species in addition to a tremendous diversity of more common plants.
The property is open to the public sunrise to sunset year-round. Picking flowers or other plant parts is not allowed and visitors are asked to stay on trail. Pets on leash are allowed but owners are asked to pick up after them.
Leave a comment
2

comments
I missed the grand opening April 17. Does Dr. Dan Pittillo lead walks thru his special place at specific times?
I would greatly enjoy participating on one of his guided hikes.

Sunday, 06/06/2021

I missed the grand opening April 17. Does Dr. Dan Pittillo lead walks thru his special place at specific times?
I would greatly enjoy participating on one of his guided hikes.

Sunday, 06/06/2021