Archived Travel Guide
The beauty of simplicity: Bird in Hand & Ivory Hollow Farmstead
Wednesday, April 24, 2019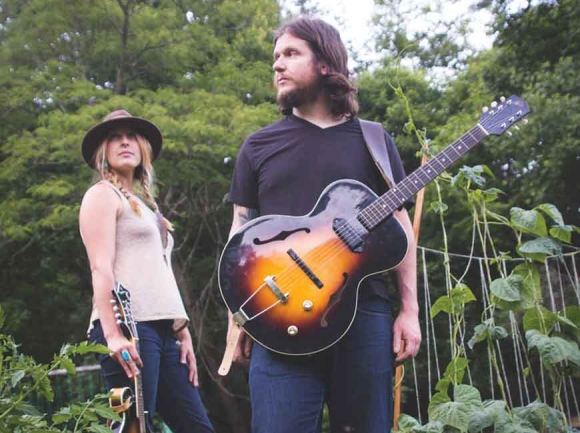 Megan and Bryan Thurman.
These days, Megan and Bryan Thurman call a 31-foot Airstream home. The iconic silver travel trailer is currently parked on a picturesque property in the rural southern edge of Sylva.
It's a lush 6-acre mountain paradise named Ivory Hollow Farmstead. With a large focus on organic growing, the Thurmans harvest the land and sell the produce to customers within Jackson County.
The young couple also works at Innovation Brewing in downtown Sylva, many-a-time alongside each other, slinging some of the finest craft beer in Western North Carolina to locals and touristds alike.
But, when they're not farming or pouring pints, the duo performs music together as Bird in Hand — a sound and tone located at the intersection of Americana and old-time folk music.
"This style of music fits perfectly with our love of travel and ease, and we're trying to live a life that's worth singing about," Megan said. "I never really felt it more strongly until we moved here — into the woods and also around such a supportive community."
And whenever there is a free moment to tour, Bird in Hand continually hits the road, playing small clubs and raucous venues around Southern Appalachia. Soon, the act will release its second album.
"Folk music has been here since the Europeans arrived and has stayed through every other genre that has come and gone," Bryan said. "It's remained essentially the same in its core, but has had all that time to evolve — and it has, subtly."
Witnessing Bird in Hand live, it's a stripped-down stage setup, one where the focus is on the melodic harmonies created between the two musicians — their songbird voices and acoustic notes swirling around whatever space they and the audience may happily occupy.
"I feel like folk music is this common ground that people can meet on," Megan added. "So much of the storytelling aspect relates all types of people together, emotions that we all feel, current situations we're all exposed to, and with a strong backbone in this region. To me, it's what these mountains sound like — warm and worn, full of secrets and celebration."
For more information on Bird in Hand, visit www.birdinhandmusic.com.