Archived News
Community college leader works to hike salaries
Wednesday, April 24, 2019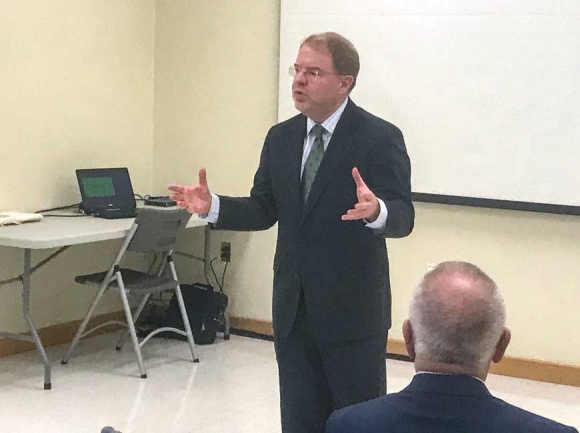 N.C. Community College President Peter Hans speaks during a visit on April 22 to Haywood Community College.
North Carolina Community College President Peter Hans says his main goal is to advocate for more funding for the state community college system, including working to boost the salaries.
"We are fighting for additional compensation for faculty and staff," Hans told those attending a reception for him at Haywood Community College in Clyde on April 22. "We need to move toward the national average, although that is really hard to compute."
Hans explained that since no two states have exactly the same community college systems, then comparing salaries is difficult. Regardless of how the averages are computed, "our folks need to be better compensated," he said.
Hans' stop at HCC was his 52nd visit to community colleges in the state, well on his way to making good on his vow to tour all 58 within his first year in office. He was slated to visit Southwestern Community College in Webster that afternoon.
He was hired in May 2018 with bipartisan support after a career as a political adviser and turns on the the UNC Board of Governors where served as chairman and the state Community College Board, where he was vice chairman. According to the Raleigh News and Observer, he is not an educator but is widely regarded as a problem solver.
Last fiscal year the community college system received a 4 percent funding increase, and Hans says he hopes to get at least that amount again this year and for years to come.
"Last year we got the 4 percent, but we need to keep that up. We serve more than 700,000 students across the state. That's 7 percent of the state's population that's enrolled in community colleges," he said.
He says the system has an ambitious legislative agenda that includes additional funds for workforce training.
"I'm optimistic that our community college family is united, and we are taking our message to the difference-makers with unison. I feel like we have a lot of bipartisan support," Hans said.
He cautioned that the bipartisan support for the community college system could be derailed, however, if a partisan rift breaks down legislative budget "The biggest storm cloud we fear is that a budget impasse on other matters could affect our funding," he said.
HCC President Barbara Parker gave Hans an overview of HCC, including the initial plans for what she hopes will be a new health sciences building which could help address the region's nursing shortage. She also touted how the HCC Foundation has pledged a tuition free education for all students from Haywood County who attend the college.
— By Scott McLeod