Archived Opinion
Golf's prodigal son gets some redemption
Wednesday, April 17, 2019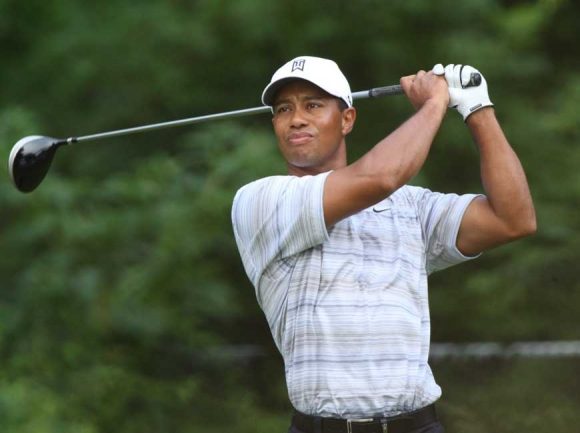 Tiger Woods in 2007. Keith Allison / Creative Commons
Twenty years ago, a friend and I would get together on the weekends of the major golf tournaments and bet an enormous Japanese take-out meal on whether Tiger Woods would win against the field. He would take Tiger and I would take the field. If you know anything at all about golf, that bet is nearly unimaginable — one golfer against 156 of the best players in the world — but Tiger Woods was so dominant in those days that the odds seemed just about even that he would win any given tournament, especially the big ones like the Masters and the U.S Open. I won a few of those bets, but I also paid for quite a few of those prodigious meals.
Watching Tiger Woods play golf in the late 1990s and early 2000s was like watching Michael Jordan play basketball in the 1990s, or what it must have been like to watch Babe Ruth play baseball in the 1920s.
In his prime, Tiger made countless shots that looked impossible under the most intense pressure imaginable. In the process, he won 14 majors in 11 years. When he won his fourteenth, he was only 32 years old. It was not really a question of whether he would break Jack Nicklaus' record of 18 majors, but when and by how many. He was still young. It seemed likely that he would win 30 or more. He not only dominated the game, he captured the imagination of the entire country.
Then there was that other narrative, a black man shattering records and winning tournament after tournament in a sport that had long been the province of white men. Here was a young black golfer making mincemeat of Augusta National, not only one of the most challenging courses on the tour, but a very exclusive country club that had once hired only black caddies, did not allow a black man to play the Masters until Lee Elder broke the color barrier in 1975, and did not induct its first black member until 1990.
Tiger became the best-known athlete in the world, bringing a new audience to an old game, while shattering yet another stereotype. There had been black golfers, but none had ever become a star in the game. Tiger, of course, did more than that. Before he was 30 years old, he was universally acknowledged as the greatest golfer to have ever played the game, greater even than Nicklaus himself.
Because he had reached a peak the game had never seen, his fall from grace a couple of years later was all the more dramatic. There were the injuries that would eventually lead to four back surgeries, pain so intense that he could not swing a club, could not sleep. That would come later.
But first, in 2009, there were reports of infidelity in The National Enquirer, the infamous car crash while driving under the influence, the very public dissolution of his storybook marriage. There were numerous reports of dalliances with strippers, porn stars, and assorted other women. Reports of poor treatment of service people. In 2010, he checked into a "behavioral rehab" center in an attempt to get his life back on track.
Eventually, between the injuries, Tiger's game fell apart. He fired his longtime caddy. He tried a series of swing coaches. He did not look like the old Tiger on the course, neither his shot-making nor his temperament.
I suggested to my friend that perhaps his biggest problem was psychological. Maybe his fall from grace was like something out of the works of Nathaniel Hawthorne. He was golf's Hester Prynne, shunned by his people, riddled with guilt. My friend was not amused. His hero had become the object of public ridicule.
America loves few things more than basking the in the glow of a dumpster fire, especially if someone famous is being roasted in it. Tiger had once dominated the golf world. Now he dominated the tabloids and talk shows. He lost millions in endorsement deals. He lost the respect of millions of fans.
Eventually, the fascination faded — there is always a new scandal just around the corner for an insatiable audience — and so did Tiger's game. My friend and I had long since stopped making those bets. People no longer expected Tiger to win, or really even to contend, for the major championships. It was no longer a foregone conclusion that he would catch Jack Nicklaus after all. It seemed less and less likely that he would ever win another tournament, as he passed the age of 40 and contemplated retiring from the game altogether due to his chronic back problems. Two years ago, he summed up the state of his game to his fellow golfers at the Masters champions dinner: "I'm done."
But spinal fusion surgery in 2017 saved his career and made possible one of the greatest sports stories that will ever be told.
When Tiger Woods won the Masters on Sunday, coming from three shots behind in the final round to do it, fans all over the world not only cheered, but wept. The gallery erupted, and Tiger — who had shown almost no emotion at all during his furious comeback on the back nine, even as his competitors wilted around him — erupted as well, hugging everyone in sight.
I have been watching sports all of my life, and I have never seen anything like what Tiger Woods accomplished on Sunday in Augusta, or the effect it had on people. I do not know of a single person who was not rooting for Tiger to win that tournament. If there is one thing America loves more than basking the in the glow of a dumpster fire, it is a good redemption story, and this was a great one, perhaps the greatest ever in professional sports.
On Palm Sunday, no less, the Prodigal Son returned.
(Chris Cox is a writer and teacher. This email address is being protected from spambots. You need JavaScript enabled to view it.)