Archived News
NC educators will march again in Raleigh
Wednesday, April 17, 2019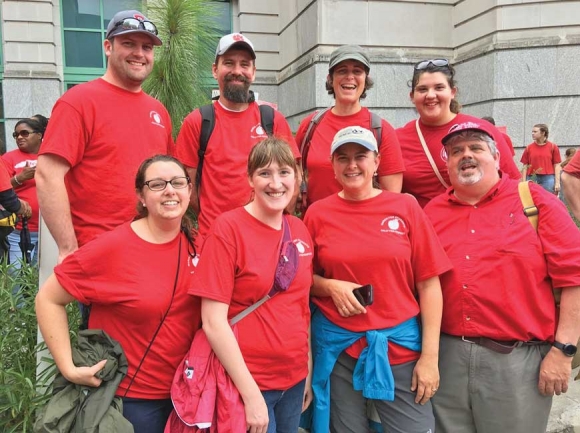 A group of teachers from Macon County made the five hour trip to Raleigh in 2018 to be part of the rally. Donated photo
Last May, more than 25,000 educators across the state took to the streets of Raleigh to march for additional public education funding, and they plan to do it again this May.
John deVille, president of the Macon County chapter of the North Carolina Association of Educators, updated county commissioners last week on the five reasons teachers will once again march to the General Assembly.
"We made some headway with the legislature last year in our opinion, but from what we can see in our classrooms, we've got a ways to go," he said.
While the legislature has been working to get teachers' pay increased across the state, deVille and other educators say it's about more than pay — it's about ensuring teachers and students have what they need to be successful.
According to deVille, educators will be marching to get the General Assembly to increase funding for systems to hire more school counselors and psychologists; to pay all school personnel (custodians, cafeteria workers and bus drivers) a fair wage of $15 an hour; to get health benefits eliminated in 2017 reinstated for retired educators; to restore compensation for educators earning an advanced degree and more Medicaid expansion.
"We need more counselors and psychologists in the schools — we're three to five times below where the national association recommends we be," deVille said. "Look at the mental health issues we have in this county."
The elimination of retiree health benefits and funding to incentivize teachers to earn advanced degrees is hurting the industry's ability to recruit and retain high-quality teachers.
While Medicaid expansion may not sound like a public education issue, deVille said, it does become an issue when rural hospitals continue to close and when 20 percent of people in the far west counties don't have any health insurance.
"We know students who aren't having their health care taken care of don't learn. We know students who worry about their parents and their grandparents not getting health care don't learn," he said. "We have 27,000 diabetics in this state not getting their medication. We have 40,000 woman not getting screenings."
Also, the federal government is willing to reimburse states on Medicaid expansion costs, which means North Carolina has been leaving money on the table in Washington, D.C. That's money that deVille and other proponents of expansion say would create 40,000 high-paying jobs throughout the state.
Educators are also concerned about a proposal in the General Assembly that would give each teacher a $400 stipend for classroom school supplies. deVille said it sounded like a great plan at first, but he's found the devil's in the details.
Right now, Macon County Schools receives about $135,000 a year for school books and supplies and the county has been providing another $90,000 to supplement that amount.
Since current funding levels for books and supplies are already 39 percent below where they were in 2008 (adjusted for inflation), deVille had hoped the proposal would mean an additional $400 a year for teachers, but it turns out it would be supplanting the current allocations.
"It's a robbing Peter to pay Paul situation and reallocating of funds," he said.
If the stipend is given to the teacher directly, they won't be able to take advantage of the lower bulk purchasing power that the school system has now. Lastly, teachers would have to purchase supplies through an online platform called Class Wallet, a for-profit operation.
He said he's expressed all these concerns over the proposal to Sen. Jim Davis, R-Franklin, and Rep. Kevin Corbin, R-Franklin, but still thinks it has a good chance of passing.
"So, that's why we're marching May 1. We've got room in the van leaving from Macon County," deVille concluded.