Archived News
Gov. Cooper touts tourism at Nantahala Outdoor Center
Wednesday, April 17, 2019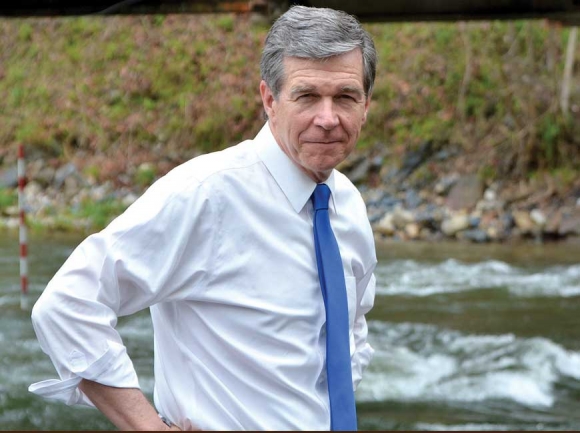 N.C. Gov. Roy Cooper spent some time last week getting to know WNC. Cory Vaillancourt photo
It's no secret that Western North Carolina has long been a haven for outdoor recreational enthusiasts, but as that particular segment of North Carolina's economy continues to expand, Gov. Roy Cooper is doing all he can to foster further growth.
"We want to emphasize this, find the best way to market ourselves, and to maximize all of these amazing natural resources that we have," said Cooper. "It's hard to find a better view than in Western North Carolina. It's hard to find a better outdoor experience."
Cooper, a Democrat from Rocky Mount, made his remarks during a visit to the Nantahala Outdoor Center in Swain County on April 13, part of a trip that included stops in Robbinsville and at Western Carolina University.
"You can have outdoor experiences in Western North Carolina like no other place. We have these amazing river rapids that provide family entertainment," he said. "We have amazing hiking trails. We have historic small towns with amazing artwork. There is a lot here in WNC that can attract people from all over the world."
It's certainly done that — international events at the renowned facility have drawn competitors and spectators from dozens of different countries, as well as other states. In fact, more visitors to NOC come from Atlanta than any other city, and from Florida than any other state, including North Carolina.
According to stats from the Boulder, Colo.-based Outdoor Industry Association, outdoor recreation across the United States generates $887 billion in annual consumer spending, $65 billion in federal tax revenue, $59 billion in state and tax revenue and supports more than 7.6 million jobs.
In North Carolina, the industry accounts for $28 billion in annual consumer spending, $8.3 billion in salaries and wages for more than 260,000 workers, and $1.3 billion in state and local tax revenue. The 11th Congressional District, comprised of much of Western North Carolina including Swain County, is home to more than 80 outdoor companies.
North Carolina is tied with Colorado for the sixth-largest outdoor recreation economy in the nation, according to William Irving, President and CEO of NOC.
"The NOC has, for over 40 years, served as the gateway to people's first experiences in this state. In our [11th Congressional] district alone, we're seeing about a $1.6 billion impact," said Irving. "We understand our role in engaging people in outdoor recreation, doing it in a way that is safe and secure so that they want to come back and do more. We see ourselves as not just opening up the door to outdoor recreation offered by the Nantahala Outdoor Center but also to the local region and the biking trails, the hiking trails, just a lifestyle outdoors."
Since his election in 2016, Cooper's been active in promoting this sector of North Carolina's economy, which now surpasses the entire financial services industry's impact in the state.
"I think that Gov. Cooper definitely understands the value of outdoor recreation in the state of North Carolina and is a big proponent of allowing us to grow that as well," said Jan Wojtasinski, vice president of marketing at NOC. "Unfortunately this is an area that does struggle economically. I think the state does recognize that, and we would love to see the state help support us more from a marketing perspective and to help grow the outdoor recreation economy here, because there is a huge effect on local communities."
Last summer, Cooper led an effort with Colorado Gov. John Hickenlooper to unite outdoor recreation professionals from nine other states — including Kansas, Maryland, Michigan, Montana, Oregon, Utah, Vermont, Washington and Wyoming — to explore potential collaboration.
But Cooper also cited the creation of an outdoor recreation department within the N.C. Economic Development Partnership in January 2018 as the best evidence of his commitment. At the time, North Carolina became only the fourth state to have such a department, but at least six other states have since added similar operations.
Upon establishment of the department, officials conducted a listening tour, which revealed a number of ways in which the outdoor recreation industry could grow.
Across the state additional lodging near attractions is a top priority, as is additional infrastructure — but not necessarily infrastructure directly related to activities like canoeing, hiking or kayaking; it's things like coffee shops, breweries or arts districts.
Promotion of the diverse offerings in North Carolina is also of top import, because many people don't know that within the confines of the Old North State, one can participate in activities as diverse as scuba diving off the Outer Banks to snow skiing in the Great Smokies.
"Western North Carolina has one of the country's most vibrant and fast-growing outdoor economy industry clusters," said Irving. "Between outdoor gear builders, outfitters, guides, retailers, summer camps, guides, trail builders and the like, this is one of the region's most pivotal economic drivers, and a rival to destinations like Boulder, Ogden, and Portland."
Irving said that WNC is that way largely because of the significant attention paid to economic development by regional Councils of Government and economic development partnerships, in conjunction with some longstanding conservation-minded governance.
"All of this builds on the region's long and storied legacy of conservation, from serving as the Cradle of Forestry in the US, to the amazing work that's been done to revitalize the region's rivers and fisheries, and to conserve habitat and migration corridors in a diverse set of landscapes whose biodiversity is almost unrivaled in the world's temperate climactic zones," he said.
Irving also cited the work of groups like the Nantahala-Pisgah National Forest Partnership, and Land for Tomorrow.
"Just as important are regional universities and community colleges like WCU, Appalachian State and Southwestern Community College, all of whom have formally recognized the power and importance of the outdoors through founding new departments and programs specifically to care for our region's outdoors," he said.
Those programs also focus on the gear manufacturing industry that not only supplies local outfitters, but also brings in significant revenue from out-of-of-state consumers who may not be planning to visit North Carolina but will eventually spend some of their money in the state through online shopping.
"I think state government can play a role in working with local government and the private businesses that are out here in being successful in attracting more tourists to Western North Carolina," said Cooper.