Archived News
Old Haywood Hospital receives favorable score in pursuit of tax credits
Wednesday, April 17, 2019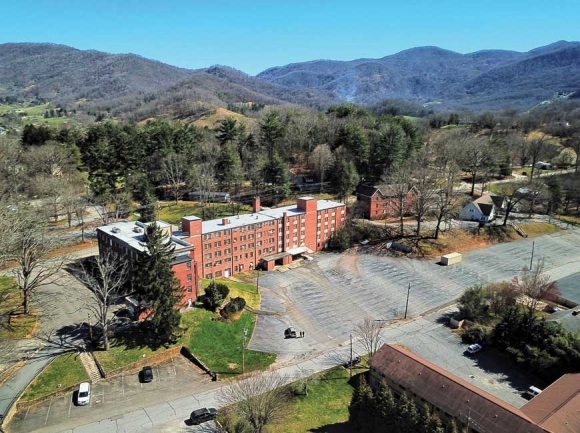 The old Haywood Hospital. A Shot Above photo
The Town of Waynesville and Haywood County both got a spot of good news last week when it was announced that the building that was originally the county's hospital would advance to the next stage in potential redevelopment.
"We have received the results from NCHFA on final site scoring for Brookmont Lofts," said John Stiltner, director of development and construction management for Winston-Salem-based Landmark Property Management Company, in an email to Waynesville's Development Services Department. "I am happy to let you all know that we received a perfect site score and will be working to submit a full application for the proposed project May 10."
The building has languished largely unused for years now and currently sits in what the town calls a blighted area. Although it's not the first time the project — which would consist of 54 units of affordable housing and be called Brookmont Lofts — has received such a score, optimism is much higher this year than in years past.
The town's designation of the neighborhood around the building as a redevelopment area will essentially give Landmark for the first time two bites of the apple in its bid to acquire tax credits from the North Carolina Housing Finance Agency that would make the project financially feasible.
Despite past perfect scores, the project has been passed over for those credits repeatedly, to the chagrin of commissioners who are tired of paying the nearly $70,000 a year it takes to keep the decaying building safe and secure.
"Worst case, we'll have to tear it down," said Kevin Ensley, chair of the Haywood County Board of Commissioners.
Best case is that the building — for which Landmark already has a purchase option in the event of tax credit acquisition — is selected for the credits and can be rehabbed.
That would involve finding a new home for Haywood County Schools' central administration, which currently uses the front portion of the building but wants out of the leaky, drafty space as soon as possible. HCS proposed a brand-new multimillion administration facility a few months ago.
"They say the third time's a charm, but hopefully it's not, 'three strikes you're out,'" said Ensley.