Archived Arts & Entertainment
Melody Trucks Band to play Lazy Hiker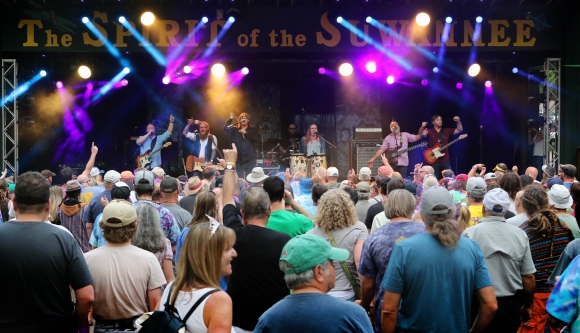 The Melody Trucks Band.
Photo: Sarah Simmons
Who: Melody Trucks Band & Donna Hopkins Band
What: Daughter of the late Butch Trucks, Rock and Roll Hall of Fame drummer for The Allman Brothers Band, Melody has hit the road with a group of her own in recent years — a large and very talented ensemble of the best of what Florida song and dance has to offer.
Where: From 7 to 11 p.m. Friday, April 12, at the Lazy Hiker Brewing Company in Franklin. The Melody Trucks Band will also perform with the Taylor Martin Band from 8 to 11:30 p.m. Saturday, April 13, at the Salvage Station in Asheville.
Smoky Mountain News: Do you remember the first time you were aware of rock-n-roll music? What sticks out about that moment?
Melody Trucks: I think the best way for me to answer that question would be the first time that I realized what my father did for a living. When I was a little girl, I remember having a song stuck in my head. And as all young children do, it was just a hook or a tagline that played over and over in my head. So, I'm sure I was driving my mom crazy singing it. I remember being in the kitchen, dancing in circles and singing. And I remember her leaning over with her curtain of long, brown hair cascading down, and she said, "You know that's daddy, right?" I didn't understand right away, so she explained again. That's the day I knew my dad played the "Silver Dollar Song." I could not have been more than three years old.

SMN: Growing up in a rock-n-roll family, what's been your biggest takeaway as to what music does to human beings and the greater good, especially when performed live?
MT: Music incites the soul — it can be whatever you want or need it to be. It can take you back to your sweetest memories, or your greatest pain. I've seen a lot of research being done on how music stimulates neurological pathways in the brain and is helping with Alzheimer's and dementia. I've also read about how music education at an early age helps with creating pathways in the brain that would not be created any other way. There's something physiologically transcendent about music — we're supposed to experience it. It's a gift, and I intend not to waste it. I'm proud to come from a family that immersed itself in something so beautiful.

SMN: In terms of your own band, what is the intent and message of what you're trying to physically and sonically convey? And with that, what does that feeling on being in front of a microphone, in front of a live audience, stir up within your body, mind and soul?
MT: Our intent — happiness, love, fun, joy, energy. It's hard to put my finger on any one single thing and say "this is our intent." I guess our intent is to create a safe space within our band — more like family — so that we can all say what we want to say. Every time I'm onstage with these souls, I feel nothing but joy. I've always put a lot of pressure on myself to live up to my family name. Maybe that's why it took me until I was 45 to actually have a band of my own. They've allowed me to grow, and continue to do so, without fear of judgment. As far as being in front of a microphone, my father used to talk about how playing music must first be a selfish act — if you aren't doing it to get yourself off, then you aren't doing it right. I don't know if that is the whole truth, but there's some merit in that. If you are not fully committing, fully giving, and fully enjoying what you are doing, then the people experiencing it will know. If you let yourself be completely open, honest, raw, and real, then those listening will come with you.

SMN: What has having this band and pursuing touring more meant to you since your father's passing? And what has being on the road and being onstage in that time to right now shown you not only about yourself, but your relationship with Butch, and with music, too?
MT: This band would not exist if my father hadn't passed. Before he was gone, I was too afraid, too hesitant to actually make it happen. Once again, worried about whether or not I was good enough to carry the Trucks name onstage. I had been toying with the idea, and even reached out to Isaac Corbitt regarding putting a project together before dad left, but I never had the courage to actually go through with it. It took him being gone for me to realize that I can't be afraid any more. This is the one life I have as Melody Trucks. What I wouldn't give for dad to know these guys, to see what they have created with me. That being said, I also know that each and every one of these guys that I have the honor to play music with was a gift from him. He sent them to me. There's no other explanation for it. It's too beautiful, too perfect, too loving and too joyful for it to be otherwise. West Brook, Isaac Corbitt, Brady Clampitt, Willis Gore, Shane Platten, and Shaun Taunton are truly my brothers, sent to me by my father, to heal my broken soul.
For more information on the Melody Trucks Band, click on www.melodytrucksband.com.