Archived Outdoors
Progress continues on clean air in WNC: State looks to accelerate shift to renewable energy
Wednesday, April 03, 2019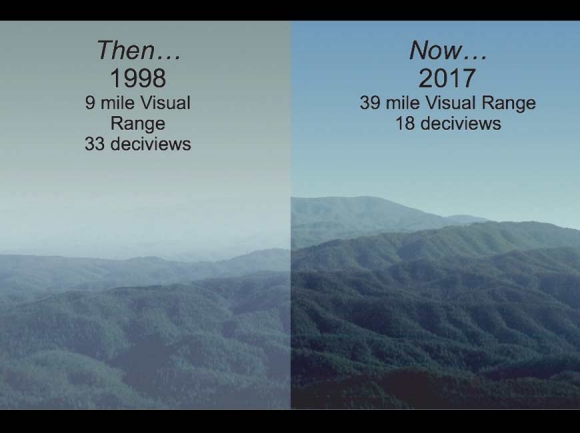 Air quality conditions in North Carolina have improved dramatically in the past 20 years. NCDEQ graphic
In an era when most environment-related news carries a hue of doom and gloom, the saga of air quality trends in Western North Carolina is a welcome exception.
In the 1990s, ground-level ozone was high — Asheville teetered on the edge of violating federal standards, and the Great Smoky Mountains National Park actually did exceed them — and white haze emanating from area power plants made visibility so poor that visitors had a hard time seeing the waves of blue mountains for which the region is named. The tourism industry worried that poor air quality would deter travelers from stopping in the Smokies.
That concern grew into an effort that resulted in ratification of the 2002 N.C. Clean Smokestacks Act, which required utilities to reduce nitrogen oxide emissions by 77 percent between 1998 and 2009 and sulfur dioxide emissions by 73 percent between 1998 and 2013.
"Over the last 15 years, air quality has improved tremendously as a result of the Clean Smokestacks Act and federal air quality regulations," said Bill Eaker, coordinator of the Land of Sky Clean Vehicles Coalition.
That was the word from the annual State of Our Air Briefing that Land of Sky hosted in Asheville March 29, inviting representatives from the N.C. Department of Natural Resources, WNC Regional Air Quality Agency, and Land of Sky Regional Council to speak about Western North Carolina's current and future air quality.
Compared to the 1990s, when air quality measurements were within a slim margin of government-mandated limits, ozone and fine particle measurements in WNC are now far lower than the state and federal maximums. And all that despite the fact that the current standards are much stricter than the standards of 20 years ago.
"Those air quality standards have been revised several times by the EPA to be more protective," said Eaker. "Not only are we meeting the standards, these are much more protective standards."
In 1997, ozone concentration — measured using an average of high ozone days over a period of three years — had to be below 80 parts per billion. In 2008 the standard tightened to 75 parts per billion, and in 2013 it went to 70 parts per billion. However, despite the heightened requirements, in 2018 all of WNC's ozone monitoring stations came in well below the standard, recording values between 60 and 65 parts per billion.
When it comes to haze, the improvement is so drastic as to be visible to the naked eye. In 1998, on the 20 percent haziest days in the Great Smoky Mountains National Park, the visual range extended only 9 miles. Today, the range is 39 miles.
But that's not a license to relax, said Eaker. Emissions per capita have decreased drastically in the past couple decades, but the number of people calling North Carolina home — and the world at large — is increasing. In 2018, the state's population was estimated at 10.38 million, a 63 percent increase from the 6.63 million who lived here in 1990, according to the U.S. Census.
"The Asheville area is nationally, internationally known as a place to move and retire, and everybody wants to come here," said Eaker. "A lot of people are moving. With all this continued growth we've got to continue making improvements everywhere we can. We can't be complacent or we'll be right back where we were."
That sentiment seems to echo in Raleigh as well. In October, Gov. Roy Cooper signed an executive order outlining a commitment to fight climate change and transition to clean energy in North Carolina. In response to the order, the state released a greenhouse gas inventory last month and held a round of listening sessions to gather input on development of a clean energy plan for North Carolina. The plan is due to Cooper by Oct. 1 and will contain more information on the methods that could be used to achieve the goals outlined in the executive order.
By 2025, the executive order said, the state should have greenhouse gas levels 40 percent below 2005 levels, at least 80,000 registered electric vehicles and a 40 percent reduction in energy consumption in state-owned buildings.
North Carolina's greenhouse gas emissions are already declining, having fallen by a net 25.2 percent between 2005 and 2017, according to a presentation Sushma Masemore — deputy assistant secretary for the environment and state energy director — prepared for the March 29 briefing. The current path would yield a reduction of 31 percent by the target year 2025, not too far off of Cooper's 40 percent goal. Much of the reduction is due to a shift from coal to gas, said Masemore's presentation. While in 2002 61 percent of North Carolina's power plant generation came from coal, by 2016 that share had fallen to 29 percent. Nuclear and natural gas now occupy the top two spots, at 33 and 30 percent, respectively.
According to a presentation Robert Sipes, vice president of western Carolinas modernization for Duke Energy, prepared for the March 29 event, Duke expects more than 80 percent of its generation to come from "zero and lower CO-emitting sources" by 2030 and will see an expected 40 percent reduction in carbon dioxide emissions in 2040 as compared to 2005 levels. Between 2017 and 2026, the company will invest $11 billion in new natural gas-fired, wind and solar generation and $25 billion in a "smarter, more resilient grid" that will allow for more renewables and protect against extreme weather.
It is projected that electricity generation from natural gas and renewables will continue to increase in North Carolina as nuclear and coal-generated energy continues to decrease.
This changing mix of power sources means that electric vehicles will provide a cleaner mode of transportation than do cars with standard combustion engines. But Cooper's goal of 80,000 electric vehicles by 2025 is a bold one, considering that only about 13,000 such vehicles are now registered in North Carolina.
However, said Eaker, "I think it's doable because there's a lot of growth in electric vehicle use."
There's also been growth in infrastructure for electric vehicles — significant growth. In 2010, there were no publicly accessible charging stations available in Western North Carolina, said Eaker, so Land of Sky formed an electric vehicle committee with various partners to look at changing that. Now, there are more than 90 charging stations in an area that once had zero.
More could be coming. The Volkswagen settlement brought $92 million to North Carolina, money that can be used in part to provide charging stations. Eaker hopes to see some of those stations go in along a planned electric vehicle corridor that would provide chargers in Waynesville, Sylva, Franklin, Clayton and on down into the Atlanta area, allowing electric vehicle drivers in the metro area to make the drive to WNC without having to worry about whether they'll be able to charge their cars up on the way.
"There's a lot of good news, but what we need the general public to do is get serious about energy-efficient energy conservation," said Eaker. "We waste so much energy. All of us waste so much energy, and there's tremendous potential to reduce our energy use."