Archived News
Message in a bottle: Distillers demand parity with brewers
Wednesday, April 03, 2019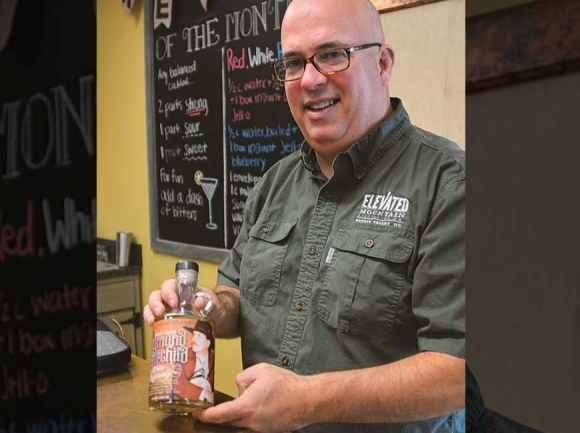 Distillery owner Dave Angel is optimistic a distiller deregulation bill will soon become law. File photo
Think about it like this — your buddy owns a factory that makes widgets and he can sell as many widgets to his customers as they want to buy, but your factory makes a slightly different version of that widget and state law prohibits you from selling more than five widgetlets to any customer in any given year.
That's roughly analogous to the current state of the alcoholic beverage industry in North Carolina.
"When we first opened in 2017, it was just one bottle per person per year," said Dave Angel, owner of Maggie Valley's Elevated Mountain Distilling Company. "Within a month or two the state law changed to five bottles per person per year, and that's the current law we're under."
If Angel and other craft distillers get their way, a bill working its way through the N.C. General Assembly would allow unlimited sales, along with a host of other perks — including on-premise sales and consumption — that would bring parity between the state's burgeoning craft brew industry and its emerging distillery scene.
"For us it would be huge, and also for the taxpayers of North Carolina. Most of our customers are from out of state, and 37 percent of every bottle is sales and excise tax for the state of North Carolina," Angel said. "It's a huge amount of money from tourists visiting our state, if we were allowed to sell to them."
Right now, there are more than 50 distilleries across the state, including Angel's; he said that the 2019 North Carolina visitor guide has a section called "The 47 firsts that last," oriented towards first-time visitors to the state, and 10 of those 47 firsts are distilleries.
"The tourism arm of North Carolina government fully understands the importance of distilleries," he said. "They understand our contribution and our potential contribution to the state economy."
Gatlinburg gets it. According to Angel, the nation's most visited distillery is Ole Smoky, just over the mountain in Tennessee.
"More than two million people a year visit Ole Smoky," he said. "You could take everybody that goes to Jack Daniels, George Dickel, Jim Beam, double that, and you're getting close to Ole Smoky," he said. "And right next door is probably the second most visited, and that's Sugarlands. Gatlinburg's all about it, and Maggie Valley gets it, too, but the State of North Carolina has to help me help Maggie Valley."
Angel said his professional associations are "optimistic" about the future of H378/S290, both of which were filed in mid-March with bi-partisan support and both of which now sit in subcommittees. The bills are broken up into several subsections of which the cumulative effect would be a major economic driver for distillers from the mountains to the coast.
The first two sections would, in effect, allow distilleries to more resemble craft breweries with on-premise sales.
"If you go over to Frog Level, or any of the breweries in Western North Carolina, they can get a permit to sell beer, they can sell wine, they can sell craft cocktails, they have unlimited sales," he said. "We're under constraints not to do that."
Right now, Angel can only serve quarter-ounce samples — about the size of a thimble — and can only serve up to a total of 1.5 ounces per person. That cuts down on his ability to attract and retain consumers who want to attend Elevated Mountain's many events, but also want a beer, a glass of wine or a cocktail.
"We try to do as many events as we can. We have music here. I would love to be The Orange Peel of Western North Carolina outside of Asheville, because we can get 300 or 400 people in here."
Jonathan Blitz, along with his wife and another couple, own what's billed as the Triangle's only "farm to bottle" distillery, called Mystic Farm. He's also excited about the prospect of parity.
"We are production distillery and a tasting visitors center, and you can imagine how important it is to sell a cocktail at something like that," said Blitz.
Blitz and company are also hoping to open a location in Jackson County this year (see DURHAM, p. 9).
"I don't want to say it hinges on that bill's passage, but you can imagine if we had the ability to vend a cocktail you're talking about increasing the visitor gross by $12 to $20 per visitor, especially with a tour and cocktail package," he said. "That would be a tipping point, because cocktail revenue alone should be enough to finance the lease."
The third section of the bill would make it easier for proprietors like Angel and Blitz to hawk their wares to other local businesses.
"What that really allows would be the ability for me to go do sales calls," Angel said. "I could end up at a restaurant in Jackson County, and if they say 'I really like your vodka,' I can't just go out to the car and sell them a case or a bottle. Right now, to go to Jackson County, that bottle would have to go Raleigh, then back to Jackson County and that restaurant would have to order it from the Jackson County ABC. The ability for a bar to make that impulse buy and say, 'I want that on the shelf tonight,' yeah, that's not gonna happen."
Probably the biggest boon to distillers is the bill's provision that would remove the five-bottle limit to distillery visitors and allow for unlimited sales, like every state bordering North Carolina does.
"We're missing out on an opportunity to sell much more volume to guests who want to leave with a case of product," said Angel. "We had a lady whose daughter was getting married and she wanted three cases of our vodka for the wedding reception. I could sell her five bottles. The State of North Carolina lost over $1,000 on me sending that one lady away."
Dave Angel's Elevated Mountain distillery sees most of its visitors come from Florida, South Carolina and Georgia. File photo
Given that the overwhelming majority of Angel's visitors come from Florida, South Carolina and Georgia, respectively, that's a particularly bitter blow — in a tourist town like Maggie Valley, many of those people may not return for months or years, if ever.
Blitz, though, likes the unlimited sales provision for a different reason.
"In Durham we don't run into the five-bottle limit that much," he said, noting that most of his customers come from within 35 miles of his 22-acre facility. "It's just that the record-keeping requirements are physically onerous."
Each time someone wants to purchase a bottle from his distillery, Blitz said that they record the first name, last name, date of birth and driver's license info into a database.
"That's just killing us," he said. "We live in mortal fear that someone's going to come in and audit us and say you're not keeping the proper records."
It also takes a minute or two to screen each member of a tour group; with a 30-person tour, that's aggravating and requires an additional employee to keep things moving.
Rep. Joe Sam Queen, D-Waynesville, said he'll try to help keep the bill moving in Raleigh.
"I'm going to support it," said Queen. "The bill is very tightly conceived, and Mr. Angel has become one of the anchors for tourism in Maggie Valley. It's good branding for Haywood County and the mountains of Western North Carolina. I consider it 'heritage tourism.'"
Sen. Jim Davis, R-Franklin, said that the bill still has too many moving parts, and he wasn't yet sure how he'd vote.
Rep. Michele Presnell, R-Burnsville, did not respond to a request for comment on the issue.
Durham distiller eyes former mill site in Jackson County
A little persuasion from Waynesville native and Walnut Street property owner Charles McDarris could land a new distillery in Western North Carolina.
"Charlie came and took a tour at our distillery asked us about opening a facility in the mountains," said Jonathan Blitz, co-owner of 22-acre Mystic Farm in Durham.
McDarris owns what used to be an 1880s-era grist mill just east of Whittier off U.S. 441 in Jackson County; it burned to the ground in 2017, but he's still looking to develop the site.
Mystic Farm, founded in 2013, claims to be the only "farm-to-bottle" distillery in the Triangle; Blitz said they grow most of the ingredients on-premise, and source the rest, in-state.
"We're interested and excited about the opportunity," said Blitz, who explained he'd been working with the Small Business Center at Southwestern Community College and with Jackson County Economic Development Director Rich Price to close a gap in his funding formula.
"I can't think of anything right now that would derail that project," said Blitz. "We're hoping to see Charlie start construction by summer."