Archived News
Certification process boots three candidates from tribal election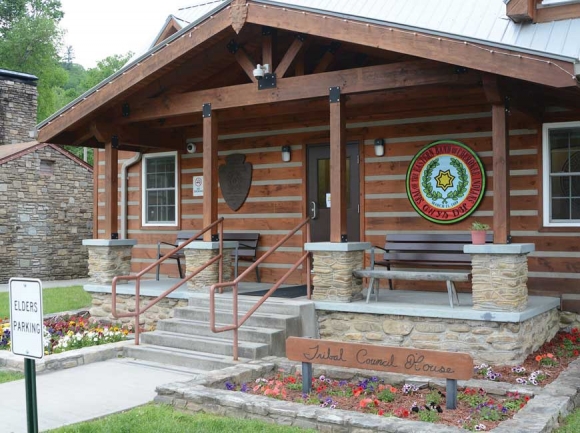 Three candidates were dropped from the list of contenders for tribal office with today's release of a list of certified canddiates from the Eastern Band of Cherokee Indians Board of Elections. The list of certified candidates did not include Teresa McCoy and Missy Crowe, who had both filed to run for principal chief, or Sharon Bradley, who wanted to run for Big Y School Board.
According to tribal law, a tribal member can be disqualified for running for office for any of six reasons. Those reasons include having committed a felony, participating in defrauding the tribe, being impeached and removed from office, resigning from a tribal office while under a criminal investigation, being more than 90 days in default of a debt to the tribe or not meeting residency requirements.
McCoy and Crowe have both gained certification to run for election in the past. McCoy represented Big Cove on Tribal Council for 20 years and also launched three unsuccessful runs for the vice chief's office. Crowe has run for various offices in the past, though unsuccessfully.
Certified candidates for the 2019 election are:
Principal Chief
Richard Sneed
Carroll "Peanut" Crowe
Gary R. Ledford
Phillip Ellington
Vice Chief
Alan "B" Ensley
Frank Pete Taylor
Ben Parker
Jim Owle
Albert Martin
Anita Welch Lossiah
James Bud Smith
Terri Henry
Snowbird/Cherokee County Tribal Council
Adam Wachacha
Janell Rattler
Bucky Brown
Sherry Smoker
Birdtown Tribal Council
Albert Rose
Boyd Owle
Ashley Sessions
Nelson Lambert
Curtis Wildcatt
Alyne Stamper
Painttown Tribal Council
Tommye Saunooke
Dike Sneed
Lisa Taylor
Cherie Bird Rose
Pamela Sneed
Big Y/Wolfetown Tribal Council
Bo Crowe
Bill Taylor
Tony Cabe
Jess "Fonzie" Sneed
Jeremy Wilson
Paula "Cricket" Brown Wojtkowski
Sam "Frell" Reed
Chelsea Saunooke
Nathanial "Bunsey" Crowe
James David Jumper
Yellowhill Tribal Council
Tom Wahnetah
David T. Wolfe
Rose Shell-Maney
Tawania Ensley
Stephanie Saunooke French
Big Cove Tribal Council
Fred Penick
Richard French
Renee Long Cole
Perry Shell
Walter French
Painttown School Board
Regina Ledford Rosario
Charlotte Ann Saunooke
Big Y School Board
Yellowhill School Board
Jennifer Thompson
Teresa Jumper Santa Maria
The Primary Election will be held Thursday, June 6, and the General Election will be Thursday, Sept. 5.
Leave a comment
1

comment
In this regard, web conferencing has emerged as the best option for collaborating, with better rate of
negotiating and closing deals than audio calls and instant messaging.
This gave the client value for their money by bringing down their towering contractor expenses, accelerated their productivity as a result of making the servers better equipped and reliable, enhanced the client's overall business performance warranting maximum client satisfaction that subsequently helped realise all of
Allied's pronounced goals. Five reasons why Businesses Use Remote
Desktop Services having QuickBooks Enterprise Alternatives Remote Desktop Services can offer powerful benefits,
empowering businesses to maximize the worth and performance with their QuickBooks Enterprise Alternatives application. Every business
function is reliant on the server for any kind of performance to ensue.

Our when function is scaling our cards if they are visible on the screen, otherwise they have default values.
Audio and web video conferencing platforms are environment friendly
tools, which considerably reduce carbon emissions related to travelling to remote locations
for meetings. Multi-item update - Often, prices, materials, and suppliers can change, requiring updates across
many locations within the estimate.

Friday, 10/22/2021