Archived Opinion
Our job is to earn trust and keep it
Wednesday, March 27, 2019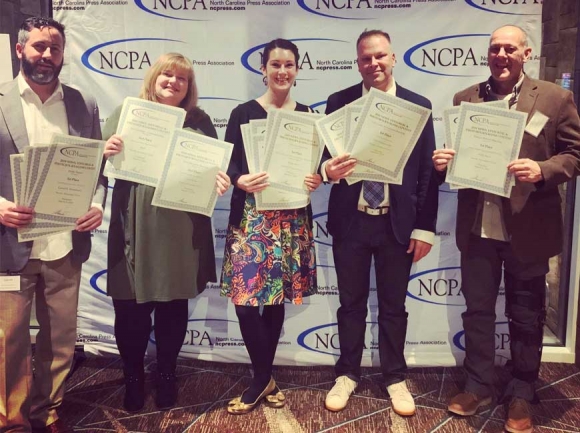 A little more than two weeks ago I was part of a public radio panel that was discussing the "state of media in Western North Carolina." The catalyst for the show was the Gannet corporation's — owner of USA Today and more than 100 dailies and 1,000 weeklies — nationwide layoff of reporters and editors, including five at the Asheville Citizen-Times. We discussed the importance and relevance of local newspapers and media sites, and how our communities are adapting to the shift away from one or two dominant — and trustworthy — media sources.
Penny Abernathy, who holds the Knight Chair in Journalism and Digital Media Economics at UNC, was on the show. Her report on "news deserts" — released in October 2018 — shows that 1,800 newspapers have closed in the last 20 years in the U.S., leaving up to 1,300 communities with no local news coverage. Zippo. That report also showed that in communities without a local newspaper government costs were generally higher. No watchdog means less of a need to worry about taxpayer reaction to tax increases, higher fees and a host of other government expenditures.
Then last week I and the editors and reporters with The Smoky Mountain News traveled to Raleigh where the North Carolina Press Association holds its annual awards convention. Aside from walking away with enough awards to make us feel like we're doing a pretty damn good job for our readers, we got to mingle with journalists from across the state. Two things stand out from that get-together.
First, the takeover of media organizations by giant corporations is occurring at a frenzied pace. I've been attending these conventions for almost 30 years. Many of the newspaper owners I used to hang with are gone. They've sold out to corporations like the Gatehouse group which own 11 dailies and three weeklies in the state.
I'm not going to diss corporate media at all levels. As Asheville Citizen-Times Editor Katie Wadington said on Blue Ridge Public Radio during the show we were on together, her paper still has hard-working journalists out there in the field every day. They're working on important stories and informing their community.
The disconnect, though, is all about ownership. Shareholders in New York looking for profits won't make the kinds of decisions local owners like us will make. Why should they? They aren't vested, aren't discussing local issues at their favorite watering hole with politicos and taxpayers, aren't attending charity events or ball games, don't get phone calls when mistakes occur or events go uncovered.
The second big thing I took away from that NCPA conference is that Western North Carolina is indeed a unique place. For those of us who call this place home this is not breaking news, but that uniqueness is not only about natural beauty and an independent mindset.
To this day, people who live here still have a plethora of local newspapers delivering quality content via print and online sites. Trust me, that is an anomaly. As mentioned earlier, many communities have no local news sources while others have only corporate-owned small dailies with skeleton editorial staffs who are often encouraged to cover click-bait stories — like a new Starbucks opening — rather than local government news.
Hell, in Jackson County sometimes SMN, the Sylva Herald and the Crossroads Chronicle in Cashiers will all cover the same story. Same thing happens with us and The Mountaineer in Haywood County. Readers can get different perspectives from a couple of news sources and stay well-informed. And as you can see by the list accompanying this article, all these newspapers are award-winning.
It's a challenge running a small media business today, but it's hard to run any small business. All's we can promise is to provide a quality newspaper that strives to be trusted, fair and objective in our news coverage and includes a diversity of opinions on our editorial pages. I'll point to those awards as affirmation that — according to journalists from other states who judge the contest — more often than not we do a pretty good job.
(Scott McLeod can be reached at This email address is being protected from spambots. You need JavaScript enabled to view it..)
2018 N.C. Press Association Editorial Awards
• 1st place, A&E reporting, Holly Kays
• 1st place Education Reporting, Holly Kays
• 1st place, News Enterprise Reporting, Cory Vaillancourt
• 1st place, Sports Feature Writing, Cory Vaillancourt
• 1st place, City-County Government Reporting, Cory Vaillancourt
• 1st place, Election/Political Reporting, Holly Kays
• 1st place, Lighter Columns, Chris Cox
• 1st place, Profile Feature, Garret K. Woodward
• 2nd place, City-County Government Reporting, Jessi Stone
• 2nd place News Enterprise Reporting, Jessi Stone
• 2nd place, Community Coverage, Staff
• 2nd place, Photography Feature, Holly Kays
• 2nd place, Religion and Faith Reporting, Jessi Stone
• 2nd place, Use of Photography, Staff
• 3rd place, Election/Political Reporting, Cory Vaillancourt
• 3rd place, General Excellence for Websites, Travis Bumgardner
• 3rd place, Profile Feature, Holly Kays
• Duke University /Green Rossiter Award for Distinguished Newspaper Work in Higher Education, Holly Kays
Other local papers also fared well in the contest:
• The Mountaineer (Waynesville) — 14 awards
• The Sylva Herald — 13 awards
• Cherokee One Feather — 10 awards
• Crossroads Chronicle (Cashiers) — 6 awards
• Highlander (Highlands) — 5 awards
• Franklin Press — 5 awards
• Smoky Mountain Times (Bryson City) — 4 awards