Archived Arts & Entertainment
This must be the place: Time don't wait on nobody, it just keeps movin' on
Wednesday, March 27, 2019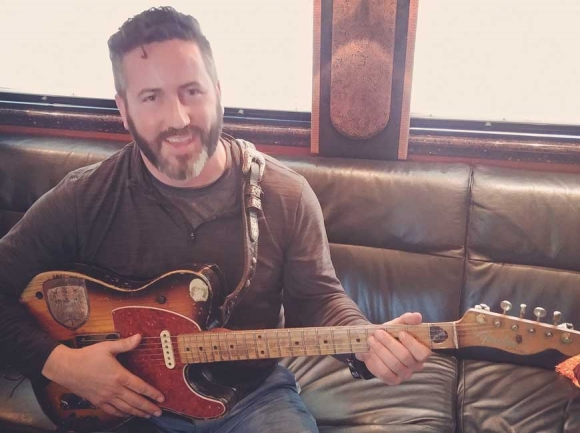 Garret with the Clarence White guitar. Marty Stuart photo
So, there I was last Saturday afternoon, sitting on a couch in the depths of country music legend Marty Stuart's tour bus. Right across from me, positioned on the other side of the table — the other side of my tape recorder — was Stuart himself, his trademark silver mane fluttering whenever he'd move his head while in thought and within conversation.
And sitting right next to me, on that jet-black leather couch, was the "B-Bender" guitar, the same exact one owned by the late Clarence White (The Byrds/Kentucky Colonels), which has been signature to Stuart's sound since it was bestowed upon him those many years ago. Aside from Willie Nelson's "Trigger," this guitar is arguably one of the most famous in the world — the stories behind it, the musical icons who've played it, the towns and cities it has appeared onstage to raucous cheers.
Following our interview (which will serve as part of an upcoming cover story in The Smoky Mountain News), I mentioned to Stuart how incredible to was to see that guitar up close. Stuart goes, "Strap it on." I was shocked he'd even let me hold it, let alone strap it on. "Go ahead, you can't scratch it," Stuart chuckled, seeing as the guitar is so beat up from decades on the road. As I placed the heavy strap around my neck, I could feel the heaviness of the instrument, more so the heaviness of the history forever attached to it.
And it was in that moment, just as Stuart snapped a picture of me holding the guitar, that I felt an overwhelming sense of gratitude — for not only where I stood, but also the path to get to this point. Stepping off Stuart's bus, I reemerged into the Suwannee Spring Reunion, a music festival just over the Georgia state line in north-central Florida.
You see, when I attended this festival last year, I was in the early stages of a terrible breakup. I felt like a ghost floating through the magical festival grounds, not taking much notice of that beautiful Florida sunshine I'd been craving back in the wintry depths of Western North Carolina. Sure, I conducted interviews with musicians, making a sincere connection. But, that feeling of connectivity became a fleeting one as the music stopped and I hit the road back to Waynesville, back to an empty apartment once filled with love and laughter.
Oh, what a difference a year makes, eh? Following the North Carolina Press Association award in Raleigh last Friday, I took off from the state capital and blasted down I-95, onward to I-10 and the Suwannee exit. Windows rolled down, while a warm spring breeze swirled around the truck.
The road to finding my spiritual and emotional balance is an ongoing path, as it is for any one of us. But, I've found solace in regaining my composure and confidence in recent months. Peel away the layers of the past and slide into the new skin of what tomorrow may hold for you and me (and us).
I lost who I was there for a time. But, underneath the large oak trees and rays of sunshine in Florida this past weekend, I could feel a reinvigoration within my restless soul.
And while I was in the presence of Stuart, he spoke of the upcoming groundbreaking of his new country music museum, one filled with not only his back history, but also the thousands of tales and memories, trinkets and tokens, of Nashville royalty he's collected over the decades.
The museum will be located in his rural hometown of Philadelphia, Mississippi. Smack dab in the middle of the state, a piece of Stuart's heart will always reside there, regardless of how many endless miles he himself has traveled in his 47 years as a professional musician (at 60, he got his start with Lester Flatt at age 13).
I found solidarity with Stuart as we chatted about our hometowns, the hopes and dreams that seemed so far away from actually happening back then, to where we're pushing ahead each day towards the personal and professional glory we've sought after since we were kids.
Stuart rekindled within me a true sense of self, one where I — and probably you reading this, too — need to take a moment every-so-often to stop and reflect, to, in essence, smell the roses, and immerse oneself in the sheer gratitude of being able to live the life we choose to live, to reach and seize for long-held dreams, never once giving up in the face of adversity or the presence of obstacles.
When we shook hands goodbye, I smiled at Stuart. The sentiment was reciprocated. Kindred spirits, each from completely different corners of America, separated by a generation or two. But, the yearning to be "close to the source" — of our heroes and our aspirations — remains the same. My restless soul feels lighter today. So, thanks, Marty.
Life is beautiful, grasp for it, y'all.
Hot picks
1 Renowned singer-songwriters Claire Lynch, Jerry Salley and Irene Kelley will perform on Saturday, April 6, in the Queen Auditorium at the Folkmoot Friendship Center in Waynesville.
2 Innovation Station (Dillsboro) will host John Duncan & Friends (Americana) 7 p.m. Saturday, March 30.
3 The "Southern Storytellers" series will continue with author/historian Bob Plott on Thursday, March 28, in the Queen Auditorium at the Folkmoot Friendship Center in Waynesville.
4 Mountain Layers Brewing (Bryson City) will host Bird in Hand (Americana/folk) 7 p.m. Saturday, March 30.
5 The 37th annual "Country Western Show" will return to the stage at 7 p.m. March 28-30 and 2:30 p.m. March 31 in the Tuscola High School Auditorium in Waynesville.