Archived News
The HART of a community: Beloved Waynesville theatre celebrates 35 years
Wednesday, March 27, 2019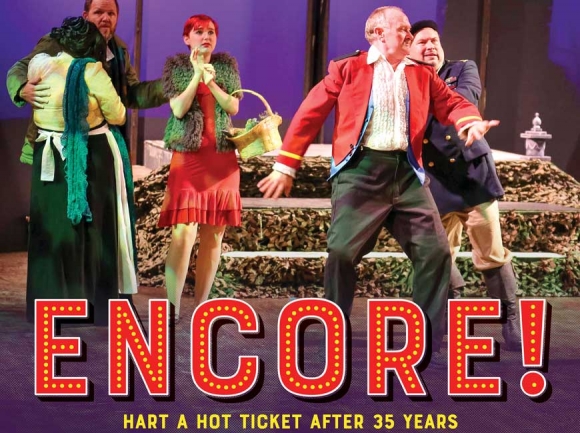 Leaning back in his chair, in an office tucked in the depths of a large studio building, a slight grin rolls across the face of Steven Lloyd.
"I would never have envisioned this," Lloyd said in a humble tone. "I would have never thought 30 years ahead and have pictured this. But, everything has evolved."
What has evolved is the Haywood Arts Regional Theatre in Waynesville. With its mainstage season opening just around the corner, HART will celebrate 35 years in 2019. For Lloyd, this will mark 30 years since he first set foot in Haywood County as a visiting artist through Haywood Community College (as part of a statewide initiative, the Edwin Gill Theatre Project), only to become the longtime executive director of HART.
"I've nursed it along and had it grow organically rather than try to push it to some place where it's not ready for yet, which is one of the reasons that we've be able to financially sustain ourselves," Lloyd said. "There's never been a time that this organization has been in debt. We squeeze through the winter like every other business in town. But, we've never had a losing season."
In the 35 years of its operation, HART has gone from a small operation — which took place onstage at The Strand, Tuscola High School and Haywood Community College — to a national renowned theatre company with two large-scale buildings on the property of The Shelton House that contain a mainstage studio, secondary studio space, black box studio and the Harmons' Den Bistro.
Since the creation of the 10,000-square-foot Performing Arts Center, which opened in 1997, and with the opening of the 9,000-square-foot Daniel & Belle Fangmeyer Theatre in recent years, Lloyd estimates there have been over 250 mainstage shows, 125 or so studio shows and another 15 Kids at HART performances.
"I had already been other places. I mean, I lived in Los Angeles and worked as an actor. And I had the opportunity to build something here," Lloyd said. "I have the opportunity to do anything I want to do. I can do any play that I want. There is nothing that's off limits or too sensitive of material. So, where can you do that? Where am I going to have the opportunity to be this creative, to have this much freedom?"
And all of this — the shows, the people, the evolution of HART — started with a group of determined local residents who decided to launch their own community theatre company. Initially a branch of the Haywood County Arts Council, the community actors and stage production people wanted to set out and become an independent entity.
"I think it just gave more autonomy and fewer people involved for decisions to be made, allowed us to grow and get money for ourselves and through ourselves from grants," said Suzanne Tinsley.
One of the founding charter members of HART, Tinsley has been lifelong actor aside from her work teaching in the Haywood County school system. It was also through the community theatre in the late 1970s where she met her husband, Preston. They will celebrate 39 years together this summer.
Preston and Suzanne Tinsley.
"Our life together is wrapped around this theatre. I think it's fabulous. Our children — for better or for worse — were raised in this theatre," Suzanne laughed. "They grew up here. They were all onstage. Our friends were here. For a long time, our house was the post-production party house. I can't think of a better place to have met."
Now a retired teacher, Preston himself caught the acting bug through Suzanne. He estimated he's been part of around 25 productions, with Suzanne losing count after 50 plays.
"If you're a school teacher, you're acting in front of students all the time," Preston noted. "I just thoroughly enjoyed doing it."
The Tinsleys point to Libba and the late Rex Feichter as pivotal — more so crucial — to the creation of HART, and also in the hiring process to bring Lloyd into the fold.
"Who would have thought that what began as a 'task' given to Paula McElroy and myself by the Haywood County Arts Council to determine if there was an interest in theatre here in Haywood County would become such a vital part of the arts scene?" Libba Feichter marveled. "We certainly could not have envisioned the campus that we see now. It's a matter of great pride to me that this community and surrounding areas have supported us, literally, as we have matured and grown. I'm eternally grateful to the Arts Council for their support since our beginning."
And it was the unrelenting sense of community pride and support that has always been at the core of HART and its mission — to bring arts and culture alive under the bright lights for all to see, hear and experience.
"Each time we needed to expand or to purchase equipment or to repair something in the theatre, [the community was] there for HART. There has never been a time that this community has not risen to the occasion," Libba said. "I'm proud of what we do and the quality of that experience. I must believe the reason for that is that the community realizes the value of HART."
Libba Feichter • Steven Lloyd
Aside from the community love and support for HART, it didn't always go without a hitch. For a small mountain town, the theatre had moments where controversy arose from a production about to hit the stage, most notably the infamous play "The Full Monty."
"['The Full Monty'] was brought to the town board's attention that the production was being scheduled. The question raised before the board was whether or not some of the scenes would violate our nudity ordinance. Having seen the movie, I found the question quite amusing," said Waynesville Mayor Gavin Brown. "Libba Feichter was on our board at the time. She made an impassioned argument that the production would not violate community standards. Fortunately, rationality entered the discussion and the production went off without a single complaint. Rumor has it that Chief Bill [Hollingsed] told his officers not to spend much time on Pigeon Street [where the theater is located]."
But, regardless of controversy, Lloyd has never shied away from bringing hot button issues and topics to the HART stage.
"Waynesville was much more conservative, much more provincial back when I came here 30 years ago — we brought the world to Waynesville," Lloyd said. "We brought in lots of things that 30 years ago we wouldn't have dreamed of going anywhere close to. And the community has changed. As we've progressed over those 30 years, people have experienced all of those different pieces and it's changed their thinking. This community is so much more cosmopolitan now, and it's still a small town."
Scene from a 1998 production of 'Treasure Island' (top). Scene from a 2018 production of 'Hello Dolly' (above). Photos courtesy of HART
"I think the theatre's call is the same as the church's call — to comfort the afflicted and afflict the comfortable. It's here to entertain, enlighten, inspire and instruct. It opens a world to people in this small town that many of us would never see," Suzanne Tinsley added. "It shows us what we're capable of. And you can live a perfectly fine life and never know what it is you're capable of. But, how wonderful that life is when you start learning what you're capable of?"
And yet, now in its 35th season, Suzanne can't help but think of "what could have been" if HART hadn't had the appreciation from its audience, donors, those onstage and behind the scenes.
"In 35 years, I've seen community theatres come and go, even with the best of intentions," Suzanne said. "And I have seen larger community theatres with more technical bells and whistles, and people from those communities are coming here to do theatre because of what we do and the opportunities we provide."
In every discussion or trip down memory lane about the theatre, all stories and sentiments seem to circle back to the heart of HART — Steven Lloyd.
"The night we hired him began with board members asking random questions about his plans and dreams for us. I asked him why, with all of the options available to him, he wanted to be here. His answer was simple, and I believe was the reason he was hired," Libba Feichter said. "He said that he wanted to be here because he could make a difference here. That there was a need that he felt he could fill. In all honesty, I feel that if he had not committed himself to HART, it would not be here — certainly not as it is today."
"Steve has the gumption to reach out to anybody. He's obviously a good grant writer. He has connections everywhere. He has the national connections that have given us national recognition," Suzanne added. "And we did some great things before he came, but I don't know anybody who was involved at that early time who would have given the time to it. You can have expertise, but if you don't give the time to it, then who knows what will happen. But, Steve had the expertise and, for a long time now, has lived and breathed HART."
For Lloyd himself, the work is never done. Once one production is done, onward to the next. Build up the set and then tear it down. Create the costumes. Run the lines. Rehearse, rehearse, rehearse. Within this organized chaos, Lloyd seldom has a moment to reflect on the road to the here and now. But, when asked about the future, he considers his words before answering.
"For me, it's just kind of laying the groundwork for the future. I'm 65 now. I'm not planning to retire, but you get to this point in your life and I need to make sure I've got things I've built that won't evaporate or fall apart if something were to happen to me," Lloyd said.
And, in that same breath, he remembered his fondest moment at HART.
"It was the mainstage ribbon cutting with [the late Waynesville] Mayor Henry Foy. There was a blue ribbon from one side of the stage to the other. We cut it, the curtains were drawn, and the Smoky Mountain Brass Band started playing — that was pretty damn satisfying," Lloyd smiled. "This has been a healing place for so many people. What we've helped to create here has impacted so many lives in so many real and consequential ways."
Want to go?
For more information on the upcoming Mainstage season of the Haywood Arts Regional Theatre in Waynesville and/or to purchase tickets, visit www.harttheatre.org, call the box office at 828.456.6322 or email This email address is being protected from spambots. You need JavaScript enabled to view it..