Archived News
Haywood's 'hidden history': Monument to Waynesville lynching victim could prove controversial
Wednesday, March 27, 2019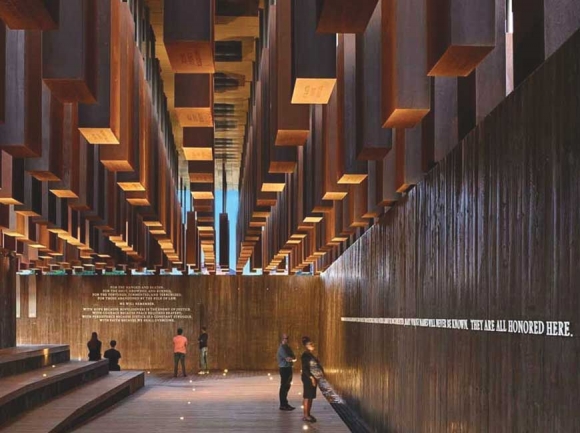 More than 800 columns bearing the names of counties where lynchings took place, including Buncombe, Haywood, Graham and Macon, hang at the National Memorial for Peace and Justice. NMPJ photo
Almost 120 years ago, local newspapers reported two separate instances of attempted rape in Haywood County.
Similarities between the two cases are many. Both victims were young girls under the age of 11, both alleged perpetrators were grown men, both knew their victims, both were apprehended and both were immediately jailed.
There were, however, some important differences between the two cases. In one, Burt Smith was given a sentence of 15 years in the penitentiary after appearing in Haywood's criminal court.
In the other, George Ratcliff was shot to death in his Waynesville jail cell the day after he was arrested.
But there was another important difference in the two cases, perhaps the most important difference — Burt Smith was white and George Ratcliff was black.
What happened to Ratcliff is properly known as an "extrajudicial killing," but most people today would probably use a different word that carries with it haunting allusions to racially motivated Jim Crow-era mob justice.
Ratcliff was lynched — executed without evidence, without trial, without the benefit of any judicial or legal proceeding.
Now, a national project in Montgomery, Alabama, aimed at preserving the memory of lynching victims has a monument with Ratcliff's name on it. The idea is for community representatives to pick it up, bring it home, hold a ceremony, and install it somewhere.
Not everyone in Haywood County is sure that's a good idea.
Beneath the blaring March 5, 1900, Asheville Citizen headline "Another Brute Pays Penalty" is recounted in detail Ratcliff's violent lynching.
Absent from the story are the linguistic accouterments of present-day crime reporting — today, even the most obvious of fiends remains "alleged" until conviction, and great care is taken to paint all parties in a neutral light while overcoming implicit racial, ethnic and gender biases.
It wasn't like that back then.
Every word in that headline serves as Ratcliff's ersatz judge and jury; "Another," means these incidents are and will remain common, "Brute" dehumanizes a criminal defendant, "Pays" presumes a debt and "Penalty" declares guilt.
Ratcliff, according to the story, was a "burly negro" who was lynched for "an unnamable crime committed … upon the eight years old granddaughter of Matthias Holland, a respectable farmer living 3 miles from Clyde."
As it's written in another contemporary newspaper, the Asheville Register, Holland had employed Ratcliff, 25, for a decade before Ratcliff found Holland's 10-year-old granddaughter — identified in the Goldsboro Headlight as Hester Wagstaff — some distance from her home around 4 p.m. on Saturday, March 3, and allegedly attempted to assault her.
Per the story, Wagstaff's screams were heard by her grandmother, who came running. Ratcliff fled, pursued by the girl's uncle, Joe Holland, who sent his brother John to Clyde to spread the news there and to wire Canton to be on the lookout.
It wasn't long until men from both towns, as well as the surrounding countryside, were combing the woods looking for Ratcliff.
Meanwhile, Ratcliff headed south, bound for the old railroad tracks, but he couldn't get across the Pigeon River so he took to the hills outside Clyde where he was discovered by Joe Holland mere hours after the initial alarm was raised.
Ratcliff was subsequently taken to Clyde and placed in the custody of politician/attorney D.I.L. Smathers, who charged seven or eight men with the task of guarding Ratcliff until morning — an ominous sign that they weren't necessarily concerned with Ratcliff's possible escape that night, but instead with his probable abduction.
The next sunrise would be Ratcliff's last.
Definitive details of Ratcliff's final days and his possible culpability in the alleged assault on the Holland girl are and will forever be lost to history.
Thanks to a University of North Carolina project begun in 2015, his ultimate fate and the base allegations against him — fake news, or not — will forever be remembered.
Called "A Red Record," the UNC effort seeks to document lynchings in the former Confederacy, beginning with North Carolina.
Its title comes from African-American journalist, civil rights advocate and NAACP co-founder Ida B. Wells' 1895 book of the same name, in which she argues that although lynching was ostensibly a response to crime it was actually a form of domestic terrorism meant to enforce de facto white supremacy after the Civil War.
In sometimes gruesome but always authoritative detail, A Red Record's website, lynching.web.unc.edu, details 169 lynchings in North Carolina, separated by county, decade and race of the deceased.
UNC's "A Red Record" project shows the locations and details of more than 120 lynchings in North Carolina. UNC photo illustration
More than 70 undergrad students — as well as grad students and community historians — contributed to the ongoing work, which was led by Seth Kotch, assistant professor of digital humanities at UNC's department of humanities, and Elijah Gaddis, now an assistant professor of history at Auburn.
"This was very much by design," said Gaddis. "When Seth and I came up with this, we wanted it to be largely student-led. Much of that was to introduce them to the prospect of doing original research, but we also wanted them to get experience as much as possible of learning about the communities where they come from. It's hidden history in landscapes they live amongst."
Over the course of four years, they attempted to verify 165 incidents listed in Fort Valley State professor Vann Newkirk's Lynching in North Carolina: A History, 1865-1941 by collecting vital records from ancestry.com and searching for newspaper coverage on newspapers.com.
Period articles — like those from the Asheville papers — are presented in digital format. When possible, a potential motive for the lynchings is noted.
"These [lynchings] are things that were sort of ubiquitous to the landscape and contributed to the history of North Carolina and, more broadly, the South, but they are not marked and remembered in the way that other major historical events are," he said. "We just wanted to start that process with students and then spread it to others, recognizing that this is an important part of our shared history."
That all serves the project's goal by identifying and documenting the locations of known lynchings in order to "create a space for one facet of an important conversation about race, violence and power in the United States," according to the website.
"What we hope will happen is that people in the communities where these lynchings occurred will find this tool and use it to begin a dialogue amongst themselves about the history of their communities and how they might want to confront this," Gaddis said. "Our operating assumption as historians is that the past has a profound impact on the present, and these things have a larger ripple effect on the areas where they occurred and in the decades since."
Map data from A Red Record shows the majority of lynchings in North Carolina occurring in the 1880s, followed closely by the 1890s and declining each decade after that through the 1940s.
Most incidents were down east, where plantation style slavery was more widely practiced.
Only eight documented lynchings, including Ratcliff's, took place west of Morganton, where the hilly Piedmont finally gives way in earnest to the round ruddy knobs of Appalachia, fundamentally unsuitable land for large-scale slave operations.
Still, the relatively small postbellum African-American communities in Western North Carolina took little comfort in their numerical inferiority; the mob that pulled Mitch Mozeley (also spelled Moxley) from the Franklin jail in Macon County in November 1898 was likely larger than the entire African-American population in the county at the time.
Mozeley, reported the Asheville Citizen-Times, was arrested for alleged burglaries and attempted rapes, and purportedly confessed his crimes to an African-American preacher.
According to the story, the local black community said they thought Mozeley deserved to be lynched.
The next night, about 8:30 p.m. a crowd estimated by the Citizen-Times at 300 removed the "black demon" from his cell, ran a rope off the old railroad bridge on the east side of town, put Mozeley on horseback, and set the horse to walking.
The horse emerged on the other side of the bridge. Mozeley swayed beneath it.
That particular brand of Appalachian justice wasn't strictly limited to Affrilachians; in his seminal 1913 book Our Southern Highlanders noted naturalist Horace Kephart reflected on how the isolated, ruggedly self-sufficient Scotch-Irish migrants to this region felt about government involvement in their lives.
"They put little trust in the courts," he wrote in chapter 14, titled Law of the Wilderness. "Murders are common, and the murderer usually receives a light sentence or goes free. The rationale is that if society (the state) cannot protect a man or his rights, then he is justified in taking the law into his own hands."
A year after Mozeley and a year before Ratcliff, George Maney was arrested for the alleged murder of wealthy Graham County plantation owner Thad Sherrill. Like Ratcliff, Maney was taken elsewhere for "safekeeping" — to Murphy, in this case — but like Mozeley he was removed from the jail by a mob of 50 and hung from a railroad bridge. During the period studied by A Red Record, Maney was one of 22 white men lynched in North Carolina.
Another lynching commemoration project differs from A Red Record's digital documentation by remembering victims through public art and architecture.
In April 2018, The Equal Justice Initiative opened the National Memorial for Peace and Justice in Montgomery, Alabama.
There, suspended from the roof of a large, open-air shelter, hang more than 800 rectangular steel columns, serene in their symmetry but shocking in their symbolism to the crowds craning their necks, looking up from below.
Each of the casket-like 6-foot tall columns commemorates a county in which one of more than 4,000 lynchings occurred between 1877 and 1950. Twenty states are represented there, as are 64 North Carolina counties, including Buncombe, Cherokee, Haywood and Macon.
Adjacent to the memorial is a 6-acre park, where identical duplicates of each of the columns lay flat and rusting down on the ground — evocative of a coffin during a graveside service.
While the columns dangling beneath the shelter will remain in perpetuity, EJI hopes that each of the ones in the park will be claimed by people from the counties they represent, taken home and erected in honor of the deceased.
In doing so, they'll create a link between the memorial in Montgomery as well as change slightly the built environment throughout the American South by serving as a localized reminder of an era some may not want to remember.
On Sunday, March 4, 1900, George Ratliff made the 7 miles from Clyde to Waynesville under escort and was booked into the county jail.
Around 1 a.m. on Monday, Haywood County Sheriff William J. Haynes — who as was common at the time lived at the jail — awoke to a large crowd. Fifty hidden faces demanded to see Ratcliff. Sheriff Haynes refused. They broke down the exterior door with sledges and pry bars, demanding he let them into the cellblock. Sheriff Haynes refused.
They broke down the interior door, and upon arriving at Ratcliff's cell demanded Deputy Henson work the combination lock to release Ratcliff. Deputy Henson refused.
Crouching in fear in his cell, Ratcliff never did get to see a real judge or jury, but he did get to see his executioners, who struck him with several rounds fired through the bars.
During the confrontation, Sheriff Haynes sought help from Waynesville's town solicitor, a man named Ferguson who responded but to no avail.
Meanwhile, the masked mob — "fearing they had not completed their work … —immediately returned and again sent several rounds in his body. Probably 40 shots were fired in all," reads the Citizen.
Miraculously, Ratcliff's cellmate was unharmed.
In sardonic fashion, the Asheville Citizen story noted that damages to the jail were "only slight," as though the extrajudicial killing — the lynching — of an American citizen deprived his constitutional right to due process was of less import than two new doors and a cell wall with 40 bullets in it.
Ratcliff's lynching is further justified in the story, which ran in newspapers across the state and as far away as Kansas, Louisiana and Minnesota, by the unsupported statement that this was not a "reckless first offense" because Ratcliff had allegedly "ran away from Turkey Creek [near Haywood County's Fines Creek] some years ago for stealing."
Perhaps unsurprisingly, the story even brushes in rosy hues a surrealist portrait of what must've been the most polite and clear-headed lynch mob in recorded history.
"It seemed quiet, organized and determined, and spoke but a few words," reads the Citizen. "None were drinking, and none were recognized."
Recognizing Ratliff in Haywood County has been an ongoing discussion, especially within the Haywood NAACP branch.
Branch President Rev. Walter Bryson first related the story of Ratliff to a group of 24 at a branch meeting on Feb. 23. That sparked contemplation of the issue that spilled over somewhat into the subsequent meeting on March 23, especially in light of an upcoming May bus trip the branch has planned to some of Montgomery's Civil Rights-era sites, including the National Memorial for Peace and Justice.
NAACP Vice President Phillip Gibbs said during the meeting that he imagined the group would have plenty of time on the bus to and from Montgomery to discuss the matter, but after the meeting was over, a small cross-section of attendees — one white, one black, and one of mixed race — hinted that the conversation could be unpredictable.
Haywood County native Dean Gibson, part of Waynesville's small African-American community, says he can remember overhearing half-whispered Ratcliff lore while still young.
"I couldn't remember the name, but there was somebody that was supposed to have raped a white woman, and they went into the jail and they shot him," said Gibson. "I've always heard that, but not in detail. They said he didn't do it, but he didn't even get a trial."
Gibson supports bringing the monument back to Haywood County.
"It's history," he said. "You shouldn't hide the truth. It would be something that could show people how times have changed, and how grateful we are to have the community that we have now, and how good it is that stuff like that doesn't go on anymore. The nation is divided, but I think we've progressed a lot since then."
Although Lillian Woods now lives in Haywood County, she was born in Bay St. Louis, Mississippi, to a family she called very southern, and very mixed.
"Spanish, Choctaw, Croatian," said Woods. "Lots of mixing."
Woods also has African ancestry on her grandfather's side, as chronicled in her cousin Emily Raboteau's 2012 memoir Searching for Zion, which details her family's quest for identity after her grandfather's racially motivated murder in 1940s Mississippi.
Even with the legacy of violence in her family, Woods says she's undecided.
"There are a lot of tensions that still exist with white people in this community, and I just don't know if the black community will suffer the effects of having this memorial bring up those bad feelings and prejudices," she said. "I don't want to create a situation of more violence being perpetrated against the community while raising recognition of a problem."
Gibson doesn't think that Haywood County's African-American population — 794 of more than 61,000 people, or about 1.3 percent — will see repercussions.
"No, I don't think that's realistic," he said. "In this community right here, history is well-received. I came up in the 1980s, Tuscola, Waynesville Middle School. We got along. I came through school without a hitch. At one point, I was the only black guy on the football team, and these guys treated me like a brother."
Woods' husband John, a psychotherapist from Springfield, Illinois, is like his wife conflicted about whether or not to bring Ratcliffe's monument home to Haywood County.
"I have two thoughts. One of them is, absolutely, to take a stance on education and honesty and owning our history, we should bring it back," he said. "But sitting in the meeting today as a white male with all of my privilege, I can imagine how bringing that back could cause people of color harm and put them at peril. I don't think that's a deal-breaker, a reason not to do it, but it's one of those things where I'm reminded about the issue of white privilege — it's not going to cause me any difficulty to bring it back."