Archived News
Waynesville residents push for promised park
Wednesday, March 27, 2019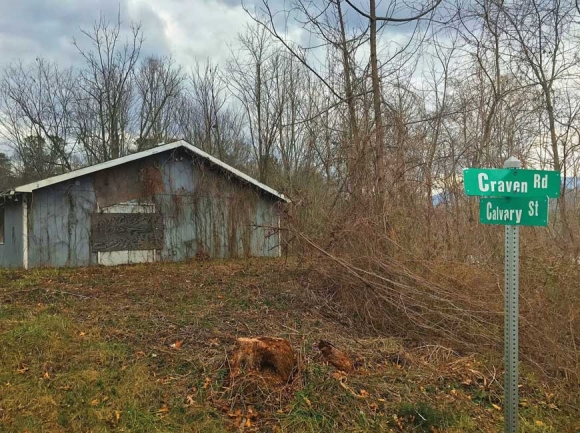 The building's been torn down, but the proposed park still hasn't been funded. Cory Vaillancourt photo
Years after demolishing a blighted structure in Waynesville's historic African-American neighborhood, aldermen still haven't funded the park that was supposed to take its place, and neighborhood residents aren't happy.
"It's only right that the town of Waynesville not slight this community," said Haywood NAACP Vice President Phillip Gibbs. "We have been talking about this for three years now."
After months of discussion, in March 2017 Haywood County commissioners acquired by foreclosure three parcels home to a disused, unsecured former church that had become both an eyesore and a hotspot for crime in Waynesville's Pigeon Street corridor.
The county sold those parcels to the Town of Waynesville for $1, with the stipulation the church be torn down, and the parcels become a park. A further stipulation is that if the park doesn't materialize, ownership of the parcels, which required $20,000 in foreclosure costs and additional funds for cleanup, will revert back to the county.
The church has been gone for some time now, but the park still hasn't emerged. According to a presentation given to the Haywood NAACP by Waynesville Parks and Recreation Director Rhett Langston March 23, it looks like a long shot for this budget year, as well.
Langston presented a drawing of the proposed Craven Street park that includes a few parking spaces, a basketball court, a small playground, and a 24-foot-by-44-foot covered picnic shelter along with a few benches and grills.
Phase one, he said, would consist of the parking lot, shelter pad and shelter. It's likely the town could do the lot and pad in-house, but a quote he'd received for the shelter came in around $40,000.
That funding request would compete with other major recreation needs this year, including $90,000 for a new bathroom at the Recreation Park and $700,000 for a piece of pool equipment.
Phase two would consist of the playground, the basketball court, grills and benches, and would likely cost far more than the current $40,000 request.
During the meeting, local attorney and NAACP treasurer Chuck Dickson made clear that he was organizing a group to go before Waynesville aldermen at the board's April 23 meeting to advocate for the park's funding.
"And remember this is an election year," Dickson said.