Archived News
New members appointed to TCGE, TABCC
Wednesday, March 27, 2019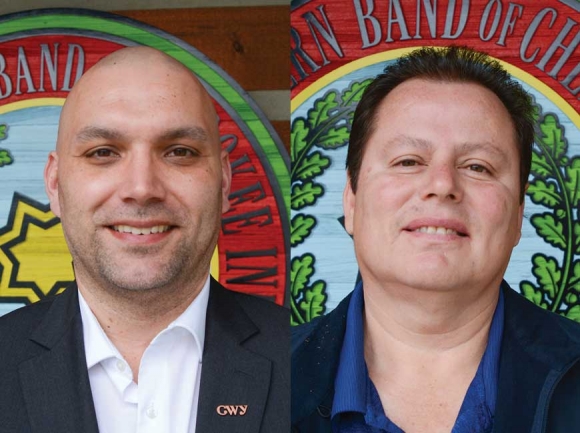 David 'Skooter' McCoy Jr. • Mitch Littlejohn
Tribal Council approved a pair of appointments March 14 that added new members to two of the tribe's most influential boards.
Birdtown resident David E. McCoy Jr. — better known as Skooter — will be the newest member of the Tribal Casino Gaming Enterprise Board following a vote from Council with 11 in favor and one abstention. The legislation is still awaiting ratification.
The five-member board carries a significant load of responsibilities, charged with regulatory oversight of all gaming operations on the tribe's two casinos to ensure compliance with laws and regulations.
McCoy will serve a five-year term through Sept. 30, 2023, replacing current board member Richard Sneed. Board Member Richard Sneed is the father of Principal Richard Chief Sneed — Board Member Sneed was appointed prior to Chief Sneed's 2015 entrance into tribal politics.
McCoy graduated from Western Carolina University with a degree in business administration, and his resume includes positions as a stage manager at Harrah's Cherokee Casino, advertising coordinator for the tribe's marketing department, business economics teacher at Cherokee Central High School, five-season head football coach at the high school and destination marketing manager as well as market analyst for the tribe's Department of Commerce.
He has most recently served as general manager for the Cherokee Boys Club and was named 2018 Leader of the Year by the Steve Youngdeer Post No. 143 American Legion.
"It's obvious to everyone here how vital it is for the success of the gaming enterprises of the Eastern Band," said McCoy of the board he will now join, "and I hope that with this nomination that I can contribute in any way possible to continue to further the success of those enterprises."
McCoy will join current TCGE board members Chairman Jim Owle, Norma Moss, John Houser and Tommy Lambert.
After approving McCoy's nomination, Tribal Council voted unanimously to install Mitch Littlejohn, of Yellowhill, as the newest member of the Tribal Alcoholic Beverage Control Commission. Littlejohn will replace outgoing member Bruce Toineeta and serve a four-year term ending July 30, 2022. He will join current TABCC board members Pepper Taylor, Consie Girty, Brenda Norville and Mara Nelson.
"I appreciate your support, Chief," said Littlejohn. "I hope to do a good job as the prior people have done, and if anyone has any questions or anything they need to know once we get started just let us know."
Established in 2011, the TABCC works to regulate the purchase, possession, consumption, sale and delivery of alcoholic beverages on Cherokee lands, which mostly occurs at the casinos in Cherokee and Murphy. Before the TABCC was created, the ABC boards in Jackson and Swain counties handled casino alcohol sales, with revenue from those sales going to the counties rather than to the tribe.
Members of both boards are appointed by the principal chief with confirmation required from Tribal Council.
Before hearing who Sneed was nominating to the boards, Councilmember Bo Crowe, of Wolfetown, asked Sneed to make his nominees aware the pay for those positions could change. Currently, TABCC and TCGE board members draw a salary of $80,000.
"We'll be bringing in an ordinance change and dropping the pay down to probably $25,000 a year," said Crowe, adding that the change was intended to ensure that board members could hold a full-time job in addition to their board responsibilities.
However, Sneed responded that it would be "premature" to say that such a change is "absolutely going to happen." The tribe is in the midst of having a complete compensation analysis done for all its positions — whether elected, appointed or hired.
"It would be my request that before any changes are made that we look and see what the comp analysis says," said Sneed. "There's going to be other ordinances that are going to conflict that we'll have to address as well."
Editor's note: This story was reported using online meeting videos, as Tribal Council's April 2018 decisions to ban non-Cherokee media from its chambers prevents The Smoky Mountain News from attending in person.