Archived News
Tuscola still seeks 'level playing field'
Wednesday, March 27, 2019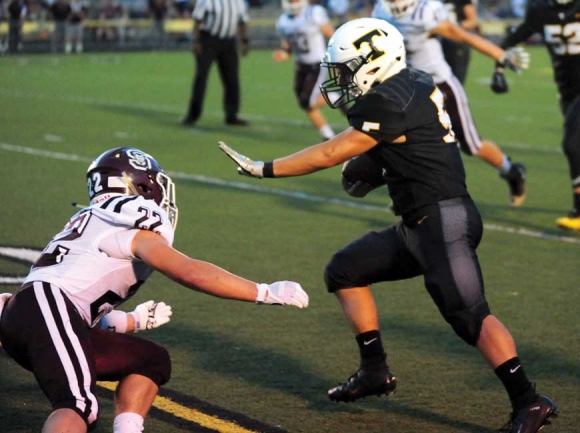 In January, Haywood County Schools Superintendent Dr. Bill Nolte told The Smoky Mountain News that HCS would engage in a "long haul process" to exhaust every "reasonable and legal thing that we can do" in the fight to reassign Tuscola High School's athletic programs to a more appropriate division.
On March 19, HCS Board Attorney Pat Smathers took another step in that fight.
"It is the opinion of the Haywood County School System that the NCHSAA has created a harmful and detrimental system for high school competition, not only for Tuscola High School, but other schools and school systems throughout the state," reads a March 19 letter from Smathers to the chairman of the N.C. State board of Education and the Superintendent of the N.C. Department of Public Instruction. "As regards to Tuscola, the solution is so simple. Reclassify Tuscola to 2A, remove it from the 9 team Mountain Athletic Conference and place it with the other similar sized schools in the Mountain Six Conference."
The dispute stems from a 2016 reclassification of Haywood County's Tuscola High School from 2A to 3A for the purposes of athletic competition.
That's inherently unfair, according to Nolte, who pointed out that competing against larger schools — some of which are almost twice the size of Tuscola — has implications far beyond simply winning medals.
Smaller colleges, Nolte said, often target student athletes who aren't NCAA Division I material, providing much-needed scholarships in a county where poverty rates are higher than average; when Tuscola's competitors face off against bigger schools with a larger pool of talent from which to draw, it's harder to make a favorable impression on recruiters.
Before 2015, high schools were divided evenly amongst four classifications, with 1A being the smallest and 4A being the largest, but all classifications having about 25 percent of schools.
During the NCHSAA's 2017 classification cycle, it was decided that 30 percent of schools would be placed into 1A, 30 percent into 2A, 20 percent into 3A and 20 percent into 4A.
Smathers' letter alleges that the change, which boosted tiny Tuscola into 3A, "was made without a formal voting process with recorded written votes by Association members."
The letter isn't the first time HCS has attempted to get the attention of the NCHSAA. In April 2016, HCS joined the Jackson, Macon and Henderson county school systems in an unsuccessful protest of the disparity.
In November 2018, HCS made another request to be classified as a 2A school, but NCHSAA Commissioner Que Tucker denied that appeal. Tucker citing a new rule that reclassification would only be considered in the event a school's population had dropped 10 percent.
That rule does allow for reclassification in the event of a "catastrophic or community based event," a fact HCS brought to Tucker's attention when citing the closure of one of Tuscola's feeder schools, Waynesville's Central Elementary. According to Smathers, Tucker said she'd bring that information to the NCHSAA board, but the board's minutes of the Nov. 28, 2018 meeting "do not reflect the issue being addressed."
In December, HCs officials requested a face-to-face meeting with Tucker, which was denied.
In January, HCS asked to file a grievance, but was told there was no formal grievance or hearing process.
Based on these actions, Smathers' letter opines that the NCHSAA has been making school classification decisions "in an arbitrary and capricious manner without due process, resulting in unfair competition in Western North Carolina," as well as across the state.
Data on school populations seem to bear that out; the smallest 3A school in the state has 960 students, but the largest 3A school has more than 1,890 students. The smallest 4A school has around 1,480 students.
The smallest 2A school has 580 students, and the largest has 1,140. The largest 1A school has 730 students. Tuscola, in 3A, reports it has 974.
A copy of Smathers' letter was mailed to Tucker, as well as Gov. Roy Cooper, D-Rocky Mount, Lt. Gov. Dan Forest, R-Charlotte, N.C. House Speaker Phil Berger, R-Guilford, Haywood County's entire legislative delegation — Sen. Jim Davis, R-Franklin, Rep. Michele Presnell, R-Burnsville, Rep. Joe Sam Queen, D-Waynesville and says that if necessary, HCS will ask the legislature to take a look at the NCHSAA's decision making process.
The letter also asks both NCSBE Chairman Eric C. Davis and NCDPI Superintendent Mark Johnson to "begin an immediate investigation and examination of the procedures and policies of the NCHSAA" regarding not only their classification process, but also the NCHSAA board's self-appointment process, absence of written voting records and lack of formal grievance procedures.
"We are confident that now having been made aware of the situation," reads the letter in closing, "you can effectively address it not only here in Western North Carolina, but throughout the state."