Archived Special Coverage
Camp WILD educates through adventure
Wednesday, March 20, 2019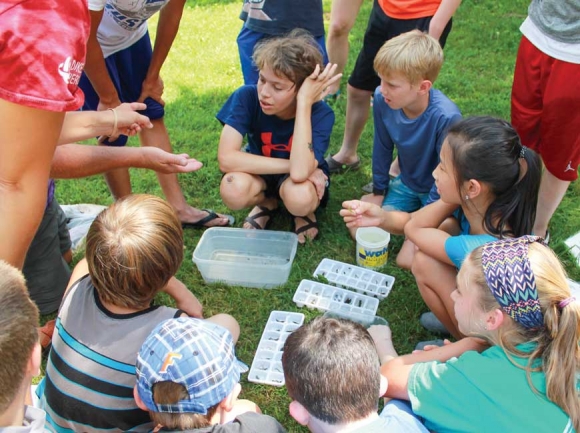 Campers get a hands-on lesson about aquatic organisms. Donated photo
Every summer for the past seven years, the warmer months have brought opportunity for adventure and learning to the small group of students participating in Camp WILD.
Offered by the Jackson County Soil and Water Conservation District, this day camp packs four days full of exploration as students hike, swim and snorkel through the mountains and rivers of Jackson County. Amid all the adventuring is plenty of opportunity to learn, with daily themes focusing on soil, alternative energy, forestry, wildlife and aquatics.
"Not all the kids we've had come to the camp are outdoorsy," said Jane Fitzgerald, camp coordinator. "It's not their element, but when they actually do the things we do like going hiking and snorkeling, they have a blast."
The camp — whose name stands for Wilderness Investigating Learning Discovery —accepts 12 rising seventh and eighth graders in Jackson County, an age that Fitzgerald said the camp focuses on because it's a time when kids are "starting to be aware of the fact that they'll eventually have to choose a career, and the more environmentally conscious they are of things, hopefully we can nudge them more that way."
Camp WILD has a lot of components kids find attractive —new experiences, time outside, the chance to get messy and explore places they've never been before — as well as parts likely to appeal to parents — a focus on education and environmental responsibility, for example — but the price is also a selling point. The whole week of camp costs only $35.
Originally, Duke Energy funded the camp as part of its relicensing agreement in 2011. That money has since run out, leaving the county to fund Camp WILD. However, said Fitzgerald, that annual cost is rather low thanks to the initial influx of cash from Duke — in 2017-18, the first fiscal year in which the county budgeted for the camp, it actually came out ahead. It did not spend any of the $1,400 budgeted and ended up taking in $35. For 2018-19 the county has once again budgeted $1,400.
"All the expense pretty much was endured with the grant at the beginning," said Fitzgerald. "All the equipment was bought at the beginning."
In designing the camp, Fitzgerald looked to the Haywood County Soil and Water Conservation District, whose successful YES Camp is getting ready to enter its 20th year — though this year is likely to be a season of change due to the retirement of longtime education coordinator Gail Heathman. Swain County used to have a similar camp but doesn't do it anymore, said Fitzgerald, but Buncombe and Madison counties both have one.
"It's a great little camp. I'm proud of it," said Fitzgerald. "All the parents rave about how their kids had such a great time and they're looking forward to coming back. We're obviously doing something right."
Do Camp WILD
This week of outdoor exploration and hands-on environmental learning will be held 8:30 a.m. to 4 p.m. July 15-18, meeting at the Cullowhee Recreation Parking lot each morning before heading to the day's adventure in Jackson County. It is open to Jackson County residents who will enter seventh or eighth grade in fall 2019. Cost is $35 with limited scholarships available, and space is limited to 12 students. Registration deadline is June 1. Register with Jane Fitzgerald, 828.586.5465 or This email address is being protected from spambots. You need JavaScript enabled to view it..