Archived Special Coverage
Registration open for Lake Junaluska summer youth events
Wednesday, March 20, 2019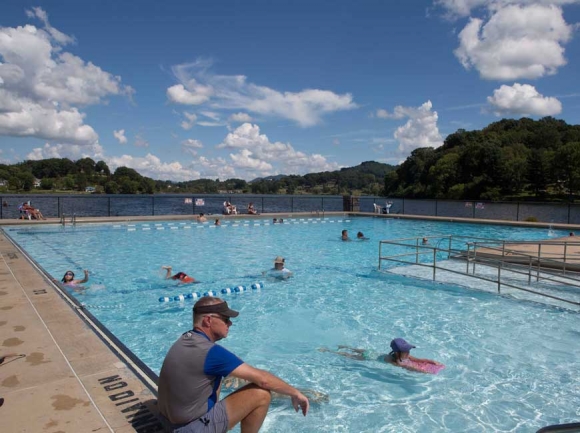 From early June through early August, the Lake Junaluska Conference and Retreat Center offers residents and visitors of all ages an opportunity to find community and make memories with free or nominally priced activities such as outdoor movie nights, crafts, workshops, game days, yoga, bonfires, moonlight boat rides and more.
In addition to community youth activities, Christian youth groups from many denominations travel to Lake Junaluska from across the Southeast each summer for world-class speakers, entertainment, spiritual growth and fun. Youth groups in sixth through 12th grade from Haywood and Haywood-adjacent counties are invited to experience a Lake Junaluska Youth Event at a special price.
Middle school and high school youth groups may sign up for one of six events to be held in June and July. Each event features morning and evening worship sessions as well as small groups, a spiritual practice workshop and evening prayer.
The Rev. Mitzi Johnson, director of programming at Lake Junaluska, said she is particularly excited about the theme for the 2019 Summer Youth Events – "Kairos: Your Moment of Opportunity."
"Kairos refers to an opportune moment in your life where you recognize the ways God is calling you to live, be or become," said Johnson. "We're excited to invite youth this summer to be shaped by God so that God, through them, can shape the world. We want youth who come to step into 'God's time' and to develop the courage to seize those extraordinary moments of opportunity."
Speakers and bands from across the Southeast will explore the theme in their messages. In small groups, youth will discuss topics from who they are in God's eyes to how they are called to serve.
The first youth event of the summer will feature the Rev. Andy Lambert, senior pastor at Oak Ridge United Methodist Church in Winston-Salem. Lambert has proclaimed the Gospel across the United States and abroad at such venues as comedy clubs, churches and colleges.
The second event will bring to Lake Junaluska the Rev. Juan Huertas, pastor of Grace Community United Methodist Church in Shreveport, Louisiana, and a contributor to Ministry Matters and Day1.org.
"Huertas meets groups where they are while also respecting their intelligence," said Johnson. "He dives headfirst into deep theological questions in a way that engages and enthralls."
During the third event, the guest speaker will be Stephanie Caro, senior consultant for Ministry Architects and author of "Thriving Youth Ministry in Smaller Churches" and "99 Thoughts for the Smaller Church Youth Worker."
Speaking at the fourth event will be the Rev. Janjay Innis, nurture pastor at The Nett Church, a multi-campus United Methodist Church in Gwinnett County, Georgia, and a former US-2 missionary who served as a social justice advocate in Tacoma, Washington.
The Rev. Jeremy Steele, who is the next generation minister at Christ United Methodist Church in Mobile, Alabama, senior editor of the Seedbed Youth Ministry Collective and author of Reclaiming the Lost Soul of Youth Ministry, will present during the fifth event.
The closing summer youth event will host the Rev. Kevin Wright, former executive minister of programs at The Riverside Church in New York City. Wright now serves as the chief program officer at the Urban Arts Partnership in New York City where he helps public schools close the achievement gap for underserved students.
"These speakers are all extremely gifted and passionate about sharing the Gospel with and inspiring youth," said Johnson.
The special program-only rate for Haywood and Haywood-adjacent county youth groups to attend any of the six events is $100 per participant. This rate includes morning and evening game and worship sessions, four small groups, a workshop, evening prayer, a volleyball tournament and a one-day pool pass. This rate does not include lodging or meals.
More information about speakers, bands and entertainers is available online at www.lakejunaluska.com/summeryouth. To register, call 800.222.4930 or visit www.lakejunaluska.com/summeryouth.