Archived Special Coverage
Camp focuses on life with legacy in mind
Wednesday, March 20, 2019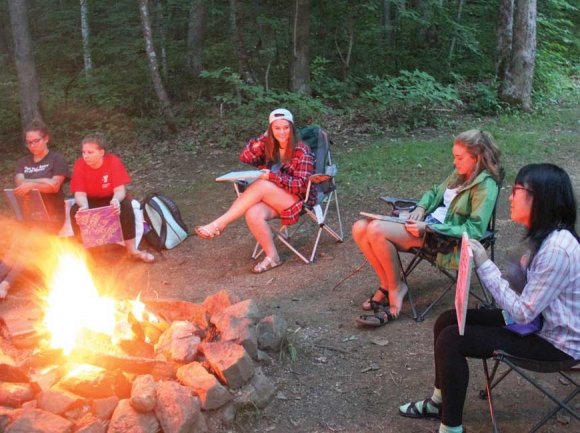 Girls gather around a bonfire for some end-of-day activities. Donated photo
Three years ago, Meg Hanshaw was in full-on planning mode for a camp that she hoped to see grow into something big, but that would — for that summer at least — roll forward hosted in her home with just two campers attending.
Fast forward to 2019, and Hanshaw is gearing up for year three of Live Your Legacy Leadership Summit for Girls, an overnight camp at Western Carolina University that will this year welcome 16 girls and employ four coaches.
"This is about transformation," said Hanshaw. "If girls were coming to just hike and do ropes courses, they would not like it. It's social and emotional intelligence. It's the real deal."
Hanshaw has a long history with summer camps, starting out as a basketball coach in the 1990s who ran her camps with an emphasis on leadership and empowerment. But as she progressed through her own educational path, Hanshaw, now a Ph.D., found herself driven to find out "what do we need to do to make sure that people thrive and that they have the best chance of reaching their full potential."
Through her research, Hanshaw came to the conclusion that the school system wasn't put together in a way that supported young people to reach their full potential, and she saw the "epidemic of violence and bullying and chronic disease and depression and ADD" as confirmation. She decided to do something about it, starting the nonprofit i.b.mee to "bring research out into the masses," shortly thereafter launching the camp.
"I wanted to start programs that really supported the kids who had missed out, which are high school kids," she said. "They've gone through the whole system and it's nobody's fault. It's just we don't know what we don't know yet."
Live Your Legacy is a jam-packed camp that seeks to make a lasting impact, equipping girls to chart their own path forward in life and to make meaningful change in the world around them. A key component of the camp is vision mapping, a skill that helps campers understand what they are truly passionate about pursuing in life.
"We've found that a lot of kids are not even asked that question," said Hanshaw. "They're sort of in this way of doing that's like, this is what you do next, this is what you do next, and people are telling them. They don't have enough time to slow down and get mindful and get in and say, 'What about me? What do I really like?"
That's a problem for boys and girls alike, and eventually Hanshaw hopes to expand the camp to welcome boys too.
"I'd give myself probably three more years, and then we'll add the boys because it will be a proven system," she said.
The camp uses a wellness model that considers academics, relationships, health and spirituality. Campers create a pathway for college, career and life, working to break through the challenges and fears keeping them from success, and they also develop a plan for a service project to impact the world around them.
And while transformation is the emphasis, there's opportunity for fun and adventure too — bonfires, hiking, whitewater rafting, time on a lake — though all of that is done while taking full advantage of teachable moments to help the girls understand how to set goals, resolve conflicts and work as a team.
"They're different people by the time they walk out," said Hanshaw.
Be a camper
Live Your Legacy Leadership Summit for Girls will be offered June 16-22 at Western Carolina University, with places for 16 girls entering grades 10 through 12. The week will be packed full of activities aimed at helping campers to realize their potential and make a plan to achieve it as they go forth into adulthood. It's run by Meg Hanshaw, Ph.D., and founder of the nonprofit i.b.mee, based in Asheville.
The application deadline is April 26, with scholarships up to $1,200 available to defray the overnight camp's $1,500 cost. Find out more at www.ibmee.org.