Archived Special Coverage
Art camps at The Bascom
Wednesday, March 20, 2019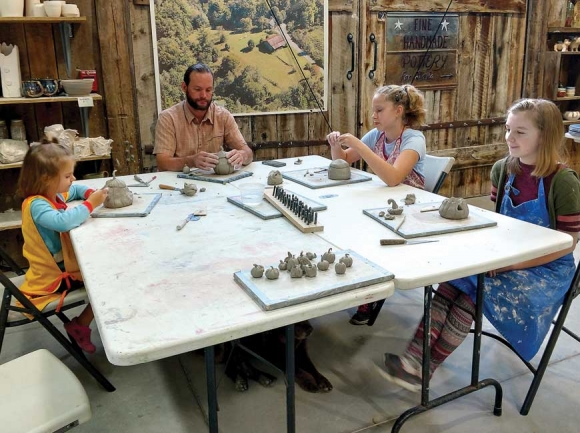 In addition to the year-round fun art spaces and activities for youth, The Bascom, A Center for the Visual Arts in Highlands offers a number of summer camp opportunities.
With a vision of being a place where children and adults can explore and learn about art, Bascom's exhibition galleries are always free.
"The Bascom's SmArt Space is an interactive learning environment located in the Greehey Atrium Landing where children can explore self-guided art activities, read books from The Bascom Library, participate in a Lego building challenge, and more," said Kat Ford, Bascom's director of community engagement. "Next, The Bascom's Trail Level offers selections of work from The Bascom's Community Outreach and Summer Programs, and exhibition related gallery activities in the Ruth Eckerd Children's Gallery. Finally, visitors can enjoy a walk around The Bascom's Storybook Trail. Whether you are taking a youth camp class and workshop, or just enjoying one of our free visual art experiences, there is always something for kids at The Bascom."
During the summer, children can choose from a number of mini camps for ceramic projects including throwing mugs, flower bowls, animal masks and bowls. If your summer schedule doesn't allow enough time to do a mini camp, The Bascom also offers several art classes by appointment.
"Pick a time slot, wear some old clothes and we will provide a knowledgeable instructor who will guide you through the process of either hand building or the potter's wheel," Ford said.

Understanding art classes can be costly for many people, The Bascom does not want financial constraints to prevent anyone from participating in their educational offerings, which is why they offer need-based scholarships. If you need financial aid, download the scholarship application or contact the Community Outreach Department. Scholarships are generously sponsored by the Cullasaja Women's Outreach.
For more information, visit www.thebascom.org.
Ceramics art camps
Thrown Mugs Session I
June 3 and June 5
Ages: 8 and Up
Wheel Thrown Functional Wares Session II
June 17 and June 19
Ages: 8 and Up
Slab Butterfly or Flower Bowl Session I

July 8 and July 10
Ages: 5 and Up
Slab Animal Masks Session II
July 22 and July 24
Ages: 5 and Up
Bowls, Bowls, Bowls
Aug. 7, Aug. 14 and Aug. 21
Ages: 5 and Up
Art by Appointment

Monday – Saturday
10-11:30 a.m.; 1-2:30 p.m.;

3-4:30 p.m.
All levels
Ages 4 and under/$40 per student
Ages 5-7/$50 per student
Ages 8 and above/$60 per student
Groups of 9 or more/$50 per person
To Schedule an Ceramics Art by Appointment, contact Frank Vickery at

This email address is being protected from spambots. You need JavaScript enabled to view it.

or 828.787.2892
Youth Summer Art Programs: June – August
Free the Art Workshop for Macon and Jackson County residents
June 5 – 7; 10 a.m. – noon
Ages 7-12
Tuition: Free
Weekly Summer Youth Studio Days
Tuesday – Friday; 10 a.m. – noon
Each day there will be a new, inspiring project. Come each day or drop in for one session during the week.
Ages: 7-12
Tuition: $50 per session
The official dates for Summer Youth Studio Days will be released in early April. Please call or visit www.thebascom.org for current dates, times, and topics.
Youth and Family Art by Appointment (limit 6)
Wednesday and Friday afternoons; 1 – 2:30 p.m., and 3 – 4:30 p.m.
Call to schedule a personalized art experience in drawing, painting, or mixed-media for your young artist, yourself, or a small group.
All ages.
Tuition: $50 per person