Archived Special Coverage
Pigeon Center camp adds a touch of civics
Wednesday, March 20, 2019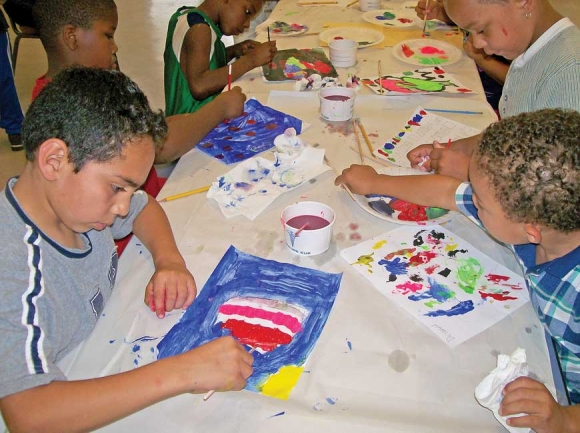 The Pigeon Community Multicultural Development Center's summer enrichment program is more than just arts and crafts. PCMDC photo
Sure, summer camps are all about creating precious childhood memories filled with friends and fun, but at Waynesville's Pigeon Community Multicultural Development Center, it's also about sharpening academic skills and teaching the next generation of young Americans the value of social responsibility.
"We want campers to make new friends, as always, but especially this year we would like them to take away a little bit more knowledge about civics, how our government runs, and what kind of part they play in it," said Pigeon Center's Tausha Forney.
Camp activities include all of the usual happenings, like crafts, games, music, outdoor play, even gardening at the Pigeon Center's plot or at Grace Episcopal and Francis Cove churches, however, academics are never far from the forefront.
"Summer is a good time for kids to forget what they learned. It's a great time for them to sit in front of the TV and forget everything they learned the year before," Forney laughed. "But it's also a great time for them to strengthen or build on what they've learned. We just want them to continue that forward progress and not lose momentum just because it's summer."
Campers enjoy breakfast, lunch and a snack, often prepared by volunteers — parents or caregivers of campers are required to donate 10 hours or service per child, and also help with cleaning, organizing and setting up classroom lessons.
"We think it's important to get the families involved, because we also want them to cross the same lines that we're asking the kids to cross. We want them to build relationships with other people in the community who are different from them," she said.
Half to two-thirds of the kids in camp are people of color.
"We want them to feel comfortable going out into the community and sharing their experience," said Forney. "We also want the kids to see that their parents are invested in their opportunities, and invested in them."
Two scheduled family potluck dinners underscore PCMDC's community-oriented approach, just like the annual soccer and flag-football matches against the Waynesville Police Department and the Haywood County Sheriff's Office and the anti-bullying and character education portions of the curriculum do.
This year, the camp will focus on one trait a week — topics like community, courage, honesty and truth, success and responsibility. Even the camp's field trips — to places like the Schiele Museum of Natural History in Greensboro, or the nearby Qualla Boundary — represent an effort by PCMDC to broaden the horizons of their young charges.
"Every year we go to a different civil rights museum," said Forney, mentioning facilities in Atlanta and Greensboro. As the Civil Rights era of the 1950s and 1960s fades from living memory, Forney said most kids know about Martin Luther King Jr., and some know about Rosa Parks, but only as isolated figures associated with a much larger movement.
"We know that it is super important for the kids to know about the civil rights movement as this thing that was organized from people just like them — students, regular people — who saw something that needed to be changed and changed it because it was the right thing to do," she said.
The Pigeon Community Multicultural Development Center's summer enrichment program is open to all students who have finished kindergarten through ninth grade.
Sessions run from 8 a.m. through 5 p.m. for nine weeks and usually begin on the Monday after the first full week Haywood County Schools have let out for summer.
Applications must be picked up at PCMDC, 450 Pigeon Street, and are accepted through the second week of camp, if it's not yet full. Forney recommends parents don't wait. Scholarships are available. For more information, call 828.452.2732.