Archived Mountain Voices
Blackgum tree trunks have many uses
Wednesday, March 20, 2019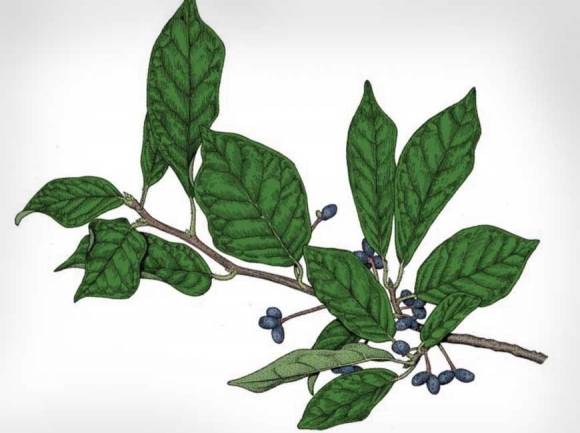 Blackgum. Donated illustration
Editor's note: This article first appeared in The Smoky Mountain News in March 2002.
Some months ago I wrote about how the early white settlers here in the Blue Ridge utilized the natural bends in sourwood tree trunks as runners for sleds. Lately I've been thinking about the way they utilized the hollow trunks of blackgum trees.
First, a little botanical background is in order. Most folks associate blackgum or tupelo (also called black tupelo, bowl gum, gum, pepperidge, sour gum, stinkwood, swamp gum, swamp tupelo, tupelo gum, yellow gum, yellow gumtree, wild pear tree, and other names) with swamps and moist low-lying areas, not mountainous terrain. Indeed, the first blackgum species taxonomically described was a swamp-growing type. Hence the generic name for the tree was given in honor of the mythological Greek water nymph, Nyssa. The specific epithet, sylvatica, means "of the woods."
As to the common name "blackgum," the first part refers to the dark leaves, but no one seems to know for sure what the "gum" designation refers to. "Tupelo" is derived from "ito opilwa" — the Creek Indian name for the tree.
There are, however, two varieties of "Nyssa sylvatica" that botanists recognize based on variances in leaf shapes, fruit sizes, seed (stone) characteristics and habitats. One we can call "swamp tupelo" (Nyssa sylvatica var. biflora). It grows in wet woods and swamps. The only place it has been located in the Blue Ridge Province is in the northwestern corner of South Carolina. The trunk bases of this variety are usually swollen, like cypress, when occurring in frequently inundated sites.
The other we can call "blackgum" (Nyssa sylvatica var. sylvatica). It grows throughout the eastern United States, and is common in dry sites here in the Blue Ridge Province (often in oak and pine forests) up to 5,000 feet in elevation or more. In the fall of the year from mid-September into late October, blackgum leaves turn a noteworthy "blood" or "lipstick" red.
Blackgum wood possesses an interlocked grain; so that, much like sycamore, it just about can't be split, not even with wedges. Accordingly, the early settlers used the wood for mauls, tool handles, skid poles, and rough floors for outbuildings.
Now we get to the interesting part. Almost every other mature blackgum that you will encounter here in the mountains is hollow. This is because the species is highly susceptible to heart rot fungi, an infection that occurs when aerially disseminated spores from various decaying fungi are deposited on or near wounds, fire scars, or dead branch stubs of susceptible hosts. After the spores germinate, the fungi's vegetative strands (mycelium) grow slowly into the vulnerable wood tissues. The fungi species that invade blackgum trees attack only the tree's central column of physiologically inactive (non-living) heartwood. An infected tree retains its outer vascular tissues for support and nutrient transport, but internally it becomes hollow.
For the wild critters. hollow blackgum trees become wonderful nest and refuge sites. For the early settlers they represented a utilitarian item that could be used in numerous ways. Sections could be fitted with bottoms and made into containers. They could serve as conduits for channeling or diverting water. Pits or wells could be cased at the surface with a hollow black gum log in order to prevent an inflow of surface water.
I recently read about a man who "obtained a bee-gum, put a round stone in it, and on this placed another stone, which was so contrived as to be turned with a crank. All his neighbors were welcome to come and grind their corn and buckwheat on it free of toll. The nearest mills where flour could be manufactured were miles distant."
A small hollowed section of blackgum could also be closed at one end, fitted with a triggered sliding door at the other end, baited, and used as a rabbit trap. When I was a boy an uncle of mine showed me how to make these traps, which he called "rabbit gums." I did catch the occasional rabbit ... but most of the time, when I turned the gum up on its back end and slid the door open to see what was inside, there was a 'possum.
This was OK. My grandmother paid 25 cents per 'possum, which she placed in a cage and "fatted up" for a couple of weeks on vegetables and then baked along with sweet potatoes.
But the most noteworthy use of hollow blackgum logs was (and still is, sometimes) as bee gums. Fitted with a bottom and removable cover, along with one or more holes in the lower sides, the sectioned log became a haven for honeybees and a source of "sweetenin'."
As I have noted before in several columns, the Cherokees and later on the white settlers here in the Blue Ridge lived close to the natural world. In some ways, of course, it was a cold, dirty, difficult, and often cruel existence. But, in many ways, it must have also been very rewarding. You and I have to flip a switch in our minds in order to shift from our modern technological ambiance and make some sort of connection with the natural world. Every single day, for better or worse, those folks woke up as a part of the glorious world that surrounded them.
They were attentive to the land because the land provided the basics for survival and the necessary commodities for creature comforts. Medicines, foods, dyes, building materials — you name it — couldn't be purchased at Ingles or Lowes or Walmart or the local pharmacy. They had to be extracted from the natural world. Accordingly, people paid closer attention to the everyday world in which they existed. It's my supposition that they felt closer to and more at home in their world back then than many of us do today.
(George Ellison is a naturalist and writer. He can be reached at This email address is being protected from spambots. You need JavaScript enabled to view it..)