Archived Outdoors
Smokies ranger earns national award
Wednesday, March 20, 2019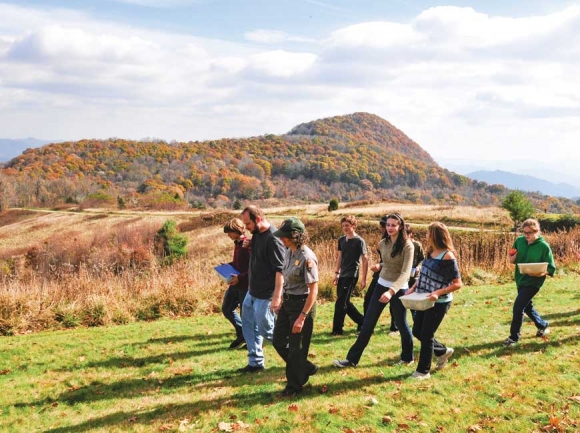 Susan Sachs leads a group of students across the lawn at Purchase Knob. GSMA photo
A National Park Service ranger who has focused on the scientific and educational significance of the Great Smoky Mountains National Park for more than 20 years earned national praise in this year's Public Lands Alliance awards ceremony, held Feb. 27 in Denver, Colorado.
Susan Sachs, education branch chief for the Great Smoky Mountains National Park, received the 2019 PLA Agency Leadership Award for cultivating and leading partnerships, the result of a nomination from the Great Smoky Mountains Association.
Sachs wasn't the only Smokies institution to win big at the awards ceremony. The Spring Wildflower Pilgrimage, which is now in its 69th year of introducing park visitors to the region's incredible diversity of spring wildflowers, won the Outstanding Public Engagement Award in the "program or service" category.
"Susan has a remarkable passion for teaching others about the special resources that make the Smokies unique," said Smokies Superintendent Cassius Cash. "Through her creativity and leadership, she's developed meaningful partnerships that expand our reach into communities well beyond our borders and expose more people to learning opportunities in the Smokies year after year."
For more than two decades, Sachs has served as a citizen science leader in the Smokies. During her tenure as education coordinator at the Appalachian Highlands Science Learning Center at Purchase Knob, she built a multi-faceted, sustainable, long-term program that involves students, teachers, interns, casual park visitors and trained volunteers in scientific research related to phenology, species distribution and abundance, impacts of ozone on native plants and numerous other topics.
"Our partnership with the National Park Service in Great Smoky Mountains National Park is at its essence a partnership with passionate people first and foremost," said Laurel Rematore, CEO for Great Smoky Mountains Association. "Susan's long list of accomplishments and dedication to citizen science more than qualified her in our minds for PLA's Agency Leadership Award. We're extremely pleased the judges agreed."
A leader in land management agency-nonprofit partnerships, Sachs works with a variety of local groups such as Pi Beta Phi Elementary, Haywood Waterways Association and Cherokee Preservation Foundation. She develops grants to offer teacher workshops, science camps and other programs through the N.C. Museum of Natural Sciences, Montreat College in Asheville, GSMA, Great Smoky Mountains Institute at Tremont, Discover Life In America and the Smoky Mountain Field School.
Not limited by park boundaries, Sachs brings her experience and accomplishments at a local level to regional and national-scale initiatives to benefit the Park Service as a whole, as well as its national-level partners. She was a key advocate for integrating partnership-based phenology citizen science up and down the 2,200-mile Appalachian Trail. Tim Watkins, science access and engagement coordinator for the Park Service, led the effort from Washington, D.C., but credits Sachs with its success.
"Susan (Sachs) helped shape and communicate goals and objectives," Watkins said. "She also provided examples of success on the ground, and communication products to back up all of our organizing efforts. Major partners — Appalachian Trail Conservancy, Appalachian Mountain Club, National Phenology Network — and funding organizations — Nature Fund for National Parks, National Park Foundation — know the value of the A.T. project and its particular strengths in the Southern Appalachians because of Susan's great work."
In 2012, Sachs was a climate education mentor for the Earth-to-Sky training course offered by NASA, the Park Service and U.S. Fish and Wildlife Service. In 2016, NASA awarded a five-year educational grant that triggered establishment of the Smoky Mountain STEM Collaborative, led by Southwestern Community College — Sachs negotiated the park's involvement, serving as park liaison and partner in the collaborative. The grant required an educational opportunity to experience the 2017 total solar eclipse from within park boundaries, an undertaking that spawned a 13-month planning process.
Sachs played a leading role in that endeavor, working with park staff and external partners to create a diverse portfolio of educational opportunities for STEM Collaborative students and the general public. The eclipse was the largest single-day event in park history, with more than 16,000 attending, peak audience views over 26,000 and NASA streaming reaching more than 6 million viewers.
In 2018, Sachs was promoted to Education Branch Chief, a role in which she continues to build on her prolific partnership expertise.
Sachs helps a pair of students with an activity. GSMA photo
"I was deeply moved to receive this award and thank the Great Smoky Mountains Association for nominating me for doing what I love — making science exciting for young people," said Sachs. "This award has my name on it, but it is really for all of the resource management and education staff in Great Smoky Mountains National Park."
The award isn't the only thing to bear Sachs' name recently. Last year, she was one of five park employees to have a newly discovered species named after her. The lichen species Lecanora sachsiana — and its common name Susan's Sacs — honors the help and support Sachs gave lichenologists James Lendemer and Erin Tripp over their decade of research in the park.
Sachs was one of three people to receive the leadership award, and the only one from the Park Service. The other winners were Jennifer Heroux of the USFWS Desert National Wildlife Refuge Complex in Nevada and Arnold Randall of the Forest Preserves of Cook County in Illinois.
The Spring Wildflower Pilgrimage also drew attention for nearly 70 years of bringing expert field biologists and interested public together to enjoy nature. The event offers guided tours, evening speakers and citizen science programs, giving participants the chance to vastly expand their knowledge of the park's incredible wealth of flora and fauna.
"There is no better place to experience spring wildflowers than the Smokies," said Cash. "We are honored to continue to support this unique, long-standing partnership effort, spanning over 65 years, which continues to introduce people to the wonders of wildflowers in new and innovative ways."
In 2018, the Pilgrimage introduced two new citizen science initiatives, the "Become a Citizen Scientist" program and the iNaturalist project, which allow participants to generate research-grade data to benefit the park and a larger network of researchers. In the first year of the "Become a Citizen Scientist" project, the Pilgrimage trained 40 volunteers and imaged nearly 1,500 specimens in a three-day period. Similarly, iNaturalist resulted in 1,856 observations of 537 different species at the 2018 Pilgrimage event.
At the award ceremony's conclusion, GSMA was awarded a final prize, this one for its entry of Into the Mist in the Partner's Choice category, which is voted on by the public at large. Into the Mist: Tales of Death and Disaster, Mishaps and Misdeeds, Misfortune and Mayhem in Great Smoky Mountains National Park is so named for its 13 chapters on tragedy and heroic rescue made all the more chilling because these stories are real. These beautiful, mist-shrouded mountains can, and often do, turn deadly, as in author David Brill's retelling.
The Public Lands Alliance is a national consortium of more than 165 nonprofit partners of public lands. As a PLA member, GSMA is invited each year to submit nominations for several award categories that recognize excellence in publications, programs and partnerships.
Since its inception in 1953, Great Smoky Mountains Association has supported the preservation of Great Smoky Mountains National Park by promoting greater public understanding and appreciation through education, interpretation and research. A nonprofit with its headquarters inside the national park, GSMA has contributed more than $44 million during its 65-year history.
Join the Pilgrimage
Registration is now open for the 69th annual Wildflower Pilgrimage in Gatlinburg, to be held April 24-27.

The event will feature professionally guided walks, exhibits and other learning opportunities to explore the region's rich natural and cultural resources, with programs including fungi, ferns, wildflowers, trees, shrubs, insects, salamanders, birds, mammals, journaling, photography, history and more.

More than 850 people from 32 states and several countries attended in 2018. Learn more and register at www.wildflowerpilgrimage.org.