Archived Opinion
This cruel, lingering illness just won't let go
Wednesday, March 20, 2019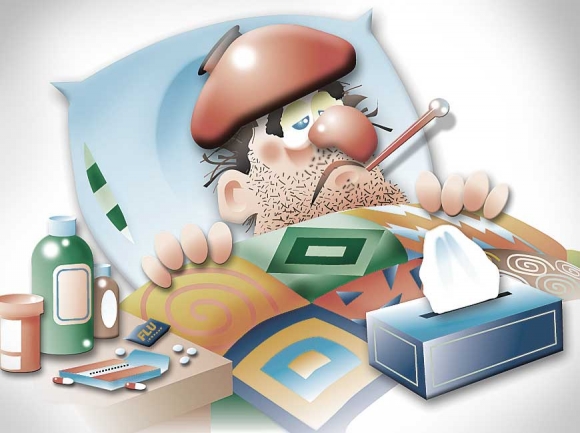 When you've been sick long enough, your perception of reality begins to change. A couple of days may be no worse than a slightly uncomfortable vacation at home watching the game show channel or reading old magazines or telling people how miserable you are on Facebook. You force fluids, you sleep as much as you can, you get over it. It is sort of like enduring an unpleasant visit from people you don't much like.
But what happens when your guests don't know when to leave? What happens when you are sick for a full week? Two weeks? More? What happens when your days lose specificity, when they all melt like candles into vague pools of dark and light, one no different from the next? What happens when you measure out your days and nights in tablespoons of cough syrup and extra-strength cold medicine, handfuls of ibuprofen and Mucinex, and gallons of water. I've consumed so much water these past few days, I feel like a waterbed with arms and legs. And a throbbing headache.
The coughing is the worst. My body already feels broken and bruised, as if it has been dropped out of a plane at 10,000 feet without a parachute. Now, every cough feels like a vicious kick to my ribcage. A sudden fit of coughing — which happens reliably about every 45 seconds — feels like two or three mobsters ganging up on me for missing a payment, kicking me again and again until I am doubled over and promising them anything, the title to my car, the deed to the family farm, whatever it takes.
My cough sounds like someone trying to saw through a rusty pipe with a Swiss Army knife. My body has become the Baskin Robbins of phlegm. We've got all your favorites: deep forest green, mustard yellow, mint-colored, taupe, a never-ending supply of it. Every time I serve some up, it feels like someone is scraping my throat with a putty knife.
The fever is the worst. When it reaches 102, I find that all I can do is gobble more ibuprofen and distract myself until it breaks. Twenty minutes of "The Maltese Falcon" on Turner Classic Movies. Ten minutes of SportsCenter. Five minutes of "Divorce Court." Turn off the television. Pick up a book. Read the first paragraph six times without comprehending a word of it. Close the book. Consider a bath. Reconsider. Look at old texts on my phone. Happier times, when I was healthy and capable of some things, when I was connected to the outside world, a player in it. A text about a planned outing that will have to be scrapped, because right now a trip to the mailbox is more than I can manage. Put the phone down. Just wait.
When the fever finally breaks, the sheets are soaked and I try to steal a precious hour of sleep. My spouse, who has been sick even longer than I have, is wrapped up in blankets and contorted into an impossible shape on the bed. She had been listening to an audiobook on her phone. I can hear someone narrating the story from deep within the covers, as if a tiny man is trapped beneath an avalanche of blankets and is crying out for rescue. This is what my reality has become.
I have about an hour, maybe two, before the fever comes back, enough time to eat a Pop Tart or a bowl of chicken soup if my cough won't let me sleep, which of course it won't. I can check in with my boss, who probably thinks I have entered the Witness Protection Program by now, to let her know that I am taking 14 kinds of medication, including elderberry syrup, ginger root, Oregano tea, and whatever else our friends are recommending on Facebook. We're trying everything, but so far we are exactly as sick as we were seven days ago.
A close friend drops off a big pot of chili and another big pot of home-made chicken soup with a giant loaf of sesame bread on Monday afternoon, perhaps sensing that we have been for the last several days living on cereal, oatmeal, and popsicles. We've each lost about 10 pounds, according to the scale.
"Silver lining," said Tammy.
"If you say so," I say, followed by about three minutes of non-stop coughing, after which everything inside me feels like charcoal briquettes soaked in kerosene and then lit with a match.
Time for some more Ibuprofen. And maybe a hot bath. Or not. Cough.
(Chris Cox is writer and teacher who lives in Haywood County. This email address is being protected from spambots. You need JavaScript enabled to view it..)