Archived News
Former WCU chancellor dies
Wednesday, March 13, 2019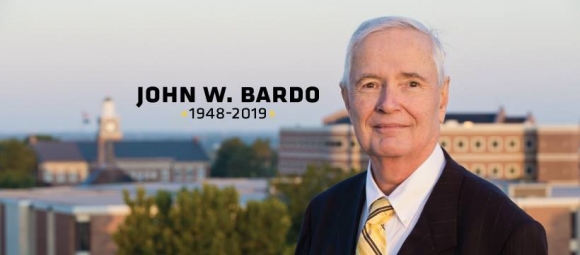 Wichita State University photo
John W. Bardo, who served as chancellor of Western Carolina University from 1995 to 2011, passed away Tuesday, March 12, at Wesley Medical Center in Wichita, Kansas.
Bardo guided WCU through a period of steady enrollment growth, an unprecedented building boom, the birth of the Honors College and the launch of the Millennial Initiative. His tenure included the first comprehensive fundraising campaign in WCU's history, the establishment of a distinguished professorship program and national recognition as among the first institutions in the nation to require students to bring computers to campus.
"I was fortunate to know Dr. Bardo, and I am well aware of his impact on this university and his role in setting us on a path of incredible forward momentum — a path and direction upon which we remain today," said WCU Interim Chancellor Alison Morrison-Shetlar. "His work positioned this great university well and served as a strong foundation for the later work of his successor, the late Chancellor David Belcher."
Bardo left WCU to become president of Wichita State University, which he still led at the time of his passing. He entered the hospital in November 2018 due to complications from a chronic lung condition, according to WSU. After several weeks in rehabilitation and at home, he returned to the hospital the weekend preceding his death.
Belcher passed away on June 17, 2018, following a battle with brain cancer, and the UNC Board of Governors has yet to appoint his replacement. Morrison-Shetlar has been serving in the role since January 2018. With the death of Bardo, no living WCU chancellors remain.
Bardo leaves behind a wife, Deborah, and son, Christopher. He was 70 years old.