Archived Outdoors
'Leader of leaders': New Smokies chief ranger brings impressive career to America's most visited park
Wednesday, March 13, 2019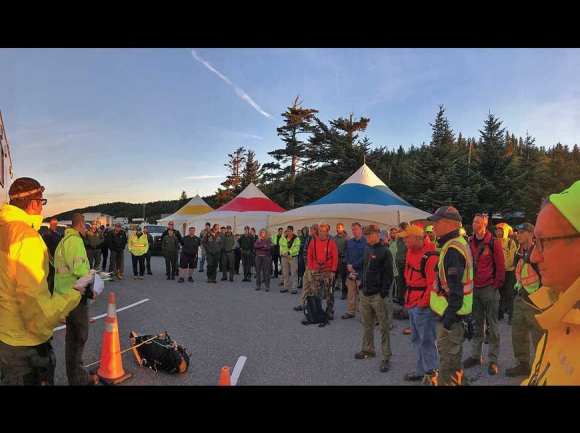 Teams embark on the search for lost hiker Susan Clements in October 2018. As chief ranger, Hendy will lead such operations in the future, among other duties. NPS photo
After decades roving the backcountry of some of the largest parks in the Western United States, Lisa Hendy is returning to her home state of Tennessee to serve as the Great Smoky Mountains National Park's first female chief ranger.
At least, that's the headline picked up by news outlets across the country, and it's true. Hendy will start her new job April 8, and it will be the first time a woman has served that role in the Smokies. But to Hendy, it's not about gender. It's about her ability to do the job, and do it well.
"I don't think much about it," Hendy said of the "first female" tagline. "I've worked really hard my whole career to get where I'm at, and it's like, whatever — if that's what people want to focus on that's fine, but that's not what makes me qualified for this job."
Explaining what does make her qualified for the job takes more than a sentence or two to explain, because Hendy has amassed a considerable amount of experience over her 26 years with the National Park Service.
Hendy grew up on Lookout Mountain near Chattanooga, Tennessee, and as a kid spent most of her time disappearing to play in the woods surrounding her home. As a teenager she started hiking and backpacking — it was the Smokies, she said, that provided her "first real outdoor adventure" — and then she went to Auburn University to study criminal justice.
"I didn't want to get stuck in a city," she said. "I was talking to a professor at one point, and he suggested I look into a land management agency."
Lisa Hendy will start her new job as chief ranger of the Great Smoky Mountains National Park on April 8. Donated photo
Hendy took his advice and in 1993 secured her first Park Service job as an intern at Yosemite National Park. She never looked back, in the 26 years since earning distinction with increasingly responsible roles at some of the country's most complex national parks.
From 1993 to 2004, she worked summers at Rocky Mountain National Park and spent a season in Yellowstone National Park before moving to Grand Canyon National Park, where she spent eight years. In 2012, she left for a position as emergency manager at Yosemite, in 2016 moving yet again to take her current position as chief ranger of Big Bend National Park in Texas.
Her service over the years has earned her a pair of impressive accolades from the agency she represents. The first was the 2007 Intermountain Region Exemplary Service Award for saving a life at Grand Canyon.
"The Exemplary Service Award came from an incident where there was a park employee whose wife — a very young woman in her 30s — collapsed and her heart stopped," said Hendy. "We responded and were able to revive her. She is living quite a healthy life raising their kids to this day."
In 2011 she received yet another honor — the prestigious Harry Yount National Park Ranger Award, one of the highest recognitions a park ranger can receive for excellence in protecting resources and serving visitors.
"At the time I was a field ranger, which is a prime time in your career when you have an opportunity to participate in all the different things rangers do," said Hendy.
The Yount Award is a peer-nominated honor that recognizes all-around service rather than hinging on one specific instance, as does the Exemplary Service Award. Hendy was nominated by someone at the local level, selected as a regional winner and then sent on to the national level for consideration — and ultimately chosen as the single nationwide recipient for 2011.
"I was doing a lot of cool backcountry work, canyoneering trips, solo trips in kayaks and the normal eight-day patrols we would do on foot in the backcountry," said Hendy. "They're all solo, so it requires an amount of prowess in the wilderness to be able to do that effectively."
Hendy's prowess comes from experience, but also through continuous professional development. She earned a master's degree in biomechanics and exercise physiology from Utah State University and holds certifications as a paramedic, structural firefighter, wildland firefighter, aviation manager and technical and swiftwater rescuer, as well as a federal law enforcement commission and several leadership roles for incident management teams. She has served on the Intermountain Special Events and Tactics Team, National Search and Rescue Working Group, Pacific West and Intermountain Incident Management Teams, National Drowning Prevention Advisory Board and National Preventative Search and Rescue Working Group, and is a lead instructor for National Technical Rescue Training.
As Hendy became increasingly competent at the practical skills necessary to stay safe and assist visitors in the backcountry, she also gained experience in leading others to do the same. By the end of her 10 years at Rocky Mountain, she was leading small teams on search and rescue missions and helping train other seasonal employees. During her eight years at Grand Canyon, Hendy led a remote ranger station located at the bottom of the canyon before being promoted to supervisor of her work unit. Her experience there led to the emergency manager job at Yosemite and ultimately to her first chief ranger job at Big Bend. It's the leadership team in the Smokies, she said, that has led her to return to her native Appalachians.
"The biggest thing honestly is the management team there," she said. "At this level, all the parks are beautiful and as an employee of the Park Service you can't lose. You're going to amazing places. What you start looking for is what you're going to learn there, what people you'll be working with."
As chief ranger, Hendy will be over all 80 employees in the Resource and Visitor Protection Division, which provides law enforcement, wildland fire operations, emergency medical services, search and rescue operations, backcountry operations and emergency communications dispatch for the park. The key to successful leadership, she said, is ensuring that employees have the tools and training they need to make their own decisions and then trusting them to do their jobs well.
"The Park Service doesn't lend itself to micromanaging in most places because they're so spread out," she said. "I have the same situation here in Big Bend. It's an hour drive to where some of our rangers are working and the Smokies is like that too. I can't have my thumb on everybody. We have to empower them to lead amongst themselves. I'd like to be a leader of leaders rather than a leader of followers."
Hendy said she wants to foster a positive, collaborative culture, something she's had the good fortune to experience in the other parks where she's spent her career.
"I was blessed right out of the gate being treated as a peer and an equal," she said. At Rocky Mountain, she was for a long time the only woman on the crew, and the men treated her like one of the guys "almost to a fault," she said — when they loaded up with a 55-pound pack to march up the mountain, they'd of course expect her to do the same. Hendy had "great supervisors" in the Grand Canyon, and for a while at least half of the people on her shift were female. While things got "a little tougher" at Yosemite, overall Hendy said she's been "very well supported" as a female working in what is still a male-dominated field.
"I don't think that culture exists everywhere, and I've definitely seen it in places where it's more challenging," she said. "The real issue is speaking to that culture and trying to figure out where's the root of it … you've got to get at the root of where is this coming from and how do we address it from there."
In anticipation of her relocation to the Smokies, Hendy's keeping busy reading up on a variety of reports and documents, including the park's backcountry management plan and founding documents. But as she learns more about the park she'll soon help lead, she's staying excited about the adventure to come — and not just because she'll be living amid deciduous trees again for the first time in two decades.
Unlike the other parks where she's spent her career, the Smokies is reasonably close to the places where people live, making it more accessible for a diverse population of visitors.
"The ecosystem is one part of it, but part of the fun of that is being able to work with a much more diverse visitor base and being able to see all those folks coming up," she said.
For law enforcement, that lays down a challenge to ensure that they're relating to different groups of people in a way that resonates with and makes sense to them.
That's not to say that Hendy hasn't had experience working with diverse cultures. Other parks she's worked had have seen heavy foreign visitation — at the right time of year, she said, about two-thirds of the campsites in the Grand Canyon are occupied by people speaking a language other than English. The remote nature of many western parks, however, means that visitors from the U.S. represent a more homogenous population.
"It's not just about how amazing the ecosystem is but how fun it is that there's this incredibly diverse group of people that are getting to enjoy it," Hendy said, "and what that means for management, and how do we make that attractive to people of all kinds of cultures and backgrounds."