Archived Outdoors
The Naturalist's Corner: Bated breath
Wednesday, March 13, 2019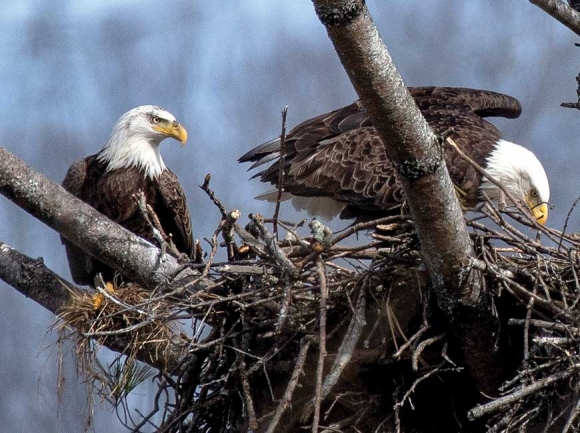 The Lake Junaluska eagles swapping place on the nest. Jeff Gresko photo
I am sure I'm not the only one hoping the Lake Junaluska eagles are successful this nesting season. It seems, by all appearances, we should have an answer in just a few short weeks.
Jeff Gresko of Maggie Valley was observing the nest on Feb. 26 and watched as the birds swapped places … the male (from size difference I felt I could see from the photo) flew into the tree; the female left the nest and the male moved onto the nest. I believe this is a pretty solid indication incubation is underway. I also observed the female (I believe) on the nest this past Saturday, March 9.
I believe if the pair is successful, there will be chicks in the nest by the first week of April, probably sooner. I was observing the eagle during the first week of January and saw the male attempt to copulate. Mrs. Eagle was having nothing to do with it and left the tree, but hormones were surely rising.
Bald eagles generally begin laying eggs five to 10 days after successful copulation. Bald eagles usually lay from one to three eggs — two is the most common number and on rare occasions clutches of four have been reported. The female lays the eggs one at a time with a day or two between each egg. Incubation normally lasts around 35 days. So if Feb. 26 was the first day of incubation (most likely it was earlier) 35 days would take us to April 2.
What Gresko observed at the nest is normal for bald eagles. The female certainly spends more time incubating but the male occasionally relieves her and even has a "brood patch." A brood patch is a bare place (devoid of feathers) on the belly. The bare skin transfers heat more efficiently making it easier to keep the egg(s) warm. After chicks hatch, it's 10 to 14 weeks before they fledge (develop flight feathers and are capable of flight.)
A lot of resources out there put North Carolina with Southeastern states regarding nesting chronology. I have learned through emails with Christine Kelley of North Carolina Wildlife Resources Commission that while this holds true for coastal North Carolina and the Piedmont, the mountains of Western North Carolina align more with the chronology of northern states like Maine, New Hampshire, the Dakotas, etc.
This means laying and incubation could begin from early February to late March; hatching of chicks from March to mid-May and fledging from mid-May to July. I would assume our eagles would be on the early end of this chronology.
As we wait with bated breath, this is a good time to remind everyone this is a critical time for nesting success. Here is a reminder from one of last year's columns regarding the Lake J eagles from Bryan Tompkins, who monitors eagles across Western North Carolina for U.S. Fish & Wildlife.
"Tompkins said Fish & Wildlife encourages people to get out and witness the awe and beauty of these impressive raptors in their natural habitat — but to do so in a responsible way. According to Tompkins the U.S. Fish & Wildlife Bald Eagle Management Guidelines calls for a 600-foot buffer around active eagle nests. 'It is especially important to keep from agitating eagles or flushing eagles from the nest when they are still sitting on eggs. During cold days, just a few minutes away from the nest is enough to impact incubation. Bald eagles are especially sensitive during this period."'
I understand these eagles are nesting in an urban environment and from past conversations with Kelley there are records of backyard nests in the Piedmont being successful. But with last year's nest failure, I think it would be prudent to err on the side of caution.
Here is a great website to learn about bald eagles and their sensitivity to human activity: www.fws.gov/southeast/pdf/fact-sheet/bald-eagle-natural-history-and-sensitivity-to-human-activity-information.pdf
(Don Hendershot is a naturalist and a writer who lives in Haywood County. He can be reached at This email address is being protected from spambots. You need JavaScript enabled to view it.)