Archived News
Complex child welfare cases costing counties
Wednesday, March 13, 2019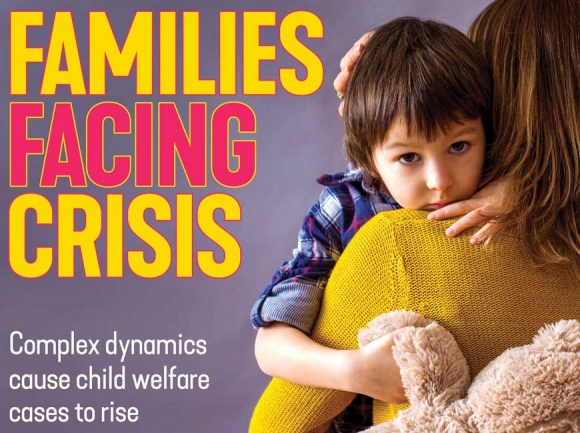 Substance abuse has had a number of unintended consequences on society from mental illness, unemployment, overcrowded jails, a backlogged court system, increased health care costs to homelessness, but one of the most devastating consequences is the separation of families.
"Substance abuse continues to play a big part in many neglect cases," said Sheila Sutton, director of Swain County Department of Social Services. "Parents have a difficult time meeting their basic needs when they are dealing with addiction. Parents are having a hard time finding or keeping employment, finding affordable housing and maintaining it, and meeting the physical and emotional needs of their children."
Gayla Jones, Haywood County's Social Work Division director, said it's a common misperception that DSS wants to take everyone's kids away from them when in reality their job is to keep families together.
"Yes, there are cases in which parents are abusing methamphetamines and cannot keep their children safe at that time; however we do make efforts to allow those parents to come up with a plan that keeps their children safe. And if a safe plan cannot be made then we do remove children from those environments, again to keep them safe," she said.
By North Carolina law, child welfare workers may only involuntarily intervene with families and children in cases where child maltreatment meets a statutory definition of abuse or neglect. When children are removed from the home, DSS struggles to find placement if there is no relative to take care of them. While counties have 50-plus children in foster care at a time, there are typically only a handful of foster homes certified in each county.
"Assessing child maltreatment is an exceptionally complex and detail-oriented process," said Patrick Betancourt, director of Macon County DSS. "It is a process that often involves addressing co-occurring issues such as substance use/misuse, mental health needs, and family violence which are complex factors that are not easily resolved easily or quickly."
As the drug epidemic rages on in Western North Carolina and child welfare cases involve more of these deeper issues, local resources are spread thin. Some of the local social services agencies are struggling to keep up with the increased child welfare caseloads. DHHS guidelines suggest a Child Protective Services case be completed in 45 days, though there is flexibility. For children that enter foster care, DHHS suggests that reunification or permanent placement should be established within a year despite national data pointing more toward an 18 to 24 month timeline.
"While NC DHHS guidelines suggest a Child Protective Services case be completed in 45 days, Macon County strives to be a county that frontloads its services as much as possible early on in a case rather than later when it becomes much more complex and costly to address parental and familiar needs," Betancourt said.
Children in foster care
Swain:

44
Macon:

64
Jackson:

58
Haywood:

106
Macon County
It's an issue Betancourt brought before commissioners last month as he was seeking two additional child welfare workers to better manage the growing caseloads. With a 37 percent increase in child welfare cases, Betancourt said 85-90 percent of the cases seen in Macon County involved some sort of substance abuse, significant mental health needs of parents and/or children and some type of family violence.
"The need for intervention in these families' lives is great — and it's not short term and it's intense," he told the board. "Directors across the state are having the same problems. It's burning our staff out at a tremendous rate. We could lose three of our child welfare staff because they are burned out on what they're doing. We want to get them some relief."
Social work often tops the list for most stressful job and highest burnout rate because of the heavy workload and enormous pressure. Seeing these kinds of heartbreaking family situations day in and day out can take its toll on a person's psyche.
Betancourt said Macon has been fortunate to maintain many of its staff members, some of which have been doing social work for 20 years. He attributes their longevity to their commitment to families, but also great supervisory support.
Macon commissioners approved the additional positions for child welfare, which brings the staff up to 12 social workers and two social work supervisors for child welfare. Bettencourt said the new positions will allow his department to better meet the mandate of incredibly complex child welfare cases the agency is managing.
Macon County, which has 64 children in its legal custody, will now have five foster care social workers each carrying a caseload of about 13 children and one adoptions social worker. Child Protective Services social workers will be each carrying a caseload of about 15 families, but Betancourt said those numbers may change slightly daily depending on where cases are within the service continuum.
The N.C. Dept. of Health and Human Services caseload standards consider active child welfare cases as the number of families being served in the CPS program area while the number of children being served in foster care program area.
"Anytime a child welfare case is open, social workers are required to navigate thousands of individual processes," he said. "Given the vast number of individual processes, there is a limited number of cases in which a worker can reasonably manage and still be effective at keeping children and families safe. Having adequate staffing assures that the families with whom the agency works have a social worker that can devote the necessary time needed to assist families in navigating the process of strengthening their families."
Swain County
Swain County has seen a significant decrease in its child welfare caseloads, but only because the Eastern Band of Cherokee Indians began administering its own child and adult protective services on the Qualla Boundary in October 2015. While Swain had 431 families under child protective service investigations in 2013-14, that number dropped to 179 families in 2017-18.
The transition of services to EBCI forced Swain DSS to implement a reduction of workforce plan in 2015. Sutton said the department went from nine CPS and in-home caseworkers and one intake social worker, down to four social workers — two CPS and two in-home services social workers.
"We are meeting the needs of the community at this time with the number of staff we have," Sutton said. "We currently have one full-time adoption social worker, one full-time foster home licensing social worker and three foster care case manager social workers, putting the count of our child welfare staff at 10."
Sutton said Swain County does have a fairly high turnover rate for CPS social workers, though burnout might not be the only reason.
"We recognize that the stress of the job, secondary trauma, and increased state expectations will result in social worker vacancies at Swain DSS, despite our best attempts at diligent recruitment and retention," Sutton said. "Unfortunately, Swain County is surrounded by Jackson, Macon and Haywood counties — they can offer a much higher salary for the same work and employees often take the opportunity to apply when vacancies come open."
Jackson County
Jackson County DSS was also impacted when EBCI took over child welfare cases. DSS Director Jennifer Abshire said that transition makes it difficult to say whether cases are truly on the rise in Jackson County. However, she can say that foster care cases have increased drastically. Jackson County has 58 children currently in foster care, and Abshire said most are due to drug issues and domestic violence. With only eight certified foster homes located in the county, many children have to be placed wherever a foster home is available in the state.
"Opioids are just one drug we are dealing with — meth is still an issue in Jackson," she said. "Foster care caseloads have increased and that is a major financial impact."
Jackson County has 17 child welfare workers, three supervisors and one program manager, but Abshire said they have enough positions to meet state standards — 10 cases for investigation, 10 for in home and 15 foster care children per social worker.
"We believe it should be eight for investigations and in home and 10 for foster care to be effective and meet all the federal and state mandates because each year we get more requirements for each program," she said.
The department has had its highest turnover rate this year compared to the last five year. In 2018-19, the turnover rate has been 20 percent compared to 10 percent in 2017-18, 14 percent in 2016-17 and 19 percent in 2015-16.
Haywood County
Gayla Jones has been with the agency for 19 years. She said the county's caseload has remained consistent for the last four to five years, but admits the cases have become more complex and time consuming for her staff. On average, Haywood has around 90-95 children in custody each month and currently has 106 children in foster care, which includes the 18-21 year-olds program.
"Often we are dealing with parents that have a multitude of issues," Jones said. "For example, parents that have significant mental health issues as well as substance abuse. These cases of course, take more time and effort to locate services and get the parents to buy into participation in services."
Haywood County operates with one program manager over child welfare, six child welfare supervisors and 31 child welfare social workers. Jones said they have experienced high turnover rates in the last year for many different reasons, including relocations, taking higher paying positions or going back to school for an advanced degree.
"This job is also very quick-paced and can often be stressful and you get some turnover due to that," she said. "We also do have many workers and supervisors that have been with the agency 10-plus years as well. We have utilized some temp workers through an agency to help fill in those gaps when we have had vacancies to help support our staff this year."
Possible solutions
To find solutions to the growing number of complex child welfare cases, the cause must first be identified. All of the DSS directors point to the prevalence of alcohol and drug abuse mixed with untreated mental health issues and family violence and each of those issues can fuel the others to create a endless cycle within the system.
"While opioid use has increased in Macon County — as it has in Western N.C. in general — our child welfare staff are involved in cases daily in which there is quite a bit of methamphetamine use and even a large number of cases in which alcohol misuse is prevalent," Betancourt said. "The impact on our child welfare budget cannot simply be attributed to one substance or another but rather the complex interplay of the multitude of substance misuse combined with severe mental health needs combined with family violence."
Jones agreed that drug-related cases are the most challenging for Haywood County as well. While social workers understand someone suffering from addiction will go through multiple relapses before they're able to stay sober, they also understand the trauma children go through as a result of their parent's addiction.
"Unfortunately in a child's life, relapse after relapse can have an ongoing effect on them," she said. "The state is also placing specific timeframes on counties in order to find permanence for those children that are in foster care. So with the combination of both the time limitation placed by the state and time for treatment with the addicted parent we are definitely challenged as social workers."
DSS directors agree that caseload standards should be lowered given that some cases need more time and attention than others. Abshire said caseloads have not been re-evaluated since before 2007. She said it would be helpful to have more therapeutic foster homes in the area as well as mandated mental health for parents whose children are in care. Lastly, she said being able to maintain Medicaid benefits for parents once the children are removed from their homes would be beneficial so they can get services they need to get their children back.
Jones said she would like to see the state provide more extensive training for social workers in order to help them address a multitude of needs with the families they serve and he'd like to see the state and federal government provide more funding to the counties to help support social work staff.
"The complexity of our current cases can be very time consuming; however the mandated number of cases that a social worker carries has not been changed by the state," she said. "Increased funding from the state to hire more staff would help give our workers the time needed to deal with the many facets of their caseload."
Betancourt agreed that more funding from the state Department of Health and Human Services would allow the counties to hire enough staff to manage the caseloads because right now the counties are bearing the burden. For example, the two new Macon County positions will cost the county $29,000 just for the last quarter of the 2018-19 fiscal year, but the county only expects to be reimbursed $4,000 from the state and federal oversight agencies.
Sutton said providing more preventative and early intervention resources for people dealing with mental illness, domestic violence and substance would help cut down on the DSS caseloads. Rural counties like Swain also deal with a lack of infrastructure for working families — it's hard to rebuild your life when you can't find an affordable place to live and there's little to no public transportation.
"We would like to see our county get more funding for resources to address the needs of our families. For example, Swain County needs intensive outpatient substance abuse treatment," Sutton said. "There is a need for more in-patient substance abuse facilities. We need more affordable housing and mental health providers. We would like to see a suboxone clinic that is less than 45 miles away. We would like to see more transportation options for families. We would like to see more resources for domestic violence victims in the way of transitional housing, emergency sheltering, peer support, and group and individual counseling."
Grandfamilies —North Carolina Facts
• 89,000 children live with a relative with no parent present
• 225,493 children under 18 live in homes where householders are grandparents/other relatives
• 177,662 of these children live with grandparents
• 47,832 of these children live with other relatives
98,676 grandparents are householders responsible for their grandchildren who live with them. Of these:
• 36,897 don't have parents present
• 62,875 are under age 60
• 57,331 are in the workforce
• 24,570 are in poverty
• 27,298 have a disability
SOURCE: www.grandfamilies.org.
NC FAST system
When discussing DSS challenges, Betancourt told commissioners about inefficiencies with the case management system currently being used.
In an effort to reform child welfare in 2017, DHHS chose to adopt a statewide enterprise system — NC FAST, or North Carolina Families Accessing Services through Technology — for all social services program areas. Since Macon was chosen as one of 11 counties to pilot using NC FAST for child welfare services in NC FAST, Betancourt and his staff have been using the system since March 2018. He said it's been a huge frustration and has created a longer process for staff.
"NC FAST is an IBM Cúrum product specifically designed and built to be an economic services eligibility determination engine. Generally speaking, it can adequately determine Medicaid or Food and Nutrition Services eligibility with accuracy and reliability," he said. "Determining economic services eligibility is not the same thing as capturing complex case management data and notes to ensure family safety."
Jones said Haywood recently began the "roll out" of NC FAST and is already seeing inefficiencies in the system. However, she said she's made it clear to her staff that they will continue to do their jobs and keep children safe no matter their struggles with entering information into NC FAST.
"I will say though the stress that the system has put on social workers has been difficult to endure," Jones added. "We are expected to roll out all of the other child welfare disciplines in July/August 2019."
Swain DSS went live with NC FAST on Jan. 19, 2019 in CPS intake and assessments and Sutton anticipates the workload will become more demanding on social workers based on what she's heard from neighboring counties who began using the program before Swain. For that reason, Swain hired a full-time intake/NC FAST training position.
"They will have to find a balance between the requirements of doing their required mandate of working with families and keeping children safe, while at the same time documenting all their efforts in a system that doesn't fully support the case management style social workers have grown accustomed to," she said.
Abshire said Jackson isn't scheduled to roll out NC FAST until July.