Archived News
Unexpected father of five looks for help
Wednesday, March 13, 2019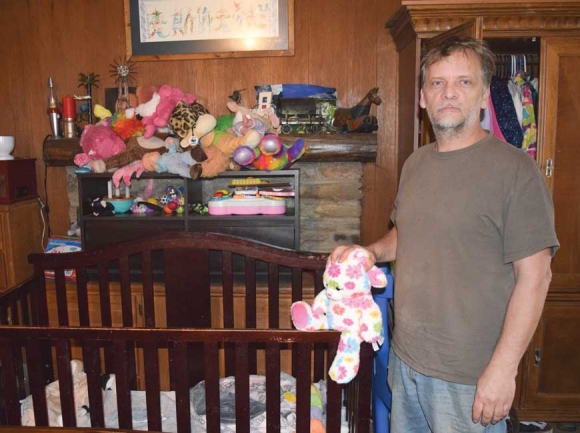 Chris Slagle of Maggie Valley is trying to care for five children after a friend of his ended up incarcerated for a series of theft and fraud charges in multiple states. Jessi Stone photo
When Chris Slagle's partner of 26 years died unexpectedly four years ago, he bought a fixer-upper house in Maggie Valley with plans of healing from his heartbreak while pouring everything he had into restoring the old house on Fie Top Road.
The Asheville native knew his life would be changing, but he never imagined he'd soon be the sole guardian to five children when a friend found herself in a heap of legal trouble. At first he thought the mother's run-ins with the law would be short term. Not wanting the kids to go into the foster care system and potentially be separated, he decided to keep them until their mother got out of jail.
Now it's been nearly three years — the mother is still in jail and he is raising five children ages 2 to 11 all by himself in the house he never got around to flipping. As he's discovered more truths about the children's mother, he's realizing she might not be released anytime soon.
"This was supposed to be a temporary thing, but I've had the children now for two and a half years," Slagle said. "I'm willing to take care of them no matter what happens. My father wasn't there for me growing up, so I just couldn't turn them away."
While the transition has been difficult for him and the children, he's making the best of the situation and trying to keep his head above water. The children are in school and/or daycare, they see a therapist regularly through Meridian Behavioral Health Services, the oldest children have mentors through Big Brothers Big Sisters and are getting health care and food assistance through Haywood County Department of Social Services. Their basic needs are met, but Slagle is still struggling with a few things.
"I've been struggling to keep everything afloat — if just one thing goes awry it could take me months to get caught up," he said.
Slagle's landed several jobs in the last two years but has had trouble keeping one that is flexible enough for him to still care for the children, especially if he has to call out for a couple of days if one — or all of them — get sick and have to stay home from school. Trying to transport five kids around in his clunker sedan proves challenging with two car seats, and the house he had planned to fix up is not an ideal space for the children.
"The resources I had to renovate the house were gone after having the kids for four months," he said.
How'd he get here?
How Slagle found himself in such a situation is a long story — one that started when he met Eleanor Black through a mutual friend and business partner. Slagle and his husband were living in Houston when a mutual friend brought Black out to visit them in Texas with plans to start a business together.
"I remember just being struck by her — I knew she had had trouble in the past and had three kids she was teaching some sort of homeschool. I was impressed by her tenacity and focus on her kids," Slagle recalled.
After his husband died suddenly of a heart attack, Slagle decided to move back closer to Asheville to be near their friends and family. Black had also since returned to the Asheville area and the two kept in touch. Slagle often agreed to babysit her three children to keep his mind off his grief.
"She had a boyfriend at the time and they would come by and drop the kids off because they would go work at fairs and festivals on the weekends — at least that's what they told me they were doing," he said.
Black and the boyfriend also lived with Slagle for a short time in West Asheville when she was pregnant with the fourth child. He said Black had prepared to have a midwife deliver the baby at home, but the midwife was out of town when she went into labor, which meant he had to help deliver the baby at his house.
Slagle started to get more suspicious of Black after the couple didn't take the baby to be checked out at the hospital afterward. He said the newborn was delivered with the umbilical cord around its neck and wasn't immediately breathing. The baby eventually began breathing, but it seemed strange to him the mother wouldn't take the baby to be doctor to be sure everything was OK.
"I knew at that point something nefarious was going on, but I didn't really want to know or have to lie about it so she kept it from me and I continued to watch the kids," he said.
Not long after that, Slagle bought the property in Maggie Valley and told Black he could no longer watch the children on a regular basis. He said he would watch them on occasion if she needed but she would have to pay him going forward.
Things started to unravel when Slagle had to go bail Black out of jail in Madison County in September 2016. He had had the kids for a few days in Maggie Valley when he got the call from Black. He figured it was for something petty — maybe shoplifting or reckless driving — but it was something more serious.
According to a report in the Johnson City Press, Black, 36, was arrested Sept. 29, 2016, for stealing a food truck out of Johnson City, Tennessee, in July. At the time, she told authorities her address was Hightop Road in Maggie Valley and used the name Rhonda Proffitt. She was charged with one count of theft over $60,000.
Black was pulled over in Mars Hill because the Suburban she was driving matched the description of the vehicle used to haul off the food truck. Turns out the Suburban was also stolen out of Madison County. She was extradited back to Tennessee and detained on a $50,000 bond.
According to a WLOS report, Black had also been using someone else's identity when she received services at Mission Hospital in August 2016. The real Rhonda Proffitt realized her identify had been stolen when she went to the doctor in October and was asked how her baby was doing and began getting medical bills for OBGYN services that were not hers.
Slagle said he knew she had started a food truck business in Asheville but had no idea she had stolen the truck from Johnson City. Even after getting caught, Slagle said Black didn't take responsibility.
"She had convinced me it was all her boyfriend," he said.
Still thinking Black could be released from jail at any time, Slagle kept the four kids with him in Maggie Valley.
"She had the fifth child in jail and the county took custody of the baby," he recalled. "They set a court date within two days and I had one day to find a lawyer to help me get the fifth kid because the father left the state when Eleanor was arrested and pregnant. I told them (the court) I might be the father — my intent was to keep them all together until she got out of jail. The lawyer helped me get the baby conditionally if I agreed to never let Eleanor see the baby unsupervised."
But Black wouldn't be getting out of jail anytime soon. Slagle would soon discover she had warrants out for her arrest in several states, including New York.
According to The Daily Gazette in Schoharie County, New York, Black was known as the "Funny Face Fugitive" after sticking her tongue out and making a face when she posed for her mugshot. Her 18 charges, including felonies, stemmed from a series of cases dating back to 2012.
She was accused of using a fake identity to sign up for county benefits and to register as a student at SUNY Cobleskill; receiving a non-driver's ID under a fake name using other identification with the fake name and obtaining birth certificates for fake children. A bench warrant was issued for Black's arrest in New York after she failed to appear in court.
While the charges against her in Tennessee were eventually dropped, New York authorities brought her back to Schoharie County in November 2017.
Eleanor Black, known as the 'Funny Face Fugitive' to New York State law enforcement, is currently being held in Buncombe County Detention Center.
Slagle said Black's New York mugshot was a perfect example of her attitude toward law enforcement and any type of authority. Even when being charged with serious offenses, there she is crossing her eyes and sticking her tongue out like it's all a joke. He says it's no surprise given her family background. Black's father, Albert Victory, was on the FBI's 10 Most Wanted Fugitives list for several years. After being convicted of killing a police officer in 1968, Victory escaped prison in 1978 and wasn't recaptured until Feb. 24, 1981 — Eleanor would have been around 1 year old at the time.
"That's the kind of environment she grew up in," Slagle said.
Moving forward
After Slagle got custody of the baby in court, he said he continued to travel to Johnson City for six months to pick up breast milk from Black for the baby and for her to see the children. At the time he was still convinced his guardianship over her five children would be temporary.
"I was an avid proponent of their mother at first, but as time has gone on I've learned I can't trust her," he said. "With her longer history of criminal activity, I'm now doing it for the kids. They have some separation anxiety, but they're doing OK considering."
Even when Black was taken back to New York to face her charges, Slagle tried to maintain communications between her and the children. She was released on early parole last year in New York and told Slagle she wanted to come get the children and take them back to New York for the Christmas holiday. However, she was once again pulled over in Asheville and arrested on an outstanding warrant out of Alabama. According to the Buncombe County Detention Center log, Black was arrested Dec. 30 and is still being held on a $20,000 secured bond. Her next court date is scheduled for April 1.
"For 26 years I led a pleasant and calm existence, but now life is totally different," Slagle said. "I compare it to living in a Thomas Kinkade painting to now living in a (Salvador) Dali painting."
Reality is finally sinking in for Slagle. He knows Black's charges could keep her away from her children for some time, which means it's probably time for him to look at getting a more permanent guardianship or custody agreement through the court to keep the kids.
"I'm trying to go through the court system now to get more secure legal footing," he said.
Even though he feels like he knows the truth about the woman he once admired, it's a much harder thing to make the children understand what their mother had been accused of doing and why she can't be with them. While the youngest two weren't old enough to have any memories of their mother, Slagle said the older three are having the hardest time adjusting. The more contact they have with their mother, the harder it is for Slagle to keep them on a forward path focused on school and their own wellbeing.
"I try to be as open as I can with them, but it's hard," Slagle said. "They go through periods where they idolize their mom. She brought them up to see her as the goddess, which is usually not a bad thing, but in this situation it's been detrimental. I'm always the bad guy — they don't understand that their mom was responsible for them being here."
Black and past boyfriends have tried to call the law or social services on Slagle, accusing him of abuse and/neglect, but he says there's absolutely no truth to it. Law enforcement and social services have been out to the house on several occasions to inspect the house, the conditions and the children, and everything has checked out.
He's not certain who the fathers are of the children. A couple of different men have threatened to get custody, but none have submitted to a paternity test or attempted to take Slagle to court.
Despite the struggles, Slagle says the children are excelling at school, with the oldest child winning a summer program scholarship through Duke University and other special recognitions.
"The school has been phenomenal — the teachers and principal have a good mix of sternness and understanding with the kids," he said. "The younger two are in daycare thanks to Southwestern Child Development Commission."
How to help
Slagle wants to continue to provide for the children, but he needs some support. His first priority is to find a job that will allow him to get out of the house, have flexibility with the children's schedules and ideally would allow him to use one of his many artistic talents that he feels are just withering away.
He was working a third-shift mill job, which worked out well for a few months because he had someone to stay with the children at night and get them off to school. Circumstances changed and the person couldn't be there at night anymore, which meant Slagle would take the kids to his mom's house in Asheville after school before going to work overnight in Canton and then had to pick them up and return to Maggie Valley in the early morning before school. He eventually had to quit.
A close second priority is to either get his current residence renovated or to find more adequate housing for him and the kids. The old house isn't well insulated, which means if he tries to heat the entire spread-out house, he can't afford the electric bill. In the winter Slagle has most of the house blocked off while only the kitchen, living room and his room are heated.
Getting out of the Fie Top house is easier said than done — it's an investment property that needs a ton of work. Even if he could find a buyer, finding affordable rental property in Haywood County is also difficult. At the very least, the house needs some electrical work and more insulation, a good thorough cleaning and the fireplace needs to be repaired to give the family a chance at staying there.
Slagle said he went through Haywood County Department of Social Services to sign the children up for Medicaid and he does receive EBT benefits so he can purchase food.
He's spoken to legal aid about his situation, but says no one seems to be willing to take on his case pro bono.
"They said there's so many moving parts it would not behoove me to go it alone — there's too much involved and we don't know who their fathers are for sure, but nobody is stepping up to the plate," he said.
Though he's willing to go through the legal process, he is also concerned the children could be taken away from him and separated into different homes. As the county social services departments in the region have pointed out (see Child Welfare story, page 6), there is a shortage of foster care homes in the area and its unlikely one home would take in all five children.
"I worry about losing them altogether, but I also know I can't go on much longer like this without more help," he said. "I went through a long period where I didn't want to ask for help because I wasn't used to needing it, but now I need it. I need a job and security so I can help them more."
To make a donation to Slagle and the children, visit www.gofundme.com/christopherwith5 or email This email address is being protected from spambots. You need JavaScript enabled to view it..