Archived News
Water system possible for Cashiers
Wednesday, March 13, 2019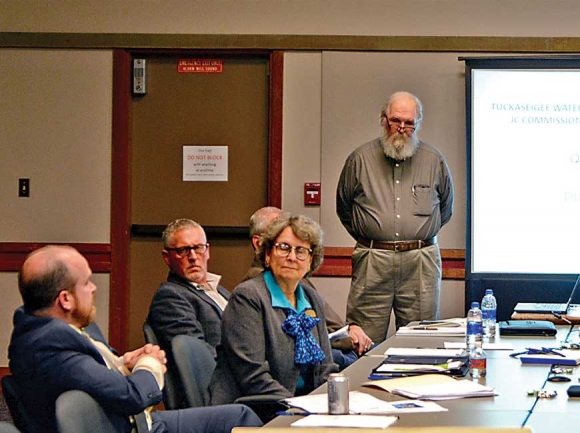 TWSA Executive Director Dan Harbaugh (standing) updates Jackson County Commissioners on research into the potential for a Cashiers water system. Holly Kays photo
As the Tuckaseigee Water and Sewer Authority prepares for a $9.5 million sewer expansion project in Cashiers, another big change is under discussion for the plateau — the potential of offering a public water utility.
"Water and sewer in that area has been a limiting factor in economic development for that area for years, and it still impedes that," said Commissioner Mickey Luker in an Oct. 9, 2018, county work session when the concept was first discussed.
The idea was discussed once more last week, during a March 7 work session held in Cashiers. Last year TWSA commissioned a study from McGill Associates to investigate what type of water system would be the best fit should one be implemented, how much the various alternatives would cost to build and operate, and how many customers would be required to break even.
The report found that the recommended option — a system supplied using groundwater from distributed wells — would cost an estimated $11.77 million, with $5 million of that required in the first of three phases. That first phase would provide a capacity of 35.2 million gallons per year.
Though costs reflected in September 2018 study were somewhat lower, updated projections from TWSA put the estimated annual cost for phase one at $299,000, with 250 customers required to achieve an average customer cost of $100 per month.
Currently, the county has just 10 customers on the small system it keeps in Cashiers.
"In order for it to be self-sufficient, there's going to need to be a significant amount of customers coming online," said County Manager Don Adams.
That's not to say that the county's low customer count is due to lack of consumer interest. Far from it. The county acquired its current water system, which consists of two wells that draw from the same sourcewater, in order to supply the set of county buildings on Frank Allen Road. Upon taking ownership, it retained the 10 customers that were already tapped into the system but has not allowed any new customers to join.
"I don't really call this is a water system," said Adams. "This is a well and a pump and a pressure tank. To call it a water system is not really an accurate reflection of what this is."
Harbaugh agreed.
"In discussing a future system, part of that is going to be not just this central well, which may become a core for that system, but additional wells that would have to be acquired or installed so you have enough wells to meet the state requirements and to meet the needs of your customers," he said.
All that will cost money. Harbaugh believes that, should the county and TWSA decide to move forward, some of the cost could be met through grants and zero-interest loans, but local funds would also be needed.
"We have mechanisms to try and reduce the overall initial burden, but we can't solve the problem," said Harbaugh. "It still has to be a partnership."
Harbaugh told commissioners that, should all involved decide to move forward, he'd be asking the county to supplement operating shortfalls until enough customers joined the system to make it self-sufficient.
Customers are the main wild card in this equation. To make a good decision on whether to pursue a Cashiers water system, the county and TWSA will need an accurate assessment of how many people might be willing to tie on to such a system.
"It's not something we're putting on the next agenda," said Adams. "It's something that in the next year there are items I think the board is going to have to solve. One being to go through and survey the community to see if there's enough need or requests for water."
The next step would be to schedule public meetings to hear input from the community. Harbaugh said those meetings would likely happen between May and September, when seasonal residents are in town. In his experience, said Harbaugh, it's extremely unlikely to get advance commitments from the full number of customers necessary for a break-even system, but the goal would be to get 30 to 40 percent of that minimum number signed up. It's also important to keep in mind that the existing customer base might not provide all 250 customers — new construction could add to that number.
"We'll never get 100 percent of 250 customers to begin with, but we should have a proper mix of residential customers and commercial customers to generate an equivalent cash flow soon," he said.
If TWSA does pursue a water system in Cashiers, it won't necessarily rely on free choice alone to reach its target of 250 customers.
"We have some claws in what we can do as far as expanding service area," said Harbaugh.
For example, TWSA could charge an availability fee — in that scenario, owners of newly constructed buildings located near existing water lines could choose whether to tie on or not but would be charged a fee if they decided not to.
The county also has some tools at its disposal. It could create a special service district to help fund the project.
If created, a water system would have benefits beyond the obvious boon of providing customers a reliable water supply and thereby spurring economic growth in Cashiers. It would be designed to support fire protection as well.
"Once that fire protection system is in place, you'll see insurance rates go down," said Harbaugh.
A water system could also be good news for greenways, added McMahan.
"The majority of that greenway (in Cullowhee) is constructed on the easement for the sewers," he said. "So it makes sense if we're talking about putting water lines or sewer lines in the ground and the easement is purchased for those, wherever they may run, that also may be a decision that we have."
Sewer plant construction to start soon
Construction will likely start this summer on a new wastewater treatment plant in Cashiers that will nearly double the community's capacity to handle sewage.
TWSA will operate the new plant, to be constructed along the Horsepasture River, in conjunction with the existing 200,000-gallon-per-day plant on the Chattooga River. Due to impairment on the Chattooga, state regulations would not allow TWSA to discharge any additional treated wastewater on that river — thus the planned Horsepasture facility. The first phase of construction will cost $9.5 million and result in a facility able to handle 125,000 gallons per day, with plans for a three-phase buildout that would yield a total capacity of 496,000 gallons per day.
"We have slipped a couple of months from where we hoped to be," TWSA Director Dan Harbaugh said of the updated construction timeline.
Last year, TWSA was aiming to start construction in February. The current plan of a summertime start would put the new plant online sometime in late 2020 or early 2021 after an 18-month construction period. Currently TWSA is working on soil borings, validating foundation plans and designing the heavy-duty bridge needed to support tanker trucks going across the river.
The 496,000-gallon capacity possible by the end of the third phase would vastly increase sewer availability in Cashiers, but Harbaugh warned commissioners that even that might not be enough for generations to come. To plan for growth, he said, it's essential to get the Chattooga clean enough so that it can one day handle additional treated wastewater.
"The thing this community doesn't realize is that even though I'm going to be gone and all you will be gone, at some point in the future this may not meet the needs of the community 75 years from now," he said.
As Cashiers has seen in recent years, wastewater capacity is essential for growth. Since the recession, Cashiers' economy has been stymied by a lack of available capacity, even though that capacity is largely unused. During the housing boom, various developers bought sewer allocation to go with the homes they hoped to build and then sell in the wealthy area, but after the bust those houses were never built and the allocation never used. However, TWSA could not disburse additional allocation without having additional capacity, making it difficult for businesses to expand or locate in the area.
With plans for the new plant underway, TWSA has found itself with some extra capacity to release, as the state has allowed it to allocate the 10 percent reserve it had previously been required to set aside for emergencies. The organization has received 20-some applications for those 20,000 gallons and awarded 10 of those applications, said Harbaugh. It also amended its rules to make it easier for people holding unused allocation to transfer it to those who need it.
"We're not at a stopping point right now," he said. "We're in good shape."