Archived News
Constituents of color: Meadows defense of Trump angers many
Wednesday, March 13, 2019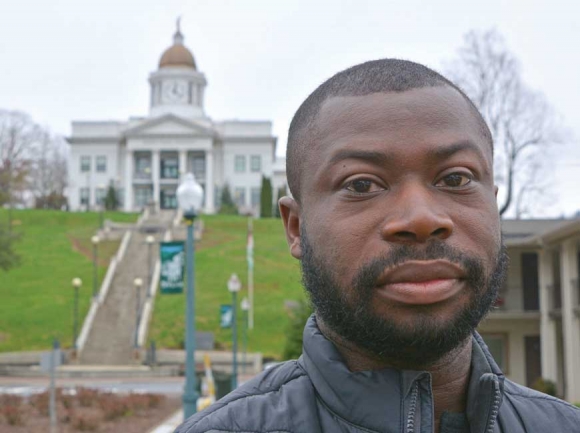 Sylva resident Kelly Brown is one of many people of color upset by Rep. Mark Meadows' recent actions before a House committee. Cory Vaillancourt photo
Michael Cohen's recent testimony to the House Oversight and Reform Committee took an unexpected dive deep into America's racial divide, and Western North Carolina's Congressman Mark Meadows jumped right in to it.
That led to relentless lampooning of the four-term Republican, culminating in his buffoonish portrayal on a recent episode of Saturday Night Live, but Meadows' constituents of color aren't laughing.
"Racism in this country is real — racial terror and violence is in the warp and weft of the fabric of America. It's the foundation upon which the nation is built. Currently, America is experiencing the uglier sides of overt racism and it has been given permission to drink from that poison by our president," said Carmen Ramos-Kennedy. "Meadows is just one of the latest examples of racist denialism — deny, deny, deny that racism actually exists and that some people, lots of them, are racist."
Although Ramos-Kennedy said she was speaking only for herself she's also the interim president of Buncombe County's NAACP branch, and like other people of color in Meadows' sprawling district, she's upset with the way Meadows handled the Cohen hearing, and is unsure about the path toward solutions.
It began with a series of bombshell accusations by President Donald Trump's former personal attorney, Michael Cohen, on Feb. 27. Cohen will serve three years for a variety of illegal acts while in the employ of Trump over a decade.
"I am ashamed that I chose to take part in concealing Mr. Trump's illicit acts rather than listening to my own conscience," Cohen told the committee in his opening statement. "He is a racist, he is a con man and he is a cheat."
Strong words, but Cohen spent more than five hours trying to back them up, just as Republicans on the Dem-chaired committee tried to shoot them down.
In defense of Trump against the racism claim, Meadows introduced a former Trump organization and Trump administration employee, a black woman named Lynne Patton.
"You made some very demeaning comments about the president that Ms. Patton doesn't agree with," he told Cohen. "She says that as a daughter of a man born in Birmingham, Alabama, that there is no way she would work for an individual who is racist."
As Patton stood silently behind him, Meadows doubled down on his defense of Trump, stating that he'd "talked to the president over 300 times" and never heard a racist word come out of his mouth, directly contradicting racist comments about African–Americans Cohen attributed to Trump.
Rep. Rashida Tlaib, D-Michigan, later in the hearing took Meadows to task for parading Patton before the committee.
"Just to make a note, Mr. Chairman, just because someone has a person of color, a black person, working for them, does not mean they are not racist," Tlaib told committee chair Rep. Elijah Cummings (D-MD). "It is insensitive. The fact that someone would actually use a prop, a black woman, in this chamber, in this committee, is alone racist in itself."
Meadows immediately asked for Tlaib's comments to be stricken from the record, and Cummings attempted to help Tlaib walk back her comment calling Meadows a racist, but she clung tight to calling what Meadows had just done "a racist act."
During the emotional exchange between Meadows, Tlaib and Cummings, Meadows got choked up and wore a dour grimace when he cited his close friendship with Cummings and revealed that he had people of color in his own family.
Once Cummings was able to restore order, the controversy largely subsided for the rest of Cohen's hearing, but its reverberations are still being felt across the country, and across Meadows' district.
Meadows' performance during the Cohen testimony is problematic in a number of ways, say African-Americans in his congressional district like Sylva resident Kelly Brown.
"I don't disagree with any of the things Michael Cohen said. We have allowed a platform for hate in America. I think that has been elevated over the past few years with this president, and I don't think that's okay," Brown said. "I think the American people deserve much better than what we're receiving."
As a convicted felon, Cohen's credibility was called into question throughout the hearing, especially in regard to his claims of Trump's racism. Many, though, believe him.
"Yes," said Walter Bryson, head of Haywood County's NAACP and pastor at Shiloh AME Zion Church in Asheville. "From my opinion, [by] the way he talks, the way he treats people."
Both Bryson and Ramos-Kennedy reflect the opinions of many in their communities who, like Tlaib, were aghast that Meadows' defense of Trump included Patton.
Rep. Mark Meadows (left) introduces former Trump administration employee Lynne Patton Feb. 27. C-SPAN photo
"He brought in an actual black person — Lynne Patton, a former 45 Organization employee. While she stood motionlessly behind Meadows at the hearing, he was absurdly declaring that employing a black person somehow absolved a white man from racist acts," said Ramos-Kennedy. "If you have a black friend, a black employee or black family member there is no way you can be racist? Please."
Brown's opinion seemed to center on the theatrics of it all.
"Using a black person as a puppet is not fair or OK, and I'm really upset that she [Patton] allowed that also," he said. "I hope that none of my friends are ever using me as a puppet in that way, 'Well, I got a black friend named Kelly, so I'm OK and I'm not a racist.' If you only quantify me as your friend because I'm your black friend, then we're really not friends."
Meadows' appeal to Cummings was yet another, similar version of the 'my black friend' defense, according to Brown.
"He even extended to go on the record and say to Elijah Cummings during the hearing 'You're my friend too.' Well, what does that mean? Is Elijah Cummings just Mark Meadows' friend because he's black? Or is he a true genuine friend? Those are two different things," said Brown.
Then there's the claim by Meadows that he'd spoken with Trump many times and never heard him say anything racist.
Haywood County resident Tausha Forney, who works in community service in Waynesville's historic African-American neighborhood, isn't buying it.
"I giggled at it, because it's not enough. It's just not enough," said Forney. "I have had interactions with people over 300 times — [racism] is something that's super sly, super sneaky."
Perhaps the most damaging statement by Meadows is the one that he may have thought would be the most redeeming — his assertion that his nieces and nephews are people of color.
"All of my kids are biracial," said Bryson. "Although they're biracial, some of the families, they really didn't care about us at first, but they grew and changed to love us. But before, just because you're saying that you've got blacks in your family, I've seen where people disowned their kids or whatever because of a biracial relationship."
Bryson and Ramos-Kennedy each cited late South Carolina Senator Strom Thurmond's example.
"When Strom Thurmond was 22 years old he had a child with his family's 16-year-old black maid, Carrie Butler," said Ramos-Kennedy. "Though he met his daughter behind closed doors, he never acknowledged her publicly as his in the 78 years he lived after her birth. He was openly segregationist and opposed every single civil rights bill that came up during the 1960s and 1970s."
In addition to his "black friends," his 300 slur-free dialogues with Trump and his family's ethnic diversity, Meadows' manner of response to Tlaib also prompted suspicion from Bryson.
"There's been this old saying, 'A hit dog will holler,'" he said. "If you were telling the truth why would you get upset about it? As long as you know you're telling the truth, you shouldn't be offended about what other people say or think about it."
Ramos-Kennedy called it 'galling.'
"With little concern, if any, about actual racism, Meadows, like way too many others, is more concerned about being called a racist. His complete meltdown at the idea that someone could call him out on a racist act is a prime example," she said.
Unfortunately, that type of response is typical, according to Forney; when people feel threatened by claims of racism, they immediately retreat to a defensive position that often makes things worse.
"In this situation, it seems like that's the first thing to happen," she said. "It's like 'Look, I have a black person in my life and they're here because I'm not racist.' Though you may have a black person in your life, that doesn't mean that you can't be or are not racist. It's not a this-or-that kind of thing."
The comments of Brown, Bryson, Forney and Ramos-Kennedy show serious concern amongst Meadows' constituents of color over his ability to represent them in Congress.
"Everybody that's of color seems like they have their agendas against him, and regardless of whether you say you have black family members or whatever, that doesn't mean you are what you say you are," said Bryson. "The Bible's always said that you can tell a tree by the fruit it bears. If you say you love me, you would show me sometimes that you love me."
Meadows, though, is locked into a gerrymandered WNC district that the Cook Political Report calls a plus-14 for Republicans; there's only been one serious challenger to Meadows since he took office in 2013 — Democrat Phillip Price, last year — but Meadows still won that race by more than 20 percentage points during an election that saw Democratic gains nationwide.
Meadows' district is also more than 90 percent white, with less than 4 percent African-American voters; in the wake of the Cohen testimony, videos again surfaced of Meadows on the campaign trail a few years ago offering to send then-President Barack Obama "home" to Kenya.
Despite the national coverage of Meadows' comments at the Cohen hearing, what many outside of North Carolina don't know is that Meadows' district also contains the Qualla Boundary, home to the Eastern Band of Cherokee Indians, who constitute 1.5 percent of his constituency.
Trump has consistently demeaned and maligned Democratic Massachusetts Senator and 2020 presidential candidate Elizabeth Warren over her claims of Cherokee ancestry. Regardless of the veracity of those claims, he's derided her as "Pocahontas" and mocked her with a reference to the Trail of Tears. He's also the first president since Ronald Reagan to visit the Tomb of President Andrew Jackson, vilified by many as the architect of the forced removal of many WNC Cherokee to Oklahoma on that Trail.
Since Meadows' first campaign in 2012, the ECBI's political apparatus has given him more than $15,000.
There's also a small Asian community in Meadows' district, and the Latinx community has grown to almost 6 percent, but the racial makeup of Meadows' district has people like Forney unconvinced that his conduct during the Cohen testimony will hurt him electorally.
"Honestly, I doubt it, because the people who may have voted for him in the beginning either did not know his record, or did not care about it in this aspect enough to sway their vote originally," she said.
She won't vote for Meadows in 2020 if he runs again, nor will Bryson. Brown was unequivocal.
"Never have, never will," he said. "That's a solid one for me. No."
Therein, Brown said, lies the problem — people of color can't vote for Meadows any less than they already are, which is to say, barely at all. His Cohen testimony, Brown said, probably won't lose him any votes, and his district's minority population is so small as to be electorally inconsequential.
So if that community is stuck with Meadows, at least for now, what could he have done better, and what can he do in the future to mend fences?
"I think he could have done it better by not trying to come to the defense of the president," Forney said. "And from where I'm sitting, I don't know how much defense is really available."
As a pastor, Bryson said there was little else that could be done other than resorting to the Bible.
"I just pray for him," he said. "That's the only thing we can do because America is in dire straits with all these things that are happening – this racism, and bigotry, things of that nature. Not only America, but the world is in trouble."
Rep. Meadows declined to comment on this story when reached by The Smoky Mountain News; Rep. Tlaib did not return calls for comment, either.