Archived Outdoors
Dam removal possible for Cullowhee: Draft report gives optimistic findings, but questions remain
Wednesday, March 06, 2019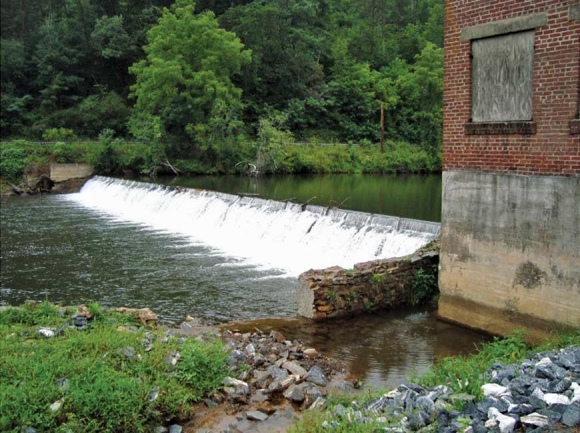 The Cullowhee Dam, built in 1930, straddles the Tuckaseigee River. Donated photo
A recently released draft report bodes well for the possibility of removing the dilapidated Cullowhee Dam without compromising the water supply it was designed to protect — but Western Carolina University and the Tuckaseigee Water and Sewer Authority need additional questions answered before agreeing to pursue removal.
"We have got to make sure that whatever we do doesn't compromise our water supply, first and foremost," WCU Vice Chancellor for Administration and Finance Mike Byers told the WCU Board of Trustees' Finance and Audit Committee Feb. 28. "We want to remove as much risk as we can from that decision, and that takes some studying. We believe there will be some additional study on their part and on our part."
The "their" in that sentence is American Rivers, a nonprofit group that supports dam removal and paid Asheville-based McGill Associates to produce a report evaluating the feasibility of dam removal. WCU owns the dam, which was built in 1930 and requires an estimated $900,000 in repairs if it's to remain structurally sound. WCU and TWSA both get their water from the pool the dam creates in the Tuckaseigee River.
Removing the dam would have significant environmental and recreational benefits. Dams prevent fish and other aquatic species from moving throughout the river, inundate river habitat, impair water quality and generally alter the water's natural flow. Getting rid of the dam would also improve the river's attractiveness for recreation, increasing the length of river suitable for paddling and tubing and supporting a long-term effort from the Cullowhee Revitalization Endeavor — known as CuRvE — to create a river park in the area.
Initial findings encouraging
Initial results show that vision is achievable without jeopardizing the water supply.
"Two main conclusions should be drawn from the discussions outlined in this report," the document concludes. "The first is that the water flowing in the Tuckaseigee River is adequate to meet the needs of the public water systems without the need for a dam or auxiliary water storage. The second is that removal of the Cullowhee Dam and construction of an in-channel intake system will reduce the vulnerability of the water systems and restore the natural environment."
A key graph in the report models TWSA's and WCU's actual and projected maximum combined water demand from 2007 to 2067 displayed together with observed flow rates on the Tuckaseigee River between October 2004 and August 2018 — those flow measurements come from a stream gauge located a roughly 5-mile drive upstream. The graph shows the highest observed daily water demand at 3.5 cubic feet per second and the projected maximum daily demand in 2067 at 7 cfs. By contrast, the lowest recorded flow was 16 cfs, measured in 2007.
"The figure shows that there has been adequate flow in the stream to meet raw water demand at all times for which we have data," the report declared.
Erin McCombs, associate conservation director for American Rivers, said that she's encouraged by the results but will need input from TWSA and WCU before its conclusions are final.
"It won't be complete until we address their comments and concerns," McCombs said. "In general, the process has taken a while and in a lot of ways that's OK, because it's important to move at the speed of trust. We're optimistic that the report will be able to answer any questions or concerns so Western and TWSA can make a decision on what would be the best option for the people who depend on the water that they receive and also the communities they're a part of."
The site contains an intake The site contains an intake structure and generator for the Tuckaseigee Water and Sewer Authority.
Questions yet to answer
While Western and TWSA said they're in favor of dam removal if it can be accomplished without hurting their water supply, neither entity feels that the draft report completely addresses the issues at play.
For instance, said Byers, while the report correctly states that stream flow has historically been sufficient to meet demand, that's not entirely due to nature. During drought conditions in 2016, Duke Energy helped prevent a water shortage by allowing additional water releases from Lake Glenville, which is upstream from Cullowhee.
"Those (water flow) measurements are I would say impacted greatly by that partnership," Byers told trustees. "What if in the future Duke can't do that?"
As it stands now, the pool above the dam provides some buffer for variations in water flows, outside of Duke's management decisions at Glenville.
"Removal of the dam removes this benefit, and the limiting factor will be the current instantaneous low flows," said Byers.
In order to understand the full impact that dam removal would have on the water supply, he said, pilot studies must be done on a section of the river with conditions similar to those that would exist at the intake site following dam removal.
TWSA Executive Director Dan Harbaugh agreed that there are still concerns that dam removal could adversely impact water supply. Currently, the pool above the dam allows water to be drawn through side bank intakes behind the dam. If the dam were removed, the intakes would be relocated into the stream.
"Removal of the dam and conversion to the in-stream intake as discussed in the draft study is a highly complex proposal that is not comprehensively addressed in the study work done to date," Harbaugh said.
Harbaugh referenced a 2013 report on such a conversion that occurred on the Oconaluftee River in Cherokee. At that time, the tribe switched from a side bank to an in-stream intake in order to deal with a petroleum product contamination issue, but the resulting screened in-stream intake structure had its own problems. According to the report, sediment entering the intake damaged pumps and collected in prefiltration units, leaves collected on the intake to reduce its efficiency and icing on the intake screens reduced intake while requiring potentially hazardous maintenance operations.
"It is further to be noted that based on stream gauge information for that area of the river, the low flows encountered by the EBCI (Eastern Band of Cherokee Indians) system run plus or minus five times higher (+/-100 cubic feet per second) than those encountered in the Tuckaseigee River above the Cullowhee Dam (20 cfs)," Harbaugh said. "Even with these higher flows in low-flow events, their old large in-stream screened intake was problematic for the EBCI water system."
TWSA and WCU are in the process of getting their complete comments back to American Rivers, which will present McGill Associates with additional items for study. A final report is expected in late March.
"Free-flowing rivers are really important, because they are the lifeblood of communities," said McCombs. "When you have free-flowing rivers you can improve public safety, you can have improved recreation, the health of the river is improved. And I think that this is an opportunity."
Looking ahead
The clock is ticking on exploiting that opportunity, however. A 2017 report on the dam, also done by McGill Associates, revealed "severe deterioration" on the structure and found that its failure would pose a "significant threat to life and safety" and represent a "significant economic and operational loss" to WCU. Repairs are estimated at $900,000, and WCU must soon decide whether the spend money to fix the dam or commit to having it removed.
"If a solution that might include dam removal is not in place in the next 12 months or so, we'll have to perform at least some of the prescribed repairs," said Byers.
Even if dam removal were to start tomorrow, it's hard to say exactly how long that would take. McCombs said dam removal projects average about three years from start to finish but can go much quicker or much longer.
"Until we have a scope for the project, we won't know exactly how long this project will take," she said.
Making the final decision to move ahead will take time as well. After McGill Associates presents its final report, everyone will need a chance to read and analyze it. The various stakeholders in the dam, which include the four municipalities that are TWSA's forming entities, will need to grant their buy-in, and then there's the fundraising.
While repairs are estimated at $900,000, removal would be much more expensive, with a loose estimate in the range of $5 to $7 million. American Rivers is confident it can secure the funding if the partners want to move forward, but the money won't fall into place overnight.
"American Rivers has a strong track record of raising finances to support river restoration projects," said McCombs.
This graph contrasts historic and projected water demand with observed flow since 2004, but Western Carolina University said releases from Duke Energy must also be considered. Donated graphic
Obtaining the report
The draft report was completed in December 2018 but not released until Feb. 24 following a series of requests and finally a lawsuit from The Sylva Herald.
According to the lawsuit, the Herald made an initial verbal request Jan. 30 and followed up with an emailed request Feb. 12, but WCU replied that American Rivers — a nonprofit agency not subject to open records laws — had paid for and owned the report, which was still in preliminary draft form. The university said that its legal department would need time to analyze the request.
State law is clear about ownership of such documents, stating that public records include all document made or received by a public agency. It also requires public agencies to furnish the records "as promptly as possible" upon request.
WCU still did not produce the report, saying its attorneys needed more time to consider the request. That prompted The Sylva Herald to file suit Feb. 21 with a court hearing planned for Feb. 25. However, WCU released the report prior to the scheduled hearing.
"We would like our neighbors to know that the reason for requesting additional time to review the draft report was not to infringe upon the public's right to access a public record," said Shea Browning, general counsel for WCU, in an email accompanying the release. "Rather, university officials assumed a responsibility, as a public agency, to ensure ample time for experts (attorneys and engineers) to review a report, submitted to WCU by a third party in a draft preliminary form, for errors of omission or fact. WCU strives to be a good neighbor and partner, and we believed that the premature disclosure of information that had not been reviewed sufficiently could potentially undermine the efforts of many to create a free-flowing river and ensure a high-quality supply of water to meet current and future needs in our community."