Archived News
Ten years gone: Waynesville board weighs progress, prospects
Wednesday, March 06, 2019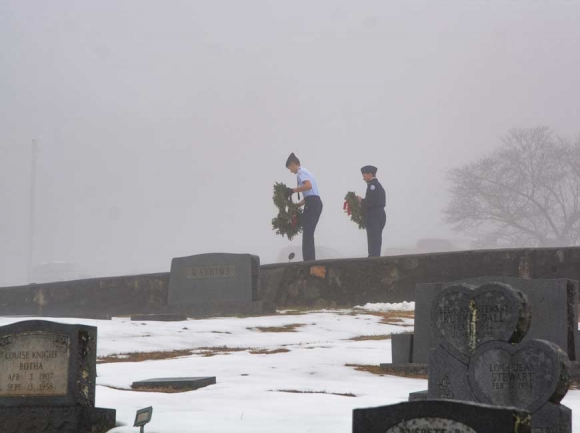 Quashing the uproar over Waynesville's Green Hill Cemetery is a top priority for the town this year. Cory Vaillancourt photo
On Friday, Jan. 29 at the Lake Logan Conference Center, Waynesville Mayor Gavin Brown convened a board retreat where he and aldermen Caldwell, Feichter and Roberson talked about infrastructure, cemeteries, and the general financial status of the town.
But that was in 2009; Barack Obama had just been sworn in to preside over the Great Recession as the Dow Jones Industrial Average slumped to 7,550 points, down from a high of almost 14,000 just 16 months earlier. A gallon of gas was $1.89, minimum wage was $6.55, Waynesville's population was about 10,000 and the property tax rate was 40 cents for every $100 in assessed property value.
On Friday, March 1, 2019, in the Town of Waynesville Public Services Department conference room, Mayor Brown read from that 2009 meeting agenda to aldermen Caldwell, Feichter and Roberson.
It was the same Gary Caldwell and LeRoy Roberson, but instead of Alderman Libba Feichter, it was her son, Alderman Jon Feichter. Alderman Kenneth Moore, also present in 2009, had long since been succeeded by Alderman Julia Boyd Freeman.
As Caldwell, Roberson, Feichter and Freeman listened to Brown read from the decade-old agenda, the Dow Jones Industrial Average was perched above 26,000, a gallon of gas was $2.43, minimum wage was $7.25, Waynesville's population was still about 10,000 and the property tax rate was 49.57 cents for every $100 in assessed property value.
"Those who do not remember the past," Brown said, paraphrasing Spanish philosopher George Satayana, "are condemned to repeat it."
The topics on Brown's 2019 agenda weren't all that different from those in 2009, including infrastructure, cemeteries, and the general financial status of the town, but over the five-hour meeting, the board reviewed the town's future prospects, framed by progress.
"We look at the present through a rear-view mirror," said Brown, quoting Canadian Philosopher Marshall McLuhan. "We march, backward, into the future."
A sustainable prospect
The Town of Waynesville operates six separate funds that can all be thought of as their own separate businesses, with their own separate sets of books. That way, the operations of the water, sewer and electric funds can be evaluated on their own revenues and expenditures, like the general fund.
The asset services management fund and the garage fund are mostly internal funds, serving other town departments at a cost savings over retail providers. They run pretty flat, profit-wise, and are relatively small compared to the other four main funds.
Halfway through the fiscal year 2018-19, the town's general fund continues to show increasing revenue growth as well as increasing expenditures, both good signs the town has turned the corner on the Great Recession that Brown and the board have dealt with over the past decade.
Two years ago, general fund revenues at this same point in time were $7.30 million. A year ago, they increased slightly to $7.35 million. This year, they're already above $7.61 million, but still below the budgeted $7.65 million.
General fund expenditures have followed the same course. Two years ago, $6.87 million was spent from the general fund in the first six months of the fiscal year. Last year, it was $6.92 million. This year, it's at $7.31 million.
The town's water fund is currently experiencing less demand, due to the one of the wettest years on record; people aren't watering plants or washing their cars as much as usual and large industrial customers are also using less.
"It's only rained twice," said Eddie Caldwell, the town's longtime finance director until his recent retirement, "but one of them lasted 21 days and the other lasted 36 days." Caldwell is currently a contract employee.
If the excessive rainfall keeps up, the town could end up getting soaked — revenues to this point were budgeted at $1.98 million, but have come in thus far at $1.37 million.
Intuitively, customer demand for the town's sewer services is to a great extent linked to customer demand for water. That's left the sewer fund high and dry; this year's budget planned on $1.68 million in revenue by now, but the sewer fund had collected only $1.14 million.
Over the past two years, the sewer fund had run relatively flat, suffering deficits of between $16,000 and $42,000. If current trends continue, that could lead to a deficit of more than $200,000 this year — bad news, as maintenance spending on the town's aging infrastructure over the past two years has ballooned from $2.55 million to $3.37 million.
The town's electric fund, however, appears to be stabilizing, largely on the back of a rate hike phased in gradually over the past year — 5 percent last January, and 4 percent last July. That's powered revenue growth just over $4 million, whereas last year at this time it was $3.66 million, down from $3.8 million the year before that.
The good news is, since Jan. 1, 2017, the town's monthly cash balances in the water, sewer, electric and general funds are all up — 62, 23, 40 and 5.7 percent, respectively.
At least some of that has to do with the town shedding almost a third of its installment loan debt in the last three years.
On June 30, 2016, the Town of Waynesville owed more than $10.7 million from across each of its funds. As of June 30, 2019, that number is expected to be $6.9 million. During those three years, general fund debt obligations decreased by $3.5 million to a total of $4.1 million, electric fund obligations decreased from $1.7 million to $668,000 and water fund obligations decreased from $1.2 million to just over $1 million.
A sickening prospect
Every year around budget time, local governments begin dreading the inevitable and relentless rate hikes associated with health care and since Waynesville is no longer a cash cow for its insurer, BlueCross BlueShield of North Carolina, rate increases of up to 25 percent are coming.
"We are going to have a significant increase in our health insurance rates this year, and the reason is we've had some pretty sick people," said Amie Owens, Waynesville's assistant town manager and the retreat's bearer of bad news.
BCBS measures the value of a customer by how much money it can make off those sick people; it's called the loss ratio, and it measures how much BCBS collects in premiums versus how much it pays out in treatment costs.
Everything was hunky dory for BCBS in December 2017, when Waynesville's 395 plan members paid in $1.64 million and were given $1.38 million in care — that was a loss ratio of 82.5 percent for BCBS.
That ratio went up to 86.2 percent the next month, and 91.4 percent the next, until it finally broke 100 percent in May 2018 — meaning that BCBS took in $1.675 million but paid out $1.681 million. As of December 2018, that ratio had hit 124.5 percent.
Owens said if the rate increase hits as planned, it'll cost the town $439,000. As a result, employee deductibles may have to change.
And that's not even the only benefits-related issue the town will have to address this year.
A recent change in state law mandates increases in employer retirement contributions within the North Carolina Local Government Employees Retirement System, effective July 1.
The town's budgeted retirement expense will climb from $693,000 during this current budget year to at least $783,000, a 13 percent increase to the tune of about $90,000.
Between the BCBS rate hike and the increased retirement spending, Owens said the town should prepare for a budget increase of at least $530,000 for those two items alone.
Right now, for every cent the town adds to the property tax rate of 49.57 cents per $100, it gains a little over $115,000 in revenue.
A stormy prospect
As a fairly urbanized settlement, Waynesville has for years watched more and more of its surface area become impermeable. Paved roads, driveways and parking lots stop rain and snow from permeating into the ground, especially during storms. The roofs on buildings contribute as well.
Stormwater runoff from these events can contain all sorts of contaminants, like gas and oil from the road, fertilizers, even trash and natural debris. What doesn't find its way into Waynesville's trout waters ends up in the streets, where — as anyone who's traveled down Sulphur Springs Road during a downpour knows — it can pool rapidly, reaching several feet in depth.
That's what's behind a proposed utility bill service charge that would help the town manage stormwater.
"I don't think we would be doing our citizens a favor if we neglected that," said Waynesville Tax Collector James Robertson.
The fee would be calculated on the amount of impermeable surface area on each taxpayer's property.
Calculations by Robertson say the town could expect to raise about $90,000 a year from residential taxpayers, based on an average of $2.00 per month. Commercial taxpayers would contribute around $170,000 at about $7 per month. Together they'd amount to $260,000, which would be used for education and public outreach, leaf and vacuum cleaning, and street sweeping all designed to keep storm drains clear.
Revenue could also be used for construction, stream restoration and stream relocation if necessary. It's all fairly straightforward, but Robertson and some aldermen are already looking forward to the thunder and lighting that's sure to come along with a new fee.
"You're going to have that crowd that says this is just a revenue generator," said Robertson.
Alderman Gary Caldwell worried the public would see it as a tax, and that he'd already heard complaints from Waynesville's commercial community.
A suitable prospect
Brown's 2009 retreat included discussion on another issue that was on the 2019 agenda — Green Hill Cemetery.
At that time, then-Town Manager Lee Galloway discussed maintenance of the historic cemetery, which spurred the board to pass what's known as "ordinance 18" three months later.
That ordinance prohibits decoration of graves and columbariums with anything other than cut flowers or flags, but it wasn't regularly enforced until recently.
Once it was, visitors to the cemetery were incensed, despite ample signage warning of periodic cleanups; they packed a public hearing at the town's Dec. 13, 2018 board meeting to express their displeasure, and all clean up was halted while aldermen pondered the situation.
Now, Brown is proposing a solution that could result in better, more responsive maintenance of Green Hill — a committee of people in the community who have "a strong interest" in the cemetery.
"Honestly, it is a good first step," said Scott Ybanez, who had been extremely critical of how the town handled the cleanup process.
The way it should work, according to Brown, is that each alderman would select someone to serve on the committee, which would be a permanent body with members cycling in and out, presenting reports and recommendations to the board of aldermen.
The town will also solicit applications through April 2, and appoint two more members to the committee, probably on April 9. Funeral home operator Wells Greely would also serve as a technical advisor to the board.
Feichter, Freeman and Roberson endorsed the idea, and Caldwell requested that the commission also oversee the oft-overlooked Dix Hill Cemetery, which used to be one of the area's segregated burying grounds. Little is known about its owners and occupants.
Ybanez said he'd lobbied a few aldermen to gain a spot on the committee, and if he's not appointed, he said he'd apply.
A staggering prospect
Waynesville is a bit of an electoral anomaly in Haywood County; while every other local government holds elections for two or three of its five-member board every two years, Waynesville elects all four aldermen and a mayor every four years.
Although that gives ultimate power to voters to totally clean house — or, conversely, to return each and every incumbent to office — public bodies without staggered terms do face one troubling possibility.
"One of my biggest concerns is, you could have a completely new board, new leadership, and you lose years of experience and know-how in running the town," said Alderman LeRoy Roberson, who floated a proposal to give Waynesville staggered terms like Canton, Clyde, Maggie Valley and Haywood County boards have. "It's time to consider it. It's been done in other towns."
The Town of Canton is a perfect example.
In November 2017, Kristina Smith and James Markey were elected to the board, and Alderman Zeb Smathers was elected mayor; they joined Gail Mull and Dr. Ralph Hamlett on that board.
In November 2019, Mull and Hamlett are up for election. In November 2021, it'll be Smith, Markey and Smathers again, should they choose to run.
That means that whatever happens at the polls, newly elected members will always join a board that has at least two or three pre-existing members who can show them the ropes. In Waynesville, however, it's always a possibility that doesn't occur.
"We could have an all new board next fall. That scares me. That scares me a lot," said Alderman Julia Boyd Freeman.
In addressing Roberson's proposal, Brown said that if there were board consensus, he'd push for the implementation of staggered terms after this November's election in which he and all four aldermen must either run for re-election, or call it quits.
That would be in 2023, and the way it would probably work is that the top two finishers at the polls would earn four-year terms, and the next two finishers would each earn two-year terms. That would set up an election schedule with staggered four-year terms going forward, with two seats up in 2025, and then two seats plus the mayor in 2027, and then two in 2029, and onward ad infinitum.
But there isn't board consensus; Caldwell laughed and said the mayor would never change his mind on this issue, of which they'd spoken in the past.
"How you gonna try to fix something that ain't broke?" he asked. "I see where it breaks the board up. You don't have the continuity we have."
Caldwell also noted that it would basically double the frequency of municipal elections, which aren't exactly free.
"It's a major expense to the town," he said. "Right now, it costs $10,000 for an election. The town has to use citizen tax money to have an election, and then [with elections every two years] it's $20,000."
"To have a complete turnover of the board," Roberson replied, "would be detrimental to the town and might cost us more. It takes several months or years to get to the level where you can be a benefit to the town."
Caldwell and Brown have both been on the board for about two decades, followed by Roberson with 16 years and Freeman with eight; the board's newest member, first-termer Jon Feichter, was blunt and honest in his assessment of the proposal.
"Speaking as the least experienced member of the board," Feichter said, "I concur with Dr. Roberson that it takes a long time. I didn't think I knew everything when I got elected, and after serving for a few months, I realized I knew less than I thought I did."
Still, that cohesion is valuable, according to Feichter, who said he didn't support the idea of staggered terms but might be swayed.
Any change in how a public body elects its members must come from the General Assembly in the form of what's called a local bill. An unwritten rule dictates that any request for a local bill must have not only the unanimous support of the local legislative delegation, but the request itself should also have unanimous support from the body that requests it.
Brown said he'd talk to Sen. Jim Davis, R-Franklin, and Rep. Joe Sam Queen, D-Waynesville, about a local bill, but was wary that if Waynesville's aldermen weren't unanimous in supporting it, Davis probably wouldn't act on it.
An email sent to Davis during the debate and returned minutes later said that a 3-2 split, or even a 4-1 split, wouldn't be enough to spur him to file a bill.
"I would be glad to file a bill for staggered terms but it would need to be a unanimous vote," Davis said.
A Smoky Mountain News story that first appeared in early January 2019 revealed that Brown was unsure about whether or not he'd run for re-election this year, but Caldwell was the only other alderman who said they'd run for mayor this year. Freeman and Feichter said they'd seek another term as alderman, and Roberson said he wasn't sure.