Archived Arts & Entertainment
This must be the place: Don't play what's there, play what's not there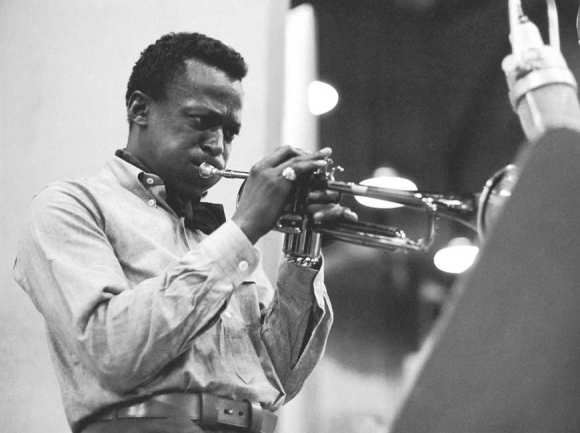 Miles Davis during the 'Kind of Blue' sessions.
It was 60 years ago this past weekend (March 2, 1959) when Miles Davis' seminal "Kind of Blue" album was recorded. This is an immortal masterpiece, a cornerstone of not only American music, but the music of the world, too.
The lineup for this record was a "Murderers' Row" of jazz music: saxophonists John Coltrane and Julian "Cannonball" Adderley, pianist Wynton Kelly, bassist Paul Chambers, and drummer Jimmy Cobb, with former band pianist Bill Evans.
Every single musician and album that came thereafter, regardless of genre, was (consciously or subconsciously) influenced by this work. If you listened to "Kind of Blue" just once, that's all it takes to become an eternal part of your DNA — five songs that forever changed the course of music.
Davis, who was only 32 years old at the time, did no rehearsals before the two recording sessions and only gave the other musicians a rough sketch of each melody before diving right into the deep end of the studio. On March 2, 1959, the tracks "So What," "Freddie Freeloader" and "Blue in Green" were recorded, with "All Blues" and "Flamenco Sketches" captured on April 22, 1959. What resulted is pure gold. It's incredible.
In terms of my interaction with this album, I was 18 years old and a freshman at Quinnipiac University in Hamden, Connecticut. Fall 2003. The campus library had a wide-ranging selection of CDs, of which you as a student could take out five or so at a time. So, I'd grab whatever I didn't know or hadn't listened to, to gain more musical knowledge, and brought them back to my dorm, to immerse myself.
That first batch I took out included "Kind of Blue." I knew who Miles Davis was (who doesn't?), but I didn't know much about his actual music beyond a surface level impression. I remember that day vividly. It was raining outside my third-floor dorm window. Alone in my dorm room, I cracked the window open and put the CD on my stereo. With that iconic Paul Chambers bass hook, "So What" kicked off the album. It was all a whirlwind of melodic beauty and sonic possibility from that point forward. I listened to "Kind of Blue" over and over (and over again).
It's staggering how cosmic and soothing the album is, and will forever remain. I burned a copy of "Kind of Blue" for my handheld CD player (remember those?), carrying the tunes with me on numerous Metro North train trips down into New York City, where the album is literally the soundtrack of The Big Apple. One of the great pleasures in life is simply wandering around NYC with "Kind of Blue" in your headphones. The melodies just seem to roll along with the pace, vibrancy and curiosity of the city itself. Try it sometime. Life changing.
Not long after I graduated college, in September 2007, I saw that Jimmy Cobb was performing at the Village Vanguard in the Greenwich Village neighborhood of Manhattan. With the Village Vanguard regarded as the epicenter of the jazz world, how could I pass up a chance to see Cobb there onstage?
The only surviving member of the "Kind of Blue" sessions, I was able to somehow score a sit-down interview with Cobb before that show at the Village Vanguard (a basement venue underneath the hustle and bustle of NYC). In all seriousness, this was probably only the second actual music interview I had ever done, and there I was, 22 years old, chatting with Jimmy Cobb face-to-face.
Now 90 years old and still actively touring, Cobb was a captivating presence back in 2007, onstage and off. Watching him behind his drum kit, you could sense this almost Zen-like approach to his craft, where he was fully immersed in the pocket of improvisation, someone completely open to those around him, a honed spiritual antenna receiving and transmitting sounds through pure emotion.
Even today, I can still hear the crashing of plates and silverware in the kitchen of the Village Vanguard as Cobb and I talked back there, still see his face and body in that chair, his arms and hands overtaking the armrests. He was, and is, a gracious human being. I'll never forget that slow climb back up to the street and into the organized chaos of people, places and things in NYC 'round midnight.
To this day, my Cobb interview remains unpublished. I still have the reel-to-reel tape sitting on my bookshelf right now. Plans are in the works to find an old recorder to play it on, so I can transcribe it and share it with the world. And I still play "Kind of Blue" about once a week, usually when I'm lying down and just trying to get my mind into a blissful, peaceful place — it works every single time.
Life is beautiful, grasp for it, y'all.
Hot picks
1 Mad Anthony's Taproom & Restaurant (Waynesville) will host Joey Fortner & The Universal Sound (Americana/folk) 8 p.m. Friday, March 8.
2 A production of "Red" by John Logan will hit the stage at 7:30 p.m. March 8-9 at the Haywood Arts Regional Theatre in Waynesville.
3 There will be a "Chili Cookoff" hosted by the Haywood Waterways Association from 6 to 9 p.m. Saturday, March 9, at Elevated Mountain Distilling in Maggie Valley.
4 The Jackson County Public Library (Sylva) will host Darren Nicholson (Americana/bluegrass) 7 p.m. Friday, March 8.
5 Grammy award-winning Christian pop duo For King & Country will perform at 7:30 p.m. Saturday, March 9, at the Smoky Mountain Center for the Performing Arts in Franklin.