Archived News
Melrose claims fellow lawyer defamed him on Facebook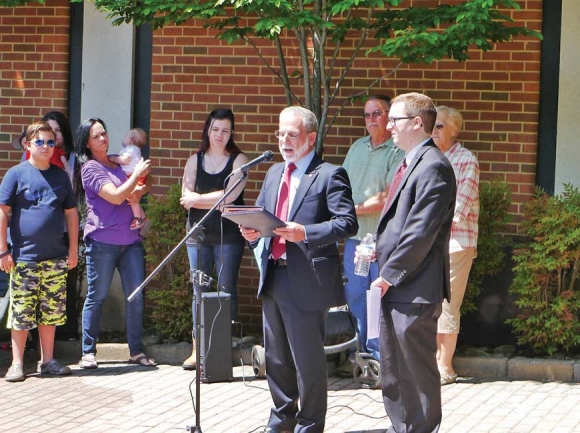 Defense Attorney Mark Melrose speaks during a rally to show support for Scott Knibbs' family, who he represented after Scott was shot and killed by a Macon County Sheriff's deputy in 2018. Donated photo
Waynesville defense lawyer Mark Melrose filed a civil lawsuit against fellow defense lawyer and Clyde Mayor Pro Tem Frank Lay in Haywood County last week claiming Lay posted false and libelous statements about him on Facebook during his campaign for Superior Court judge.
Back in October 2018, Melrose was in the midst of a hotly contested race for Superior Court judge against Democratic incumbent Bradley Letts. While it's unusual for a popular sitting judge to be challenged by a fellow Democrat, Melrose took on the challenge. However, Letts won the Nov. 6 election with 54 percent of the vote and had broad support within the legal community.
Lay was a vocal and active supporter of Letts during the election. According to Melrose's complaint, Lay made in-kind and monetary donations to Letts' campaign and also campaigned for Letts through advertising on social media, billboards, radio and television. It was comments Lay made on Facebook that Melrose claims were knowingly false and meant to harm Melrose's reputation and campaign for office.
In the comment, Lay stated that Melrose and Randy Seago — his law partner at the time — eagerly volunteered to represent Edwardo Wong in June 2008. Wong was charged with the first-degree murder of North Carolina Highway Patrolman Shawn Blanton, who was an enrolled member of the Eastern Band of Cherokee Indians. It was a high-profile case that is still talked about today in the community.
Melrose said he was court-appointed to represent Wong because he was one of few "highly experienced" lawyers on the roster willing to take on first-degree murder cases.
"The defendant published this false libelous statement in order to harm the plaintiff in his legal profession and to dissuade voters from voting for the plaintiff by falsely publicizing the allegation that the plaintiff had 'volunteered' to represent a person who killed a North Carolina State Trooper," the lawsuit stated.
Melrose's complaint states that Blanton's widow, Michaela Blanton-Lowe posted negative comments on Oct. 28, 2018, about his candidacy and his representation of Wong during her husband's murder trial. As a Facebook friend of Blanton-Lowe's before, during and after the trial, Melrose says that Lay allegedly commented on her post in response to someone's question about whether Melrose was appointed or volunteered to defend Wong. The alleged libelous statement from Lay was as follows:
"Krystal, let me answer your question, from first hand knowledge, the appointing judge anticipated having to go to Charlotte to get an attorney to represent this worthless excuse for a man, OH NO, Mr. Melrose called and requested the case. Even after the appointing judge expressed grave concerns over having Mr. Melrose represent a man who assassinated the first ECBI trooper, he brushed it aside and side (sic) that he wanted the case. I represent criminal defendants every day of my career, but there is no way, and no excuse for EVER taking that case."
Melrose's suit claims Lay knew when he posted that comment on Facebook he knew there had been accusations online that Melrose allegedly volunteered to represent Wong.
"At the time the defendant made the false libelous statement he did so with actual malice and ill will towards the plaintiff intending the plaintiff personal and professional harm," the claim reads.
Lay told The Smoky Mountain News that his comments were factual, and therefore not libelous. He said his comments came directly from his conversations with Melrose, his law partner, office staff and others. Lay took to Facebook after the lawsuit was filed Feb. 27 to defend his comments, stating that Melrose is trying to "repress and chill political free speech."
"Mr. Melrose takes the position that if you make a comment against him, then he may, or in my case, will sue you," Lay wrote. "In what might be the worst example of being a poor loser we have seen lately, Mr. Melrose is now taking to using the courts as his battering ram to stop those who would comment in a manner he doesn't like."
Lay goes on to say that the judge that conducted the 96-hour hearing in Wong's case reiterated to him that she specifically encouraged Melrose not to take the case even though he was permitted to do so and he told her he wanted the case.
"If you don't like the opinions of others expressed by others, the solution is always more speech. The answer is not filing a lawsuit to 'protect' yourself from what you perceive as 'bad words' of others," Lay wrote. "Though your case will almost certainly be summarily dismissed, as truthfulness of the statement is a complete defense; it is sad you choose to go about things this way."
North Carolina has a broad definition of libel per se, which is Melrose's first claim against Lay. Libel per se refers to statements so egregious that they will always be considered defamatory and are assumed to harm the plaintiff's reputation, without further need to prove that harm. In North Carolina, a statement that "tends to impeach a person in that person's trade or profession; or otherwise tends to subject one to ridicule, contempt, or disgrace" is considered libel per se, which is what Melrose claims in the suit.
This last category of libel per se is quite broad and is not recognized by most other states.
In North Carolina, a private figure plaintiff accusing someone of defamation bears the burden of proof in showing that the defendant was at least negligent with respect to the truth or falsity of the allegedly defamatory statements.
Public officials, which Melrose could be considered since he was running for office, must prove that the defendant acted with actual malice, meaning Lay knew the statements were false or recklessly disregarding their falsity.
Typically the best defense in a libel/defamation case is proving that the statements in question were truth. However, Melrose can overcome that defense if he can prove actual malice.
Melrose's second claim for relief is for defamation-libel per quod, which is applicable only when the plaintiff introduces additional facts to show defamation or claims special damages. Melrose claims the allegedly libelous statement was knowingly published by the defendant on someone's public Facebook page and was also visible to Lay's Facebook friends through his own Facebook page.
Melrose further claims the statement was false, that Lay knew it was false and that Lay acted with "reckless disregard to the fact this statement was false."
"The defendant published this false libelous statement in order to harm the plaintiff in his legal profession and to dissuade voters from voting for the plaintiff by falsely publicizing the allegation that the plaintiff had 'volunteered' to represent a person who killed a North Carolina State Trooper," the lawsuit states. "The defendant published this false libelous statement knowing that enrolled members of the Eastern Band of Cherokee Indians and others who were registered voters in Jackson County would be dissuaded from voting for the plaintiff given the fact that the defendant falsely claimed the plaintiff had sought out this court-appointment and both Judge Letts and Trooper Blanton were enrolled members of EBCI."
As a result of the allegedly libelous statement, Melrose contends he suffered monetary and economic loss and is seeking to recover presumed and actual damages in excess of $25,000 in addition to recouping legal expenses.
Melrose is no stranger to taking on unpopular cases. He didn't win the Wong case — Wong was convicted and sentenced to life in prison without the possibility of parole. In 2016, Melrose filed a lawsuit against the Haywood County School system for closing Central Elementary School.
Melrose alleged secret "ulterior motives" were at play in the decision — namely, that school administration had been eyeing Central as a new office location due to the possibility that they will soon be evicted from their current offices at the old hospital on North Main Street.
The lawsuit was later settled. Melrose's suit was dismissed with prejudice, preventing any future claims from him on the same issue, and neither Melrose nor the school board are allowed to talk about "the action between the parties, nor the facts and circumstances giving rise to said action" other than in a 57-word statement attached to the settlement agreement.
Melrose also vigorously defended the Knibbs' family in Macon County last year when a Macon County deputy shot and killed Scott Knibbs inside his home. After a N.C. State Bureau of Investigation and review from an outside District Attorney, the deputy was cleared of any wrongdoing and returned to work.